Big Narstie has recently been an internet sensation after he joined Kelly Brook in promoting his weight loss physique for a new SlimFast commercial. Here is how he was able to lose so much weight in less time. 
Tyrone Lindo, better known as Big Narstie, is a British MC, author, rapper, singer, songwriter, comedian, and television personality who rose to prominence in 2006 after signing to the multi-award-winning independent record label Dice Recordings.
Twelve years later, owing to Channel 4, his career reached new heights with his own chat show, The Big Narstie Show, alongside comedian, Mo Gilligan, where they converse with various celebrity guests and do short comedic sketches. Furthermore, they won a British Academy Television Award for Best Comedy Entertainment Programme or Series in 2021.
Recently, Big Narstie has collaborated with Kelly Brook for the new Oomph for your Boomph campaign, which emphasizes being your best self and the power of positive thinking. According to the 37-year-old rapper, he became interested in it after starring on Celebrity Bake Off in 2019, which resulted in a substantial weight loss shift. So, if you are curious to know more about his transformation, here is everything you need to know.
Would you also like to read the weight loss stories of Sir John Curtice and Chef Anna Haugh?
Following His Significant Weight Loss, Big Narstie Is Now Promoting His Slimmer Physique for a New Slimfast Commercial!
The tale of Big Narstie's (@bignarstie) weight loss journey began in early 2019 when the Grime artist demonstrated his lean body while flexing topless in a London gym. At the time, the social media sensation posted a video of himself performing a series of positions to LMFAO's I'm Sexy and I Know It at Muscle Base Gym in London.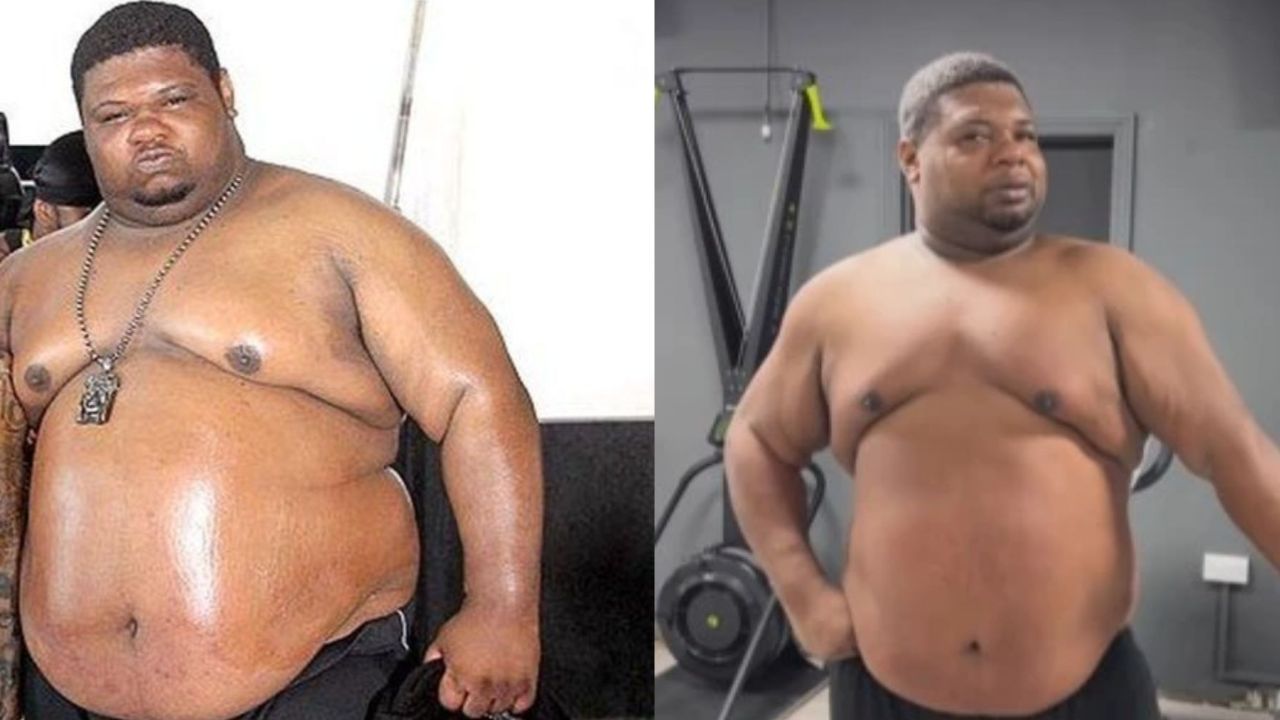 Big Narstie before and after weight loss.
Image Source: HOUSE & WHIPS
Fans were quick to comment on Big Narstie's new style, with one saying, "This inspires me so much Narstie bro looking like a new man I'm starting gym tomorrow." Another wrote: "Amazing transformation bro keep up the good & hard work " And the third one wrote, "You're doing soooo well! Keep up the positive vibes and the training."
However, after hardly getting enough sleep, the star's body gave up in April 2019 and he was hospitalized, causing him to withdraw from Channel 4's Great Celebrity Bake Off for Stand Up to Cancer. Later, he told the Radio Times,
So f***ing nine days with only 24 hours sleep…I f***ing collapsed, you get me? I went to hospital. That was a wake up that I really needed to slow down. I'm only a human being. I'm not a robot. I realised that opportunities don't mean s*** if you're not healthy.
Recently, Big Narstie has joined Kelly Brook, a long-time SlimFast advocate, in promoting his slimmer physique for a new SlimFast commercial. He is now the latest ambassador for SlimFast and as part of his well-documented journey to improved health and enhanced energy. The 37-year-old rapper stated that he fell for it after appearing on Celebrity Bake Off in 2019, which resulted in a significant weight loss transformation. He told The Mirror:
I collapsed after Celebrity Bake Off and that's when I began on my fitness journey and got into mixed martial arts. 
Big Narstie and Kelly's new campaign aims to showcase the nutritional benefits of SlimFast's daily smoothie, which contains 23 vitamins and minerals and 14g of protein. The Oomph for Your Boomph remix of his latest single Work Hard Play Hard serves as the campaign's soundtrack, which was shot by prominent grime music video producer Mathew Walker.
Big Narstie joined Kelly Brook in promoting his slimmer physique for a new SlimFast commercial.
Image Source: Daily Mail
To kick off the campaign, a 30- and 20-second TV campaign will debut on May 14, while a 90-second full-length music video version of the commercial will air on SlimFast-owned social media outlets
The rapper also added that as he upped his workout, he felt compelled to abstain from drinking and eat healthier foods, saying, "I come from a poor background, healthy food should not be expensive and I only noticed [how expensive it was] when I started to live that way. SlimFast is not a pocket breaker and a big thing about changing your lifestyle is being able to afford it."
Likely, Kelly also expressed her happiness at being joined on the new weight loss campaign by Big Narstie, saying, "When they said that they found a new ambassador, I racking my brain, I was like, Well, who can it be?" She also added,
When you've been on this weight loss journey, or you've been using a product for so long, it can become like you're doing the same thing all the time and so it's just about injecting that new bit of energy. I just think it's so brilliant that you got involved because it just makes it more inclusive, it broadens it out. I've always said my husband loves SlimFast he's always drinking SlimFast shakes because of the protein in it, so it's great that men realise that they can have it as well and they can be a part of it.