Blueface's mom Karlissa Saffold sparked BBL speculations when she posted a picture showing her naked butt. Everyone went crazy over her thirst trap which she said was intended for her husband and they were all praises for her booty cheeks. Many Redditors suspected that Karlissa Saffold had BBL because apparently, her a*s looked too good for her age. Blueface's mom has not responded to the plastic surgery speculations. 
You would not want to be Blueface right now. I doubt there was ever a time in your life when you wanted to be him but right now, especially you would hate it if you were in his place because you must know what happened. The rapper's mom's nudes leaked. Well, Karlissa Saffold posted the thirst trap herself but she said it was an accident and not meant to be public. Anyway, everyone is talking about her butt on the internet and complimenting her a*s, saying that she looks like she has had BBL. Like I said, things have been better for Blueface.
Also, have a look at the plastic surgery stories of Sissy Spacek and Frankie Bridge.
Did Blueface's Mom Have a BBL? Reddit is in Awe of Karlissa Saffold's Booty Pics!
Blueface's (@bluefasebabyy) mom Karlissa Saffold is suspected of having BBL after a photo of her with her a*s hanging out spread on the internet. Many people thought that she had a butt too good for her age which made them think that she had had plastic surgery to enhance her derriere.
Ufff...it must have been eekk... for the rapper when he went on the internet only to come across a photo of his mom flexing her bare butt and then realize that everyone's seen those booty pics and were talking about it. Why did Karlissa Saffold ever take a pic like that (It was a selfie of her sticking her tongue out to the camera but look at the background and there's a mirror that showed that she is completely naked from the waist down)? She was not showing off her BBL like that, right? Bending over the toilet like that. There's a way to go about it and that ain't it.
Blueface's mom is believed to have gotten BBL to enhance her butt.
Image Source: Variety
Of course, the question is rhetorical because she said that the pics were meant for her husband but come on, with a picture like that, why could she not have been more careful? If only she had been technically savvy on social media for a while, her son might not have been so embarrassed. He would not have had to read the lewd comments people were making about her a*s. He would never have to live through people discussing if he had BBL as they dissected her booty pics. His tweet sums it all up.
Ewww lol. Old lady Booty cheeks
Anyway, the point is Karlissa Saffold's booty cheeks were all over the internet for everyone to see and that kind of exposure of her a*s only resulted in people speculating that he had BBL. Just because I feel bad for Blueface, I don't want to do this but I have to let you know what people are saying about his mom's derriere because I love spreading gossip more than feeling bad for some dude I have never met. Several Reddit threads have been made to appreciate her booty cheeks and you know what they say.
Did Blueface's Mom Just Admit to BBL? Or Is It Karlissa Saffold Being Sassy?
A lot of Reddit users seem to think that the rapper's mother had a very fine-looking a*s. Plump and juicy in their words. Blueface, stay off the internet for a while and don't read this because you would not want to read randos on the strangers saying that they would smash your mom. You would also not want to read people complimenting her bare butt and making speculations that she had BBL because she can't have that fine derriere naturally at her age.
Anyway, Karlissa Saffold may or may not have had plastic surgery to enhance her buttocks. We can only make speculations because she has not responded to those compliments (BBL) but it sure did not help her case when she decided to respond to her son's tweets. Blueface's mom, give him a break, 'kay? Why were you offended by his comments? You were not expecting him to go gaga over your behind, did you? Isn't his response appropriate for a son? Why did you have to respond saying,
Now I said it was accident BN But it look better than the one you spent yo life savings on.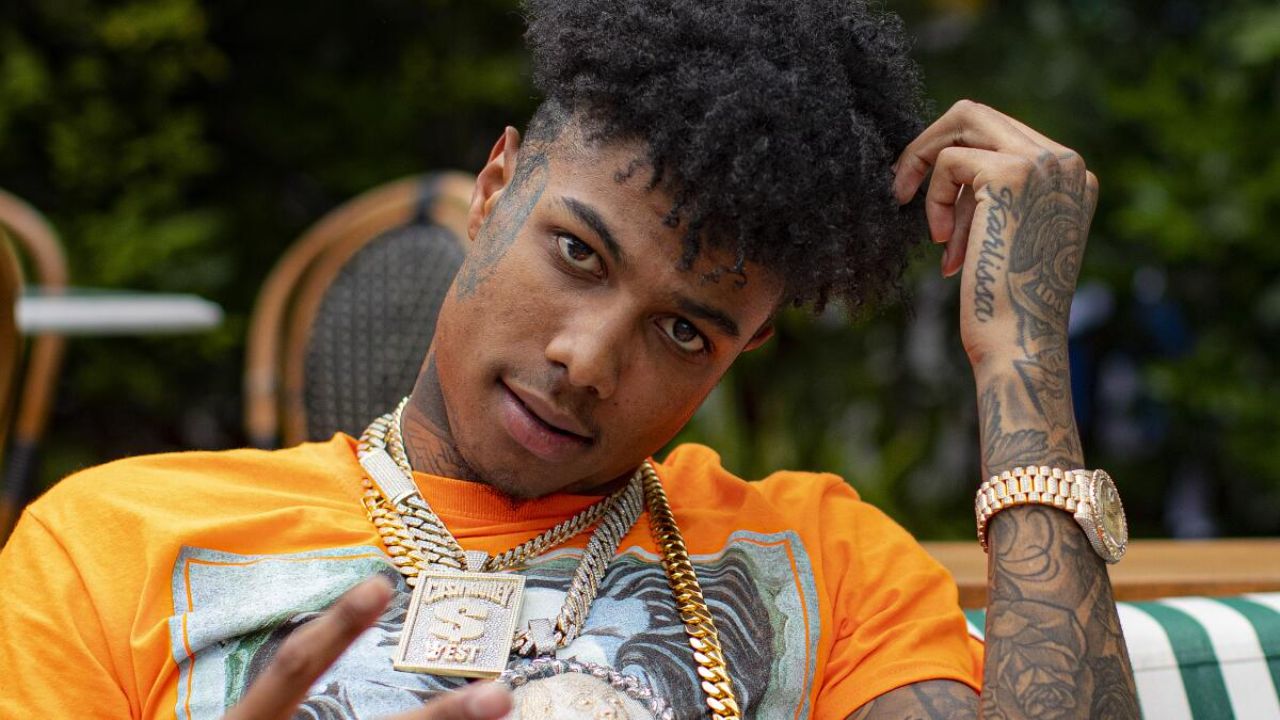 Blueface's mom thinks her butt is better than her son's ex-girlfriend's.
Image Source: Los Angeles Times
Is that a confirmation that the ultimate mother had BBL? Because why else would she be drawing comparisons of her butt with other's enhanced butt. Not just others but her grandbaby mama's. Come on, Karlissa! We can do better than that, can't we? Blueface was very right when he responded to his mom's comparisons with the following tweet,
Y are you comparing your booty cheeks to the lady I sleep with every night that's a lil creepy lol[.] What is the correlation[?]
Exactly! What is the correlation, I and everybody else ask. Did she mean that her BBL was better than her son's ex-girlfriend Jaidyn Alexis'? It sure seemed like that. Is that an indirect confirmation? Maybe it's just her need to seize the last word like when she responded again,
Keep trying me and I'll post the before pictures I gave you a head start MF keep playing.
Karlissa Saffold is not a very good mom to Blueface, is she? She has a bit unique, which is to say a creepy relationship with him.