Did Melanie Martinez get plastic surgery? Fans wonder every time she comes under the spotlight or sports a new look. They have a sneaking suspicion that she has had a nose job and lip fillers. However, there's little to no difference in her face that suggests she has had anything done. Besides, Melanie Martinez feels very strongly about plastic surgery and has always advocated for natural beauty and loving ourselves the way we are, and not succumbing to the pressures of meeting society's beauty standards.
Melanie Martinez always had that spark in her and you could tell from the very beginning that she was going to do something different and unconventional with her music. She had that weird and beautiful in her. And vocal abilities she had in abundance, we saw it for ourselves in 2012 when she appeared on the vocal talent show The Voice. Unsurprisingly, not after very long, she signed with Atlantic Records and then released Dollhouse, her debut single. She followed it with her debut EP of the same name in 2014.
A year later, Melanie Martinez took the music industry by storm when she released her debut studio album Cry Baby. The album went on to be certified double-platinum by the Recording Industry Association of America (RIAA). Her singles Sippy Cup, Mad Hatter, Mrs. Potato Head, Cry Baby, Pacify Her, and Soap were all certified gold in the US. Dollhouse and Pity Party received platinum certification from the RIAA.
She continued on with the storyline she made for Cry Baby in her second album called K-12 she released in 2019 with an accompanying film. She released an EP called After School a year later in 2020. For her highly anticipated third album Portals, she has given up the character of Cry Baby and emerged as a new character with a new look.
With her in the spotlight after she released her new single Death, Melanie Martinez has set off pregnancy and plastic surgery speculations about her. People have a sneaking suspicion that she has had something done to her nose and lips. Though there is little to no evidence of it, they can't help thinking so. After all, everyone in Hollywood has had plastic surgery, why would Melanie be any different? They are thinking along that line.
There are more interesting plastic surgery stories of Gaby Roslin and Lulu you might want to read.
Did Melanie Martinez Get Plastic Surgery? Even Though The Singer is Aware of its Dangers As She Showed in Mrs. Potato Head?
So, yeah, even Melanie Martinez (@littlebodybigheart) is not immune to plastic surgery speculations. She might have released Mrs. Potato Head, a dark song that replicates the pressure society put on women to meet some arbitrary and unfair standards of beauty and shows the horrible consequences women face when they succumb to the pressure and get cosmetic surgery. But people haven't given her the benefit of the doubt and speculate that she has had a nose job and lip job.
That's right. Fans suspect that Melanie Martinez has something done to her nose and lips. This has really come out of nowhere because there is nothing that suggests that she has changed her nose or lips. No evidence of plastic surgery, nothing that can be traced through pictures. At this point, it's more about the industry she is in than it is about herself.
Sure, she has revealed a new look for her highly anticipated third album Portals. Melanie Martinez has let go of the Cry Baby persona she created for her first two albums and has emerged with a new character, a four-eyed creature that hatches from an egg. But I highly doubt that the new look has sparked plastic surgery speculations because you know, that's not real.
Melanie Martinez sets off plastic surgery speculations every time she gets a new look.
Image Source: Rolling Stone
Melanie Martinez does often experiment with makeup and prosthetics to create unique and fantastical looks for her music videos and live performances and completely transforms herself to look unlike anyone. That might be one of the reasons why people suspect she has had plastic surgery. But you can tell that's the weird but beautiful in her and not something done with the help of plastic surgery or something to hide it.
Besides, Melanie Martinez feels very strongly about plastic surgery. She has always advocated for natural beauty and learning to love ourselves as we are. In a dark song she released called Mrs. Potato Head, she narrated the pressure to conform to society's beauty standards and the dangers and consequences of cosmetic surgery via a very innocent and powerful story-telling.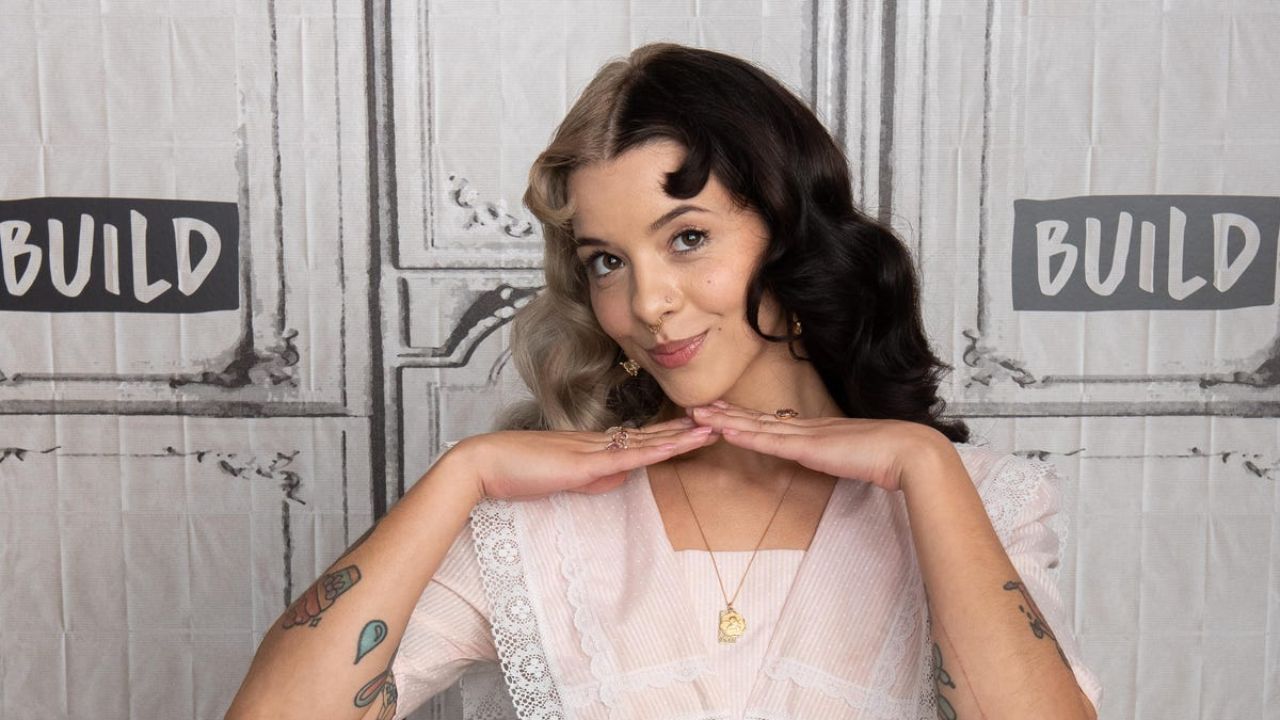 Melanie Martinez depicts the danger of plastic surgery in the music video of Mrs. Potato Head.
Image Source: Forbes
In the music video, Cry Baby, the fictional character of her first album, watches on television the decay of Mrs. Potato Head who is pressured to undergo plastic surgery which later backfires on her. In an interview, discussing the idea behind the song and its' visuals, she said,
I had the idea for "Mrs. Potato Head" for a long time and the whole visual I had in my head was the fact that you can pull toy pieces off the face and that could represent plastic surgery.
Melanie Martinez has gained critical acclaim for her song and her commentary on plastic surgery. Even though her views on cosmetic enhancements are clear, people still suspect that she might have gotten something done. If she has, she has not confirmed it yet. Though people should consider the possibility that she might not have anything done.