Dustin Brown has undergone a significant weight loss of 285 pounds since 2017 by engaging in physical activities such as walking, kayaking, boxing, and dancing in the kitchen. That was not his first attempt to lose weight. He had lost weight before but he gained it all back because he could not sustain it. So, Dustin Brown embarked on another weight loss journey with a commitment to make it sustainable. 
A man named Dustin Brown went viral on the internet after he shared his incredible weight loss transformation story on TikTok. From topping the scales at 475 pounds to losing 215 pounds only to gain back, and then again losing 285 pounds, he went through h*ll of a time. His struggle with weight finally came to an end and he hopes to inspire other people with his story.
Here's everything to know about Dustin Brown's weight loss!
There are more weight loss stories of Kardea Brown and Maria Bartiromo that you might be interested in.
Dustin Brown's Weight Loss: He Made a Promise to His Father to Take Control of His Life!
Dustin Brown (@losetogain3) has one of the most motivating weight loss stories to tell. He lost over 285 pounds and in losing that, he gained control of his life and he also fulfilled his promise to his father.
Dustin Brown, by his own admission, was always the overweight kid. His size and weight had been plaguing him since he was a child because he was not a happy child. He had anxiety and depression but nothing to deal with that. So, to cope with his mentality, he used food for comfort. Food was his solution and his escape from his anxiety and depression. Little did he know then that there would come a day when he would have to give up food and worry about weight loss more than any other thing.
With his way of living, Dustin ballooned up in no time and that came with consequences. He said that he was plagued by health problems and endless failures and all of it had to do with his weight. His life was being taken over by his weight and he was in desperate need to embark on a weight loss journey. But because nobody pushed him, he really didn't take the initiative.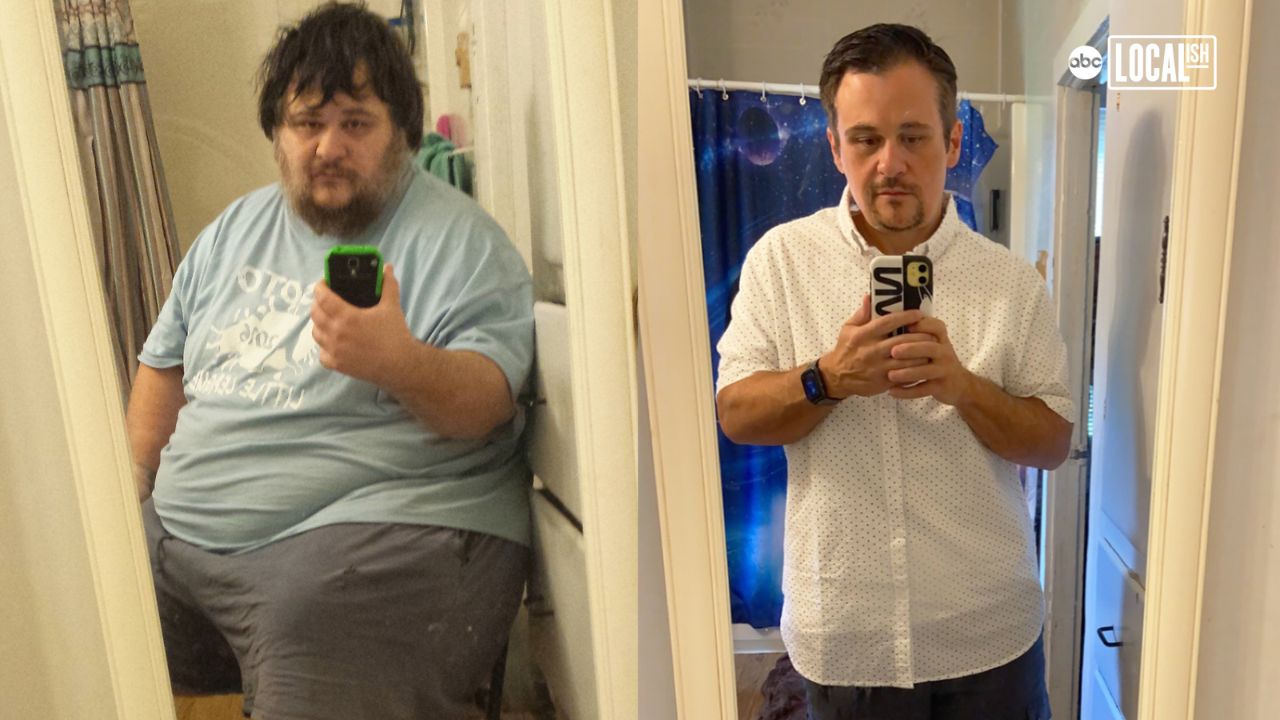 Dustin Brown had a weight loss of 285 pounds in 2017.
Image Source: ABC13
That was until Dustin Brown lost his father. In 2004, he made a promise to his dad to lose weight and get his life back shortly before his dad died of cancer. His weight had truly already become a hindrance in his life by that point and everybody could see it but the promise he made to his dad to shed the excess weight he had and free himself from his weight issues was the nudge he needed to get started on his weight loss.
Dustin told his father that he was going to make him proud and he was going to get his health back. And he did as she said. He managed to shed 250 pounds between 2006 and 2009 by using the pain of his father's death as a motivator. That was like 215 pounds down from the highest he weighed at 475 pounds. It was a very significant and impressive weight loss he had.
But unfortunately, for him, it was not very sustainable. Dustin Brown failed to maintain his weight and he returned to the same state over the next few years as he gained back all the excess weight he had lost. He struggled a lot to sustain his weight loss but to no avail, because after being consumed by a cycle of guilt, he regained. By 2017, he was in the same condition as he had been before his father's death. His livelihood had declined considerably. He had gotten so heavy that it was hard for him to move as his legs couldn't support the weight of his body and that's why he was mostly confined to his bedroom. He had to use a scooter to move.
What Did Dustin Brown Do For Weight Loss?
Dustin Brown did boxing, walking, and kayaking to lose weight.
Image Source: The US Sun
That was not a very great life. So, deciding to take control of his life again, Dustin Brown embarked on another weight loss journey in January 2017, and this time, he was determined that he would make it more sustainable. And he did. He began to do a lot of physical activities and gradually moved on to proper exercise and that did it. First, he tried boxing. In the beginning, he would just stand up and hit one time, then sit back. As time went on, he lost weight, he could stand longer and hit more.
Dustin said that it doesn't even have to seem like exercise because if you hate it, how are you going to be able to do it forever? He forgave himself for getting back to that position and began to do a lot of dancing in the kitchen. He began doing things he could not before such as running, walking, and kayaking. And eventually, he underwent a weight loss of 285 pounds and so far, he has maintained his weight because it was a quest marked by his commitment to mental health as well.
Weight loss is just a math equation. But mentally is the real struggle.
Now, Dustin Brown hopes to inspire people who are trying to lose weight and uplift them to make a positive and healthy change in their lives. With his videos of weight loss transformation on TikTok, he is doing that. He also had excess skin removal surgery and he looks much healthier and happier now.