Gaby Roslin is 58 but she looks like a woman in her 40s, which has led people to believe that she has undergone plastic surgery to reduce the effects of aging. Many people were dead sure that the television presenter had had Botox and a facelift. That is until Gaby Roslin said that she was not an advocate of plastic surgery. She explained that she was not ashamed of the wrinkles on her face because they showed that she had laughed and that she had cried.
Gaby Roslin co-presented The Big Breakfast on Channel 4 from 1992 to 1996. Between 1995 and 2004, she presented the Children in Need charity telethons on the BBC. And she was also the one to present the weekly The National Lottery Draws on Staurday evenings and co-presented the Channel 5 daytime program The Saturday Show alongside Matt Allwright.
She has worked as a television presenter for more than three decades now. Gaby Roslin rose to mainstream fame as one genuinely relatable woman with an infectious personality - a quality necessary for someone with a hosting job. Maybe it's her bubbly enthusiasm combined with endless energy and ability to chat with anyone that she still continues to have the same job.
People still continue to love her the same for being the woman who they can talk to so easily and relate to. However, one thing they can't relate to when it comes to her is aging because she does not look like she has aged properly. She could be decades younger and people just can't believe that it is natural which is why people suspect that she has taken the aid of plastic surgery to maintain her looks. Fans think she has had Botox and a facelift at the very least. Let's talk about Gaby Roslin's plastic surgery and whether she has had it!
Would you also like to read the plastic surgery stories of Lulu and Traci Melchor?
Gaby Roslin's Plastic Surgery: She is Not Ashamed of Wrinkles and She Says She is Anti-Botox!
Gaby Roslin (@gabyroslin) looks decades younger than her age which people don't think is natural and they suspect she has had plastic surgery. They especially suspect that she has had Botox and a facelift.
Gaby Roslin is not just the face of television shows. She once fronted a campaign called Small Talk Saves Lives which is aimed at making ordinary but potentially life-saving connections with people who are depressed or suicidal. When she was asked about her approach to her health and well-being and how she felt about getting older during that campaign, she said that she was not an advocate of plastic surgery.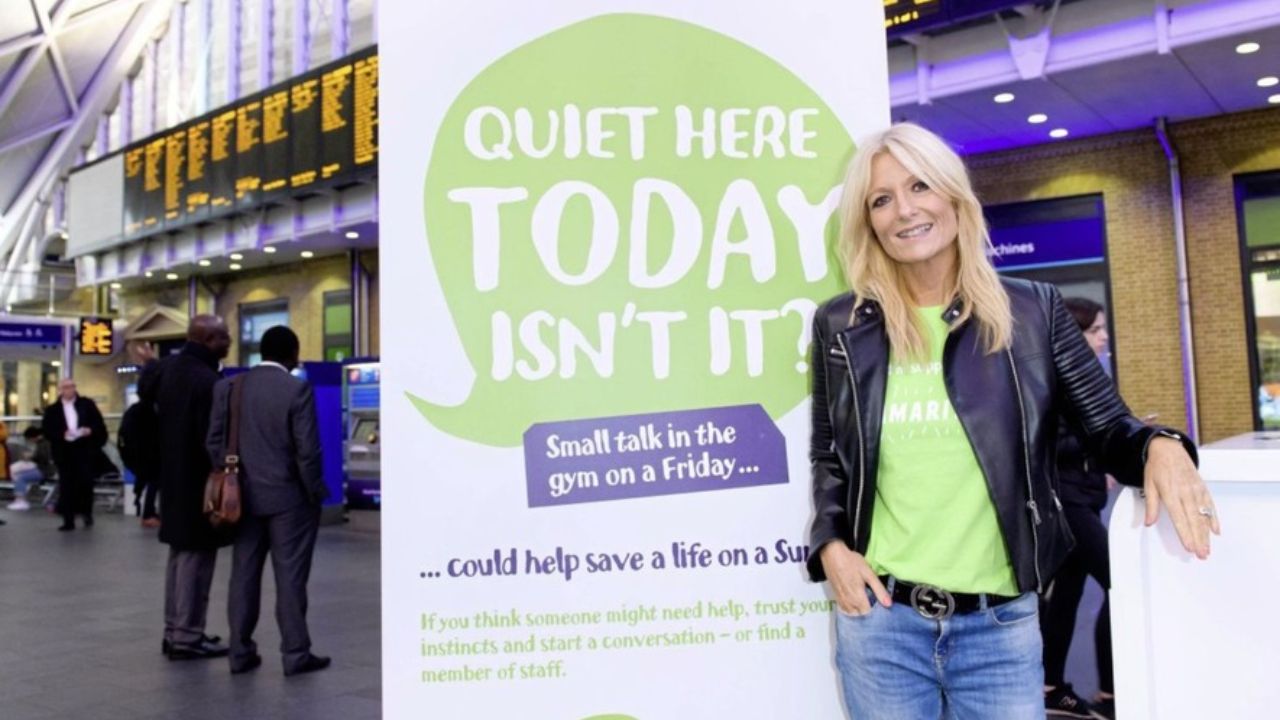 Gaby Roslin says that she's not an advocate of plastic surgery during a campaign Small Talk Saves Lives.
Image: Irish News
Yup, that's what she said. Because Gaby Roslin looks like she could be in her 40s when she is nearing her 60s, people suspect that she has had plastic surgery to prevent the effects of aging. But there she goes saying that she does not advocate it. Because as she said, she does not care that she has wrinkles and she is not ashamed of them. For her, wrinkles are just something that shows that she has laughed and she has cried. Nothing to be sorted out.
If anybody asks my age, I always say 42/12! I'm not ashamed of my age, 54, for goodness sake. What you see is what you get with me – I've got a few lines – I'm not an advocate of plastic surgery or those sort of things – and I dye my hair blonde and have worn fake tan for the last 20 years.
If Gaby Roslin has not had plastic surgery, then how does she look so young for her age? Is it even possible naturally? Fans, who were dead sure that she had Botox and a facelift till she said that she hadn't, wonder. Well, she goes to the gym four times a week and does Pilates. She also takes supplements as per her need, and only eats organic products, sustainable fish, lots of fruit and vegetables, no red meat, and no sugar. She really takes good care of herself which could be why her aging process has slowed down.
It's hard to believe that aging can happen like that. Even if it's possible, some fans are shocked that she made it in the entertainment industry without having plastic surgery. How did Gaby Roslin make it through the intense pressure of looking young forever that women are subjected to? They can't help but wonder how she managed to avoid going down the Botoxed-to-the-hilt route.
Gaby Roslin looks fine without Botox and any other plastic surgery.
Image Source: The Guardian
Well, as it turns out, Gaby Roslin has learned that life is for living and not for sweating the small stuff too much. She said that losing three friends to cancer in 18 months helped her get a perspective on things like plastic surgery. There was one friend called Rachel who shaped her views on Botox and cosmetic surgery before she succumbed to cancer and died.
My big revelatory moment came just over three years ago when I was in Selfridges with Rachel, one of my dearest friends. We used to go shopping when she'd had a bout of chemo and on this day we were having a laugh trying on the wigs. This woman walked past – one of those ones, you know, face set as if she'd been caught in a wind-tunnel – and Rachel got really angry. She said, "I've got poison in my head, killing me. I'm never going to get wrinkles because I'm not going to live long enough. Yet she's injecting poison into her head just to keep herself looking young." I'd never thought of it like that, but she ended her rant by saying, "Don't ever do it, Gaby."
When you look at it that way, getting Botox just to look young forever does seem very shallow and unnecessary. Gaby Roslin felt the same way after hearing out Rachel and so, now, she is against plastic surgery. Even if she was not against it, she was convinced that the anti-wrinkle injection does not work and no matter how many times you get them, you just end up looking odd at some point so, she wouldn't have gotten them anyway.
Gaby Roslin is happy with lines around her face and on her forehead which dance as she chats and gestures. So, she doesn't feel the need to have plastic surgery. If anything, she says that she looks younger than she is because she hasn't meddled with her face with various cosmetic procedures. She thinks the more you mess with your face, the more it catches up with you.
If everybody thought like her and believed what she believed, nobody would have plastic surgery.