With the release of Fast X (2023), Jason Momoa has been making headlines because of his weight gain appearance. He comparatively looks bigger now and his fans are concerned about his physique.  
Jason Momoa, full name Joseph Jason Namakaeha Momoa, is an American television and film actor and producer who rose to prominence in the 2000s as a character actor specializing in warriors, fighters, and other violent characters. He is also best known for his long hair and muscular body. Likely, his most well-known performances include the Dothraki warlord Khal Drogo in Game of Thrones (2011-19) and the title character in Aquaman (2018).
On January 2022, Momoa joined the cast of the tenth Fast & Furious franchise, Fast X as Dante Reyes, the son of Hernan Reyes (Joaquim de Almeida), the major antagonist killed by Luke Hobbs (Dwayne Johnson) in Fast Five. The movie recently got released worldwide on May 19, 2023.
Since the release, viewers have been shocked by Jason Momoa's latest appearance. Many people have observed that the actor has undergone significant weight gain. As a result, they are curious to learn more about his transformation. Well, here is everything you need to know.
Previously, we touched on the weight gain stories of Kate Winslet and Blake Lively.
2023: Jason Momoa's Weight Gain Has Been Making Headlines Ever Since the Release of Fast X!
The Internet, which is riddled with hate and a lack of common decency recently discovered a new target: Jason Momoa (@prideofgypsies) and his weight gain transformation. Not to forget, he was previously been the victim of body shaming due to his overweight body.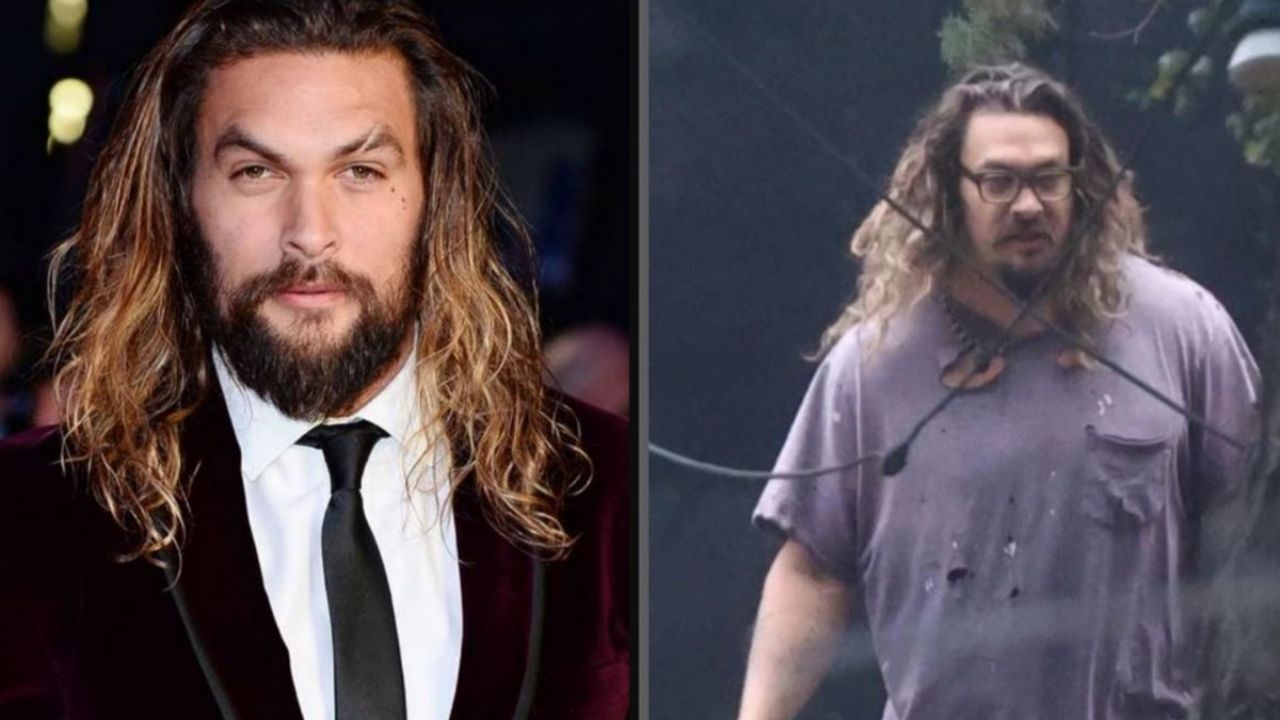 Jason Momoa before and after weight gain.
Image Source: Tiempox
It all started when US Weekly published a photo of the Aquaman star in Venice. After the photos were made public on social media, critics soon began labeling his weight gain physique "a dad bod", wondering what happened to his normally ripped frame. One wrote,
I'm mad. I'm mad at the people asking why Momoa isn't constantly flexing his ab muscles. I'm mad at his defenders saying that he's "on vacation" and should be left alone... for having a perfect body. And I'm mad that the term I use to describe my own body is now being co-opted to describe the stacked mounds of muscle that make up Momoa's perfectly sculpted human flesh.
However, Jason Momoa isn't scared to take his shirt off now. And we doubt he'll hear any fat shamers this time, as he recently released a shirtless IG Reel of himself looking muscular and recovering from his overweight.
Jason Momoa shot to prominence with his famous role in the 2018 superhero picture Aquaman. However, the amount of effort that went into constructing the actor's physique was recently revealed. His exercise routine for the role of Aquaman was disclosed in a recent newspaper, only three days before the premiere of Fast X.
Momoa's Aquaman training plan was carefully tailored by celebrity trainer Mark Twight, taking into account the role's requirements as well as the actor's own preferences. Twight was forced to incorporate rock climbing into the program in order to meet Momoa's demands. However, given that Momoa required weight for his legendary DC character, rock climbing was most likely not required for a proper body. Twight recently opened up about how difficult it was for him and Momoa.
Jason Momoa's latest appearance.
Image Source: Deadline
According to Men's Health, the 43-year-old actor had to bulk up in order to play the DC superhero. As a result, the crew engaged with the top trainer in the profession and a famous name in the rock-climbing industry. He assessed the actor's desire to climb an indoor rock wall 2-3 times a week, which conflicted with the character's needs. Twight explained, "We battled constantly with competing demands."
A lightweight body is essential for rock climbers, but Momoa needed to bulk up due to his weight gain. As a result, the trainer, who also owns the well-known Gym Jones, devised a solution: weight training. A higher volume of training was required to achieve the desired modifications in his physique. As a result, equal weight was placed on recuperation activities, which became critical. The skilled massage and physical therapist Damian, Twight's assistant, took care of this matter. Twight said, "We balanced weightlifting with climbing."
He also stated that when he was in the gym, he focused on the less-affected muscles and avoided the parts that would be stressed in the following climbing session. While discussing his heroic cameo in the 2016 film, the actor mentioned another factor that helped him acquire his physique. He claimed to have discovered a trick while working on Batman v Superman: Dawn of Justice in 2015. At the time, Momoa asked his trainer for two cans of beer just before doing an underwater stunt. Later, he explained,
So I was doing that whole thing, and my body wasn't showing up and it wasn't happening…I go, give me a Guinness. Give me a Guinness, and so right before we did the underwater thing, I cracked two Guinness, pounded them, and my body's like…My whole thing, my whole body, you can see like my veins going like.
It was difficult for Momoa and his trainer to replicate the famous representation that the fans adored in the movies. For sure, the community will regard the star with greater reverence from now on.