Josh Allen supposedly has a new girlfriend who is the woman with whom he cheated on Brittany Williams. As per the rumors, the Buffalo Bills quarterback got her pregnant and on finding out, Brittany broke up with him. Josh Allen has allegedly been messaging her and people think she is his new girlfriend.
Josh Allen and Brittany Williams have long been considered to be one of the NFL's hottest couples. They have been dating for more than five years. Williams was around since 2017 when he was selected seventh overall by the Buffalo Bills. She has been incredibly supportive of him. But it looks like Allen has lost this support. The longtime couple is rumored to be on the outs after she unfollowed him on Instagram.
Not only that, but the sports personality also seems to have a new girlfriend already. As per the rumors, he cheated on Brittany Williams and got another girl pregnant. He supposedly is involved with the girl now. And now fans want to know who Josh Allen's new girlfriend is.
Previously, we touched on the relationship status of John Cena and Swae Lee.
Josh Allen's New Girlfriend: The Rumor Has It That She is a Bartender!
So, who is Josh Allen's (@joshallenqb) new girlfriend? The questions have started pouring in amid the rumors that he and Britanny Williams have split up because he allegedly cheated on her and got another girl pregnant. Though there has been no confirmation of the break-up from both side and they are just rumors till then, fans think that the relationship has come to an end and now, they are wondering about the girl Allen cheated on with.
Josh Allen is rumored to have gotten a new girlfriend after his split with Brittany Williams.
Image Source: People
Who is this new girlfriend (if he really split with Brittany Williams, doesn't that make the girl he got pregnant his new girlfriend) of Josh Allen? Well, about that, we don't really know. Online celebrity gossip platforms like DeuxMoi, that broke the news that Brittany Williams had broken up with Allen after she found out about him cheating can hardly do so much and reveal all.
Besides, from what DeuxMoi has revealed in the blind about Allen, Josh Allen's new girlfriend, the woman who he cheated on Brittany Williams with, and who he got pregnant, is a local bartender.
Did Josh Allen Cheat on Brittany Williams? Did They Break Up Because He Got a Girl Pregnant? Are The Rumors True?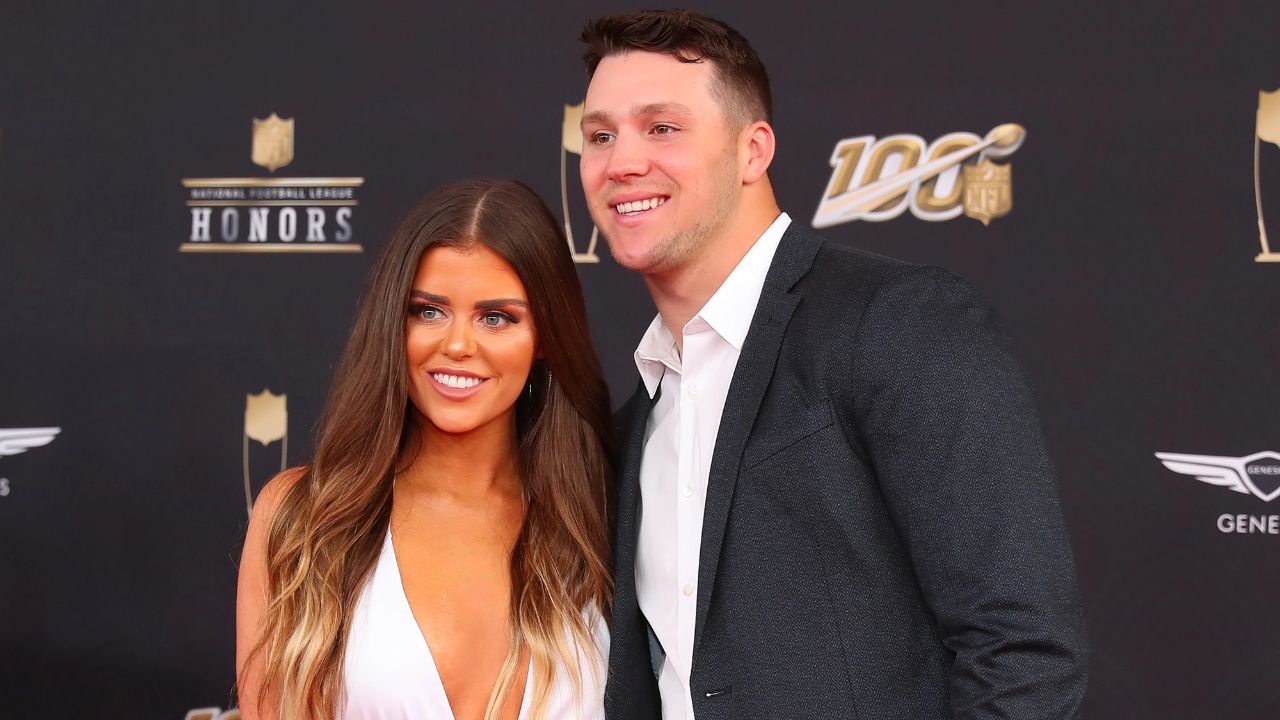 Josh Allen and his longtime girlfriend Brittany Williams are rumored to have broken up.
Image Source: New York Post 
The rumors of Josh Allen and his longtime high-school girlfriend's break-up started going around since the beginning of April. Though many ignored it because there was nothing to suggest the couple had split, now that Brittany Williams has quietly unfollowed Allen on Instagram, they can't help but think that something's up between them.
So, even though neither Josh Allen nor Brittany Williams have confirmed that they have broken up, there might be something true to the rumors because why would Williams not just unfollow Allen on Insta but also delete all pictures of him from her profile? Did he really cheat on her? Did he really get another girl pregnant? Is there already a new girlfriend in the picture?
If the rumors are true, then there is a new girlfriend in the picture. And she has been around long enough. I mean, she has gotten pregnant and all that. Earlier, she was the other girl in the relationship but if Josh Allen and Brittany's relationship has indeed come to an end, that would make her his new girlfriend, I suppose. He has not mentioned anything about his relationship status though.
But as per the rumors, the Buffalo quarterback has been messaging the girl he got pregnant. It might have been a silly one-night stand but with how things have gone, Allen might want to be involved with her. Maybe he could just opt for co-parenting or maybe he would finally settle with her. He might end up with this new girlfriend.
Or maybe I am running amok with these speculations and there's no new girlfriend in the picture and the rumors that Josh Allen split up with Brittany because he cheated on her and got a girl pregnant might be false. I mean, something's definitely up. Brittany unfollowed Allen on Insta and deleted all pictures of them together from her profile. They might have broken up but the cheating rumors and getting another girl pregnant seem a little too far-fetched.
DeuxMoi did write in the now-deleted blind that Brittany Williams found out that Josh Allen cheated on her when she went through his phone during a Halloween party and found messages and a sonogram. But it also said that the local bartenders, friends of impregnated girl, party assistance, old team members in Wyoming, and medical staff in Buffalo confirmed the pregnancy, which many people found a little suspicious.
Besides, fans think that these rumors were spread with malicious intent to hurt Josh Allen's image by people who were pissed off that the Buffalo lost a playoff game. Until he comes forward to deny the rumors of cheating and getting another girl pregnant, there's nothing to be said.