Latto previously admitted to receiving a BBL surgery before. However, she denied when she was asked if she had done a second round. 
Alyssa Michelle Stephens, also known as Latto or Big Latto (formerly known as Mulatto), is an American rapper and singer. She decided to pursue a career in music at a young age, and by the age of ten, she was writing songs. She gained fame in 2019 after her breakout hit Big Latto peaked at number 95 on the Billboard Hot 100 chart.
Recently, Latto has been in the news after she announced that she was working with Mariah Carey. She seems to love working with the artists, and she has also claimed that working with Mariah has made her feel like anything is possible. She also admitted to praying and working hard, and it just kind of fell into her lap for real.
After the interview, many people were gossiping about her BBL. People seem to be more curious about her changes in the last few years. In this article, we will be talking about all the surgeries she has performed and her BBL experience. To know more, read this article.
Have a look at the plastic surgery stories of Aleisha Allen and Ashley Leechin.
Latto Openly Admits to Receiving a BBL!
Latto (@latto777) has hired a trainer to maintain her BBL. She has been an inspiration to many black women, and she loves enjoying and showing off her body. She also said that she would be showing her body until it gets wrinkled.
Plastic surgery has been the most common thing people have done to enhance their beauty. While some love to admit and share their experience of getting one, some hide it and keep it a secret. Talking about Latto having a BBL, the rumors have finally been confirmed by the rapper herself, and she has admitted to having one.
Latto admits to receiving a BBL.
Image Source: Instagram
A Brazilian butt lift, also known as BBL, is a surgery where a doctor transfers fat from your belly, hips, lower back, or thighs to your buttocks, resulting in an hourglass-shaped figure, with larger buttocks. The average cost of this surgery is between $8,000 - $10,000.
During a recent interview with Cosmopolitan, Latto talked openly about having BBL and liposuction. She also discussed the result and how she has been maintaining the surgery. She revealed having BBL three years ago stating,
I got a BBL in 2020. I also got 360 lipo. That's on my stomach, back, sides, and whole torso. But then you've got to maintain it. So I just hired a trainer.
Did Latto Get Round Two of BBL?
Many fans of Latto seem to be pretty impressed by her honesty. Well, continuing the interview, when she was asked about the second round of BBL, she denied it and told how she has been managing the result. She was going to get round two of surgery, but then she thought of getting a trainer instead.
She claimed that her decision to get a trainer was the best thing she could have done as a trainer helped her hold herself accountable. The rapper has been praised for her body for a long time; some people even called her a Barbie doll, which seems to be the success of BBL.
Latto Previously Revealed That She Loves Showing Off Her Body!
Latto has been an inspiration to many black women, and she has always nailed her photoshoots. Her first nude photoshoot was claimed to be her biggest success.
When she was asked about how she has been so confident in herself, she revealed that she is young right now, and she feels like it's the right time to embrace how her body looks. Before she has kids, real responsibilities, and wrinkles up, she will show it off.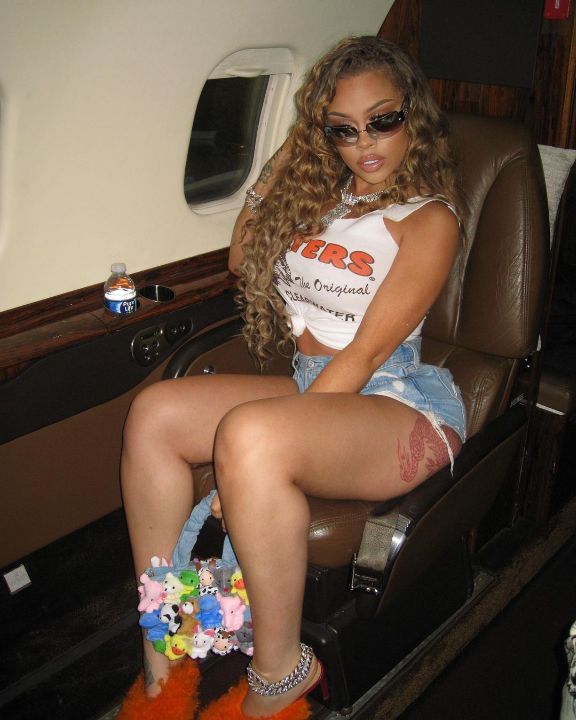 Latto loves showing off her body.
Image Source: Instagram
We know that everything can't be as smooth as it looks. While she has been loved by many of her fans, some have been criticized for her photoshoot and the dress she wore. Some people on the internet have been commenting on her body by involving her pet's name. For those people, Latto has clearly said that her mother is her biggest supporter saying,
Everyone always asks what my parents think about the sexy clothes I wear. My mama is here for it. She loves it! She's like, 'Girl, do it now!' She had me at 15 years old and wishes that she could have flaunted her body before kids. And then she turned around and had my sister at 19. She's my biggest advocate.