Neymar is often accused of and trolled because of his weight gain. The football fans have noted that he often fluctuates in weight and frequently piles on more pounds than he loses. Many critics credit the change in his weight to not being serious about his career. Neymar has stated that the excessive speculations of weight gain and body-shaming are disrespectful but that has never stopped people from discussing his weight.
Neymar is widely regarded as one of the best football players in the world and the best Brazilian player of his generation. A prolific goalscorer and playmaker, he is one of the few players who has scored at least 100 goals for three different clubs. He currently plays as a forward for Saudi Pro League club Al Hilal and the Brazil national team.
He ranks among the world's most prominent sportsmen and that seems very hot because it is. But what's not hot about his fame is that he is constantly trolled for his weight gain. He is accused of being unprofessional and unserious about his career even if he gains a little bit. The criticism of him being out of shape has never left him. Here's everything to know about Neymar's weight gain!
There are more weight gain stories of Ezekiel Elliott and Jamelia that you might be interested in.
Neymar's Weight Gain: Did He Put on Weight Recently?
Neymar (@neymarjr) is never going to get rid of the weight gain speculations about him because there it comes again. He's now with Al-Hilal and all people can talk about is why he's gained so much weight after joining Al-Hilal. It does not look like he's gotten drastically bigger compared to before but the footballer has been kind of accosted for even the slightest and negligible change.
Neymar's weight gain, many say, is a sign of his unprofessionalism.
Image Source: Twitter
Anyway, he has not responded to the recent weight gain speculations. But the last time, he addressed discussions about his weight was in 2022. It was when he was recovering from injury after having sustained ankle ligament damage towards the end of PSG's Ligue 1 win at Saint-Etienne in November 2021. Everyone had seen him leave the pitch on a stretcher and then he was later spotted on crutches.
It should not have surprised anybody if Neymar underwent a bit of weight gain then. They definitely should have had the grace of not bringing it up and they should have just wished him a speedy recovery or something like that. But they didn't. Instead, a lot of PSG fans criticized him for not being in good physical shape and not having an appropriate lifestyle fit for a player while away from the pitch.
Former PSG winger Jerome Rothen was among the ones who criticized the Brazilian forward's shape and discipline. He said that Neymar had put on weight without stopping, he was growing older, and he did not have a suitable way of living, and that it was unacceptable from a player who had not yet played 50% of the games since the start of the (2021/2022) season. Like Rothen, many took his weight gain to be a sign of unprofessionalism.
Journalist Fabio Sormani also took a hit at him and accused him of not taking his career seriously. According to Sormani, the footballer would not have had weight gain if he was serious about his career because if he had been serious about his career, he would have been more focused like Hulk who trains even while he is on holiday. But Neymar never even went to the gym or to the nutritionist.
A slight weight gain and people started piling on him. He got tired of getting accused of being unprofessional and unserious about his career. So, he responded to those criticisms by showing his recovery process from injury by uploading a photo of him in an oxygen mask in his hyperbaric chamber in his Instagram story and writing,
How good it is not to be professional and not take care of yourself, right? To be right at night, you have to take care of yourself first.
Neymar Hates Speculations About His Weight Gain!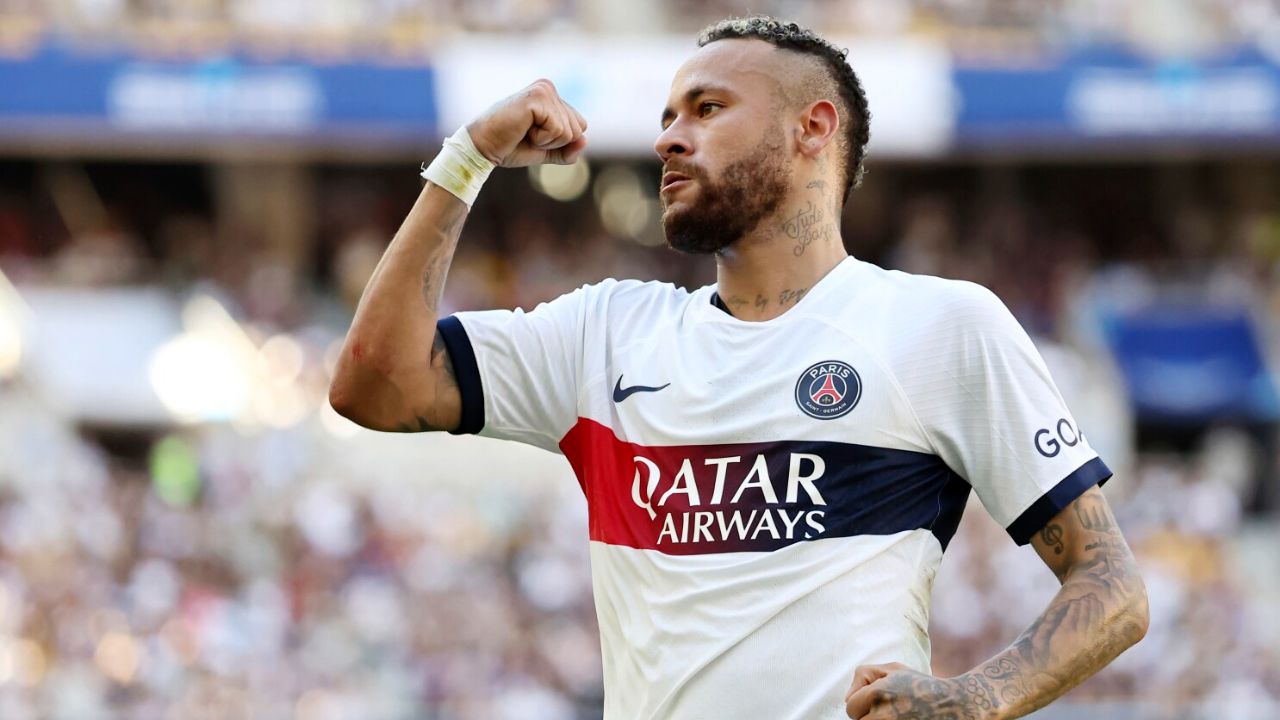 Neymar said that the criticism about his weight gain was disrespectful.
Image Source: AP News
This kind of criticism for weight gain is not an isolated event. It has happened before that and it has happened after that as well. Just a few months prior to that, in September 2021, Neymar had received a large number of fat-shaming comments on his Instagram. He had posted a picture of him on a holiday, enjoying his break on a yacht, after which the snarky comments about him enjoying himself a little too much and piling on the pounds flooded the comment section.
Apparently, they were just concerned that he was returning for the new season overweight. However, it did not just look like that. It looked like they were piling on him at the first chance to join the French journalists who critiqued him for looking out of shape and accused of him being static throughout the match. No matter what he did, people were always ready to 'notice' his weight gain and its impact on his game.
Anyway, Neymar chose to deny the allegations of weight gain and said that it just looked like he had put on some weight because he was wearing the wrong size shorts. He explained that he was wearing a 'size G' (a European large) for the game and insisted that he was 'at his weight.' He further joked that he would ask for a medium in his next match.
Neymar later spoke out seriously about how weight gain speculations and criticism for not reaching his optimal form were disrespectful after the World Cup qualification match.
I don't know what else I have to do to make people respect me. This has become something normal and has happened for a long time. They are journalists, commentators and others. That is why, sometimes, I don't even like giving interviews anymore. I think that an important moment has come for it me to say this, because I am suffering all kinds of disrespect.