Many people wonder if Nina Dobrev has all the tattoos, like her character in Out-Laws, in real life. Well, she doesn't. All the tattoos, including on her neck, are fake.
Nina Kamenova Dobreva, also known as Nina Dobrev, is a Canadian actress. She began her professional career in 2006 after landing the role of Mia on the teen drama television series Degrassi. She started gaining fame after appearing in the lead role of Elena Gilbert in The CW's supernatural drama series The Vampire Diaries.
Recently, Nina has been in the news after Paul Wesley revealed that he ignored Nina before the release of The Vampire Diaries. He states that he had a very specific approach. When Nina was already cast as the lead and she was in the hallway, everyone was going up to her and saying 'hi,' but Paul was like "F—k that; I'm not going to look her in the eye, and I'm also not going to introduce myself."
On the other hand, many people have been curious to know if Nina Dobrev has tattoos in real life like her character in Netflix's The Out-Laws. Well, let's find it out.
Previously, we touched on the stories about Paris Fury and Meghan Markle.
Nina Dobrev Does Not Have Any Tattoos in Real Life!
Many people are wondering if Nina Dobrev (@nina) has tattoos in her real life. Well, all of them are fake, including in her neck. However, she is considering getting one if she loses a bet with the movie's director, Tyler Spindel. Everybody loves the tattoo she had for her character in the Netflix movie, Out-Laws.
Many people have been curious to know more about Nina's tattoos. In the movie, she was seen having many tattoos on her body, which made people curious if they were demanded by the character or real.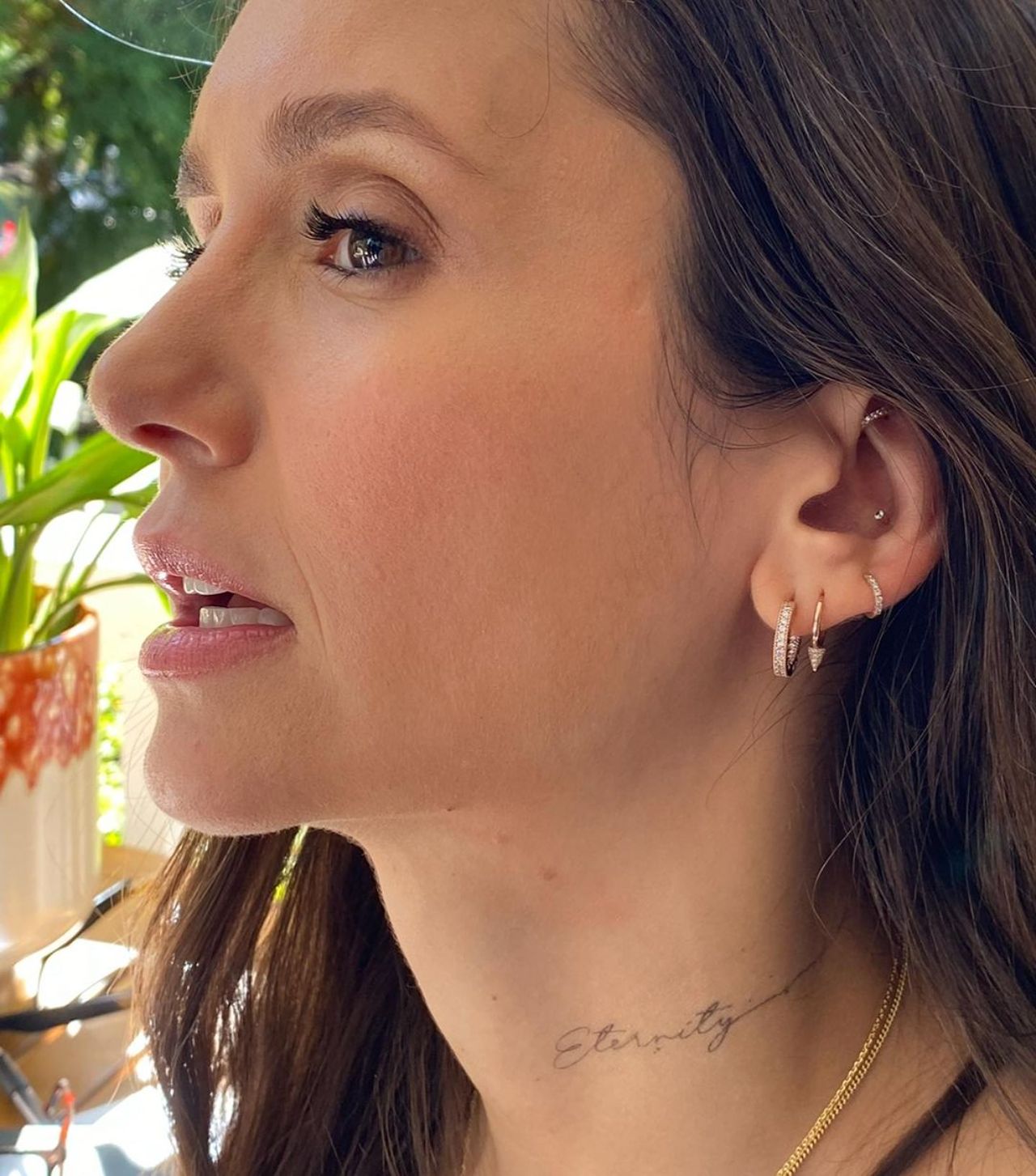 All of Nina Dobrev's tattoos in Out-Laws are fake.
Image Source: Instagram
The movie's character demanded many actors and actresses to change themselves fully. Some characters even demanded them to become the opposite of themselves. Similarly, Nina's tattoos were all fake and were demanded by her character Parker in the movie.
Talking about her fake neck tattoo, which is liked by many of her fans, is the word eternity. They claimed to use Temptu to settle them into the skin so they would not appear too new. She also had tattoos on her arms, wrists, back, and many more places. There were more than 15 tattoos during the shoot.
Nina Dobrev Is Considering Getting a Real Tattoo!
After the huge success of Netflix's  Out-Laws, Nina Dobrev talked about her experience during her interview with Live with Kelly and Mark. During the interview, she also talked about having fake tattoos and how she picked all of them to be on the screen. She stated that among them, the favorite tattoo she ever considered getting was a little T-Rex, which was an animated one.
Nina Dobrev is prepared to get a tattoo in real life.
Image Source: Instagram
Continuing the interview, Dobrev revealed that she's considering getting her first-ever tattoo, but only on one condition. She stated that she has a bet with the film's director, Tyler Spindel, that could end in her getting tattooed once and for all. She also stated how she used to apply the fake tattoos for the role. She said,
In the film, my character has a lot of tattoos. I have zero in real life, so I spent an hour in the chair every morning applying these fake tattoos. And so I made a bet with the director that if the movie goes to number one worldwide on Netflix. I will get one of the tattoos that my character has on the movie.
Nina Dobrev on Her Role in Out-Laws?
Many people seem to love Nina Dobrev's role as Parker McDermott in the comedy movie, Out-Laws. The simple storyline of the movie is about a soon-to-be-married couple whose wedding plans are interrupted by the bride's criminal parents. The movie clearly shows the inside story of Parker's interest and her life.
Previously, Nina talked about her love of comedy, her collaboration with Brosnan, and why it was important for her to take responsibility for her career. Talking about how much Nina is similar to the character she mentioned of doing comedies from a very young age, she explained,
I grew up doing comedies, and when I read the script, it was so fun and playful. I've always wanted to work with [producer] Adam Sandler. And Adam DeVine is a really close friend of mine. And obviously, getting to work with Pierce Brosnan and Ellen Barkin — everything came together. The script is really funny, and I jumped at the opportunity to get to collaborate with these clever, incredible human beings.