Ryan Gosling has been accused of receiving a nose job for a long time now. While his nose clearly looks different in his then and now pictures, he has yet to respond to the allegation.
On July 21, Greta Gerwig's Barbie and Christopher Nolan's Oppenheimer will enter cinemas simultaneously, unleashing the devastating cultural phenomena known as "Barbenheimer" on the planet. Indeed, the two most anticipated blockbusters of the summer look to be opposites in every way.
You might be aware of the storyline of Oppenheimer, while little is known about the plot or tone of Barbie. However, we do know that it inspired a pink paint shortage, stars Margot Robbie and Ryan Gosling as Barbie and Ken, respectively, has other A-list stars and a big soundtrack, and has inspired culture and fashion dubbed "Barbiecore."
On the other hand, we've found that many people have been wanting to know if Ryan Gosling has received a nose job since his nose doesn't look the same as it was in The Notebook (2004), his breakout role. Well, we've got you covered.
Check out the plastic surgery stories of Gillian Taylforth and Anna Kendrick.
Many Experts Believe Ryan Gosling Received a Nose Job to Fix His Crooked Nose!
The Notebook turned out to become Ryan Gosling's life-changing movie. Even though it has been almost 2 decades since the release of the movie, people mostly recognize Ryan for playing the role of Noah Calhoun in The Notebook. However, many people have claimed that his nose started looking different after he got famous. Many people have accused him of receiving a nose job.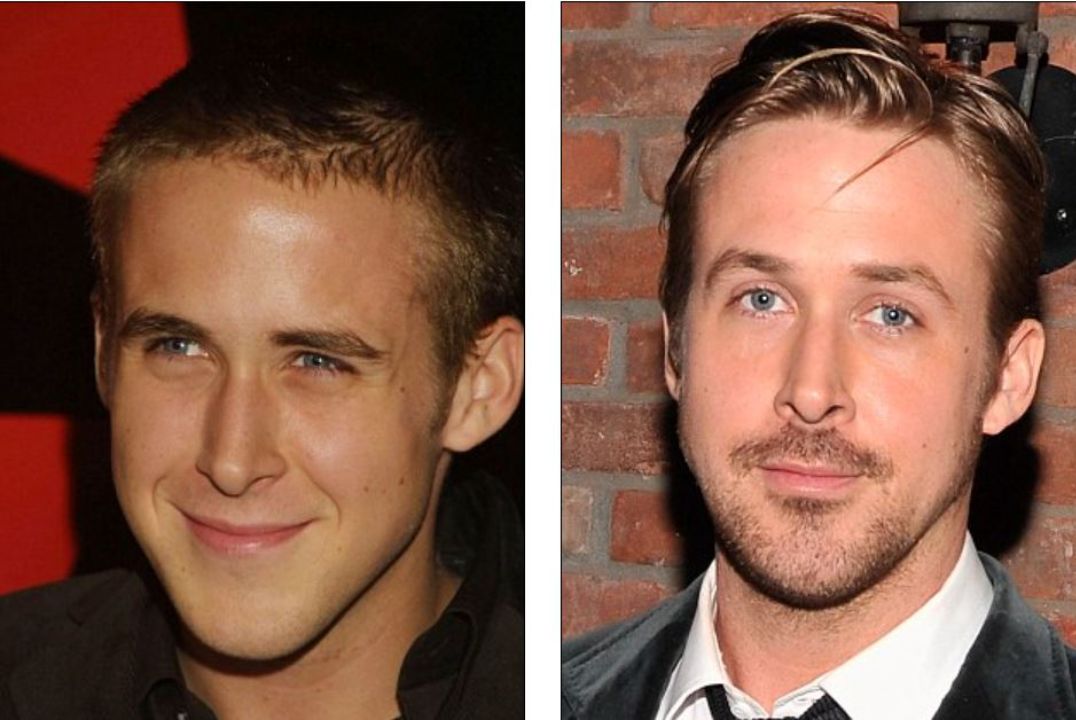 Ryan Gosling before and after a nose job.
Image Source: Daily Mail
Michelle Villett, a beauty blogger, has accused Gosling of going under the knife to straighten, narrow, and refine his nose. She wonders while comparing images from his Mickey Mouse Club days in the late 1990s to shots from 2007. She told,
The bridge looks straighter, so it's possible that he may have already had the "work" done by this point. Or had repeat nose jobs.
Using current-day photographs to illustrate her thesis, she concluded by saying:
I say it's straighter, the tip has been removed and the nostrils have been refined - but we're talking tiny, tiny. To me, his nose clearly looks quite different compared to the early days.
However, Ryan has neither accepted nor denied the rumors yet. He has given any statement about it, leaving people to suspect more.
Then and Now Pictures of Ryan Gosling Examined!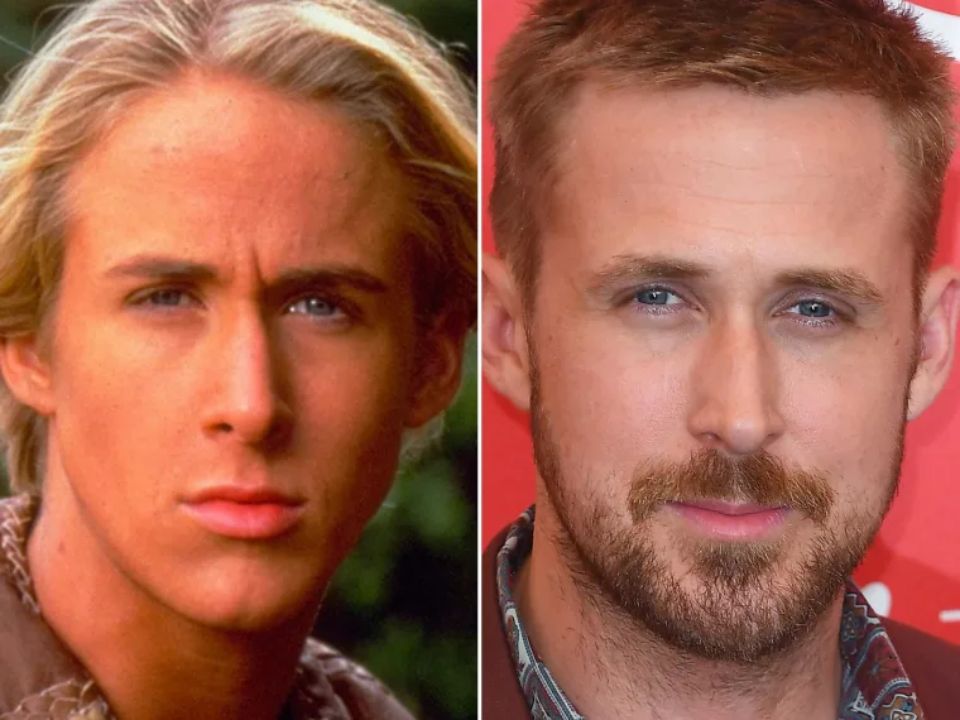 Ryan Gosling's then and now pictures.
Image Source: THE SKINCARE EDIT
Of course, Ryan Gosling looks different in the then and now photographs because of natural aging. But, if you look attentively at his nose, we believe he had a nose job. In 1998, the bridge of his nose has a small curvature, however, it is totally straight in 2023. It also appears to be smaller and slimmer now.
Along with us, many experts have expressed their thought about Ryan's possible nose job in the past. Previously, Dr. Anthony Youn said,
Yes, I think Ryan Gosling may have had a nose job when he was younger. If you look real closely at his nose [when he was younger], his nose is a bit crooked. It's a bit off to the side and it's a bit on the larger side overall. But if you look at more recent pictures of him... his nose looks more refined than it did before. It doesn't look quite as long as it did before... Now, is it possible that he has grown into his nose? I guess it's possible, but I think as a plastic surgeon, it's probably unlikely.
Similarly, Dr. Jeffrey Spiege said it doesn't look so obvious but it is indeed a nose job. He said,
This is a good nose job. It's not so obvious. You don't necessarily need to have a massive change. In his before picture, his nose looked a little more twisted, maybe a little bit wider, and afterwards, [it's] nice and straight, nice and smooth.
Likewise, Dr. Gary Motykie told,
In the beginning, his nose was much longer, it had a plunging nasal tip, it was a little crooked, it had a bigger dorsal hump, and I think it personally bothered him. When the rhinoplasty was done... it refined the nose in such a way that it left some of the character, it left some slight flaws, it's not absolutely perfect...