Sherlyn Chopra has admitted to receiving numerous plastic surgery. She also claims that she loves cosmetic treatments and all the procedures she has had have helped her to enhance her body. 
Sherlyn Chopra is an Indian actress and model who worked in Hindi films such as Time Pass, Red Swastik, and Game. She gain fame worldwide in 2012 after becoming the first Indian woman to pose nude for Playboy magazine. Recently she has been in the news after her first look at Paurushpur Season 2 has been flooding all over the internet.
Sherlyn seems to be all set to play the role of the enchanting and royal Maharani Snehlata. Many people are waiting to see how Chopra has fulfilled her role. Although, in the outfit, looks totally Fav, and some people claim that she might not be perfect for the series. Well, let's see if she has given 100% to her work or not.
After the first look of Sherlyn started flooding all over the internet, people stared and commented on her look. Some said that she might have gone through plastic surgery to look this different, while some said that the character and dress-up made her look different. To learn more about her plastic surgery rumors, read this article.
Have a look at the plastic surgery stories of Emily Blunt and Tom Cruise.
Sherlyn Chopra Admits to Receiving Plastic Surgery but Remains Silence on Details!
Many people are curious to know about every plastic surgery Sherlyn Chopra (@_sherlynchopra_) has had. While she has admitted to going through multiple surgeries to achieve her current look, she has not mentioned the names of them. She has gained a lot of backlash for her work, and people have called her fake because of her transformation.
When Chopra was recently accused of doing liposuction, a type of fat-removal procedure used in plastic surgery, she denied it and pointed to working hard in the gym. She shut down the rumors and said, "Plastic surgery can't give you biscuits. It is my daily gym routine that helped me gain this look."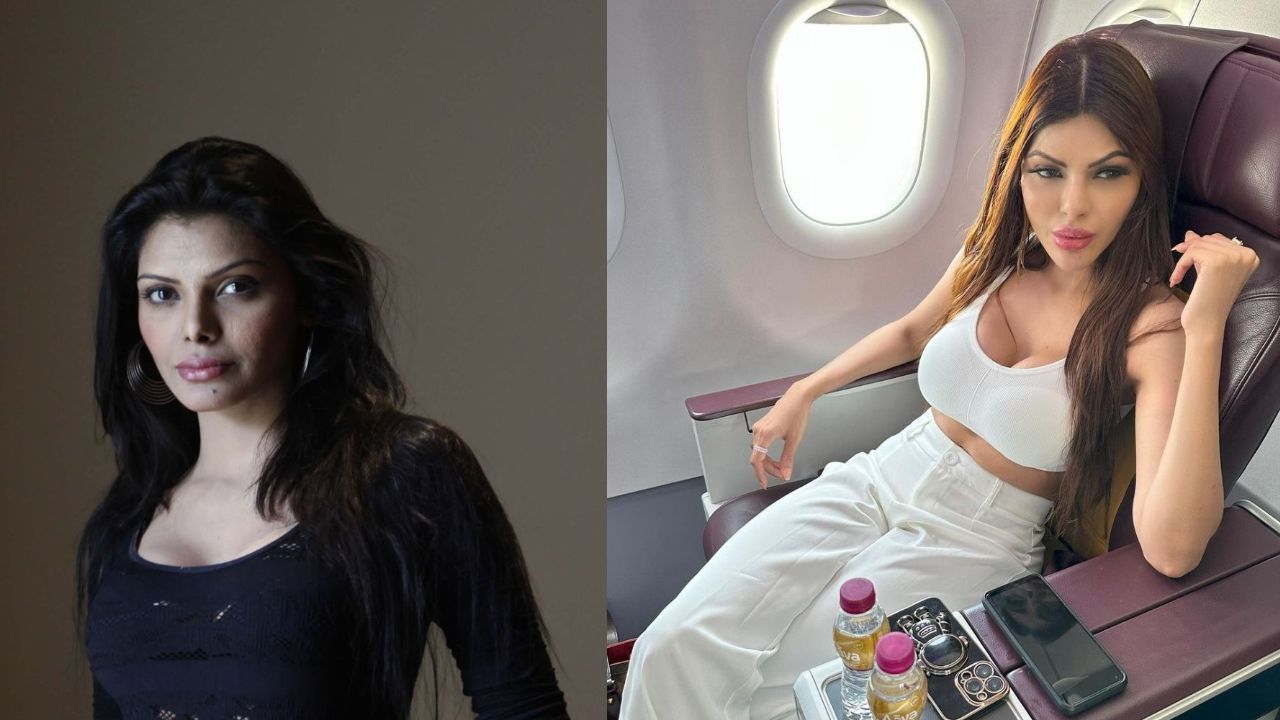 Sherlyn Chopra before and after plastic surgery.
Image Source: HOUSE & WHIPS
When the video went viral, many people started getting confused about her look. Some of them thought that she looked horrible with the transformation. In the video, some also commented that her plastic surgery has made her look like Rakhi Sawant, and some said that she looks like Kylie Jenner, but in a different way.
Shrelyn has changed a lot from her early days, from her face, name, and body to her fame. Everything has changed, and many people suspect that the reason behind her change might be plastic surgery. Every time she has complained of feeling insecure about comments and she has also talked about many rumors that made her disturb mentally.
More About Sherlyn Chopra's Possible Plastic Surgery Procedures!
One of the most talked-about plastic surgeries that Sherlyn Chopra has been accused of doing is a nose job. Comparing her before and after pictures, her nose shape has changed. Previously, she used to have a thick nose, but now she has a perfectly pointed nose, which led people to suspect her of having plastic surgery.
Besides the nose job, people suspect her of going through several plastic surgeries, including a boob job, an eye lift, fillers, and Botox. Some of them have been admitted by the actress herself, but some of the topics are still up for discussion.
Sherlyn Chopra's latest appearance.
Image Source: Instagram
During an interview, Chopra admitted to loving plastic surgery. She said that she wanted her followers to know how my journey started. She also reveled in jumping from one surgery to another after finding the dreamy shape of her parts. Although she only admitted to having breast implants, she didn't deny any rumors and simply admitted to going under the knife multiple times without naming them.
Cosmetic surgery has the power to change lives. First, I opted for contact lenses. Then I got bored of being flat-chested, so, I got myself implants. One thing led to another and an incredible transformation happened! If a surgery can help one embrace one's body and say, 'I love you', then it is worth it.
Why Did Twitter Ban Sherlyn Chopra From Posting Pictures?
In a country like India, it's very hard to accept people who pose nude or play an intimate role. When Sherlyn Chopra posed nude for Playboy, she started getting a lot of negative comments from people. However, she didn't let anything disturb her and posted her picture on Twitter, but soon an NGO protested against Chopra's bold images.
After the protest, Twitter deleted all the photos of the model from her account and even banned her from posting more on the microblogging site.
Shyelyn has been getting hate for her work for a long time. The rumors about her have spread so much hate among the Indian people that she has started getting accusations and abuse in the message. However, this time the limit of the negative comments has been out of control, which led Chopra to file a molestation complaint against a Mumbai-based businessman.