Although Skai Jackson has been accused of receiving a Brazilian Butt Lift (BBL), she previously claimed that her body is completely natural. According to her, regular exercise in the gym is the secret behind her stunning body.
Skai Jackson is an American actress who began acting at the age of five, debuting in the 2007 film Liberty Kid. However, she became popular after playing Zuri Ross in the Disney Channel sitcom Jessie (2011-2015), a role she later reprised in the show's sequel Bunk'd (2015-2018).
Likely, she has performed the voice of Glory Grant in the Marvel Rising series (2018-2019) and Summer in the DreamWorks Dragons: Rescue Riders (2019-2022). She also published her first book, Reach for the Skai: How to Inspire, Empower, and Clapback in 2019. The following year, she was a semi-finalist in Dancing with the Stars' 29th season.
With all the gain in fame, Skai Jackson also received a lot of criticism over the year. Many people previously claimed she might have received multiple cosmetic procedures including a Brazilian Butt Lift (BBL) to enhance her appearance. Well, here is what we've discovered.
There are more plastic surgery stories of Amanda Staveley and Natalie Cassidy that you might want to read.
Skai Jackson Previously Claimed That She Has Not Received a BBL!
Previously, Skai Jackson (@skaijackson) was accused of receiving a Brazilian Butt Lift (BBL) after publishing bikini-shot pictures f her social media handle. However, after receiving a comment criticizing her curves, the actress stated that she had never had any body-altering surgery and cleared the rumor claiming that her body is completely natural.
Skai Jackson previously denied receiving a Brazilian Butt Lift (BBL). 
Image Source: GhanaCelebrities
The rumor all began, when Skai Jackson took a series of bikini images while on vacation in Anguilla, enjoying the luxurious amenities of her incredible trip. The 21-year-old model captioned the photographs, "Paradise," which have received over 1.5 million likes. Unfortunately, while the photograph earned tremendous praise, it was also met with criticism. One Twitter user even suggested the celebrity had a BBL.
The Twitter user wrote, "I know I'm not tripped but Skai Jackson has a skinny bbl? She was never shaped like that. Y'all not fooling me chile." However, Jackson wasted no time in responding to the charges. "I don't even have enough fat for a bbl and have never done anything to my body. I'm just getting older lmao," She tweeted in response to the now-deleted message.
Likely, Skai Jackson responded with a tweet that said, "Plus I work out 3 days a week yall! All natural over here." So there you have it. Unless you're talking about her intense workouts, there's no labor here. Furthermore, she even frequently posted a video of her daily gym routine with her personal trainer.
Skai Jackson's Net Worth Has Been Called Into Doubt by Social Media Users After the Disney Actress Requested $5 From Her Followers!
Skai Jackson drew a lot of attention when she went live on TikTok and pleaded for $5 from her followers. Many others watched the Live session and were astonished to see the Disney star asking for money. She can be heard stating in the 1-minute 25-second clip:
It is not that serious for a damn $5. I don't know if you guys have been to school, but I know that I've been to school, and when you say you have raffles all the time, where you get tickets and win a prize.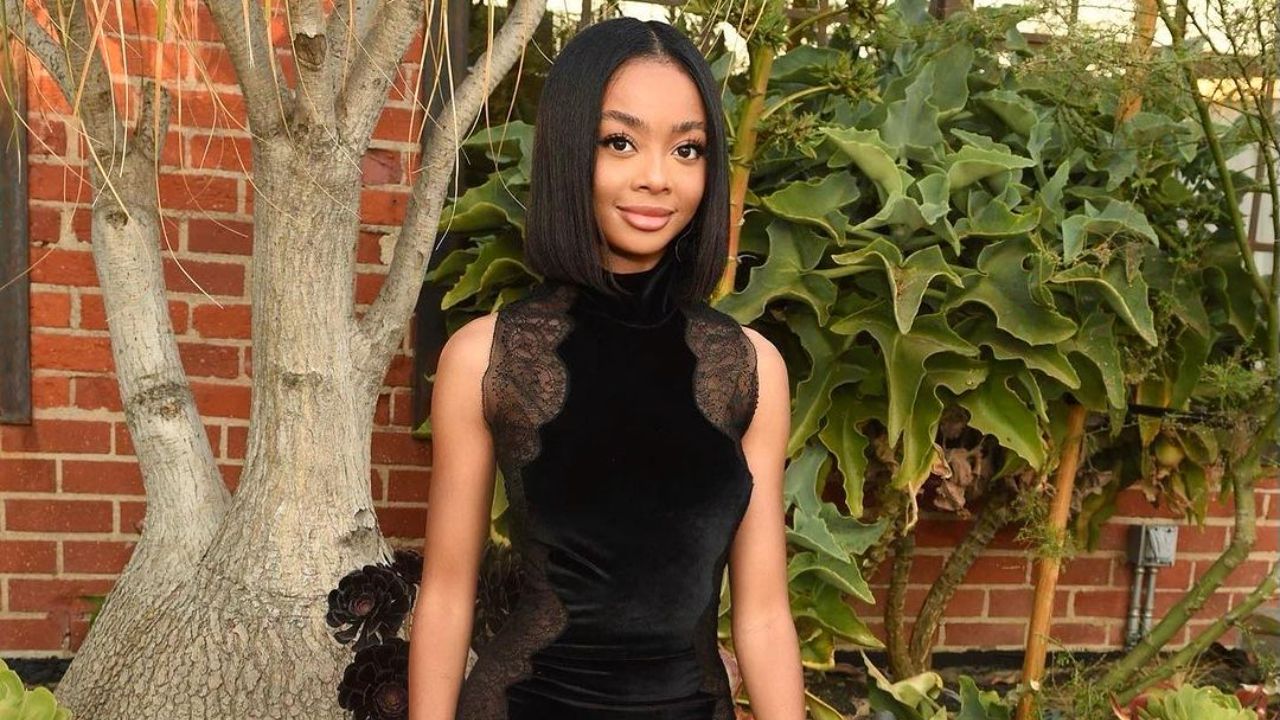 Skai Jackson was dragged online after begging fans for $5.
Image Source: Instagram
She went on to say that the money will be used for a prize, in which she would give away a MacBook Air. She went on to describe how she planned to hold another giveaway with any leftover funds. On the other hand, her request for money did not sit well with social media users.
Many people questioned Skai Jackson's financial worth after seeing an actress with a fortune ask for $5 from her followers. According to CelebrityNetWorth, the Disney actor has a net worth of $500,000 at the moment. As a result, social media fans ridiculed the actor in the comments section of a video shared on Twitter by @navyhie. However, Jackson has not yet responded to the trolling and backlash. But, netizens are doubtful of the actor's request for money from her fans.