Teyana Taylor has had one of the best rhinoplasties. Her nose job is a work of pure art is what her fans say. The singer used to have a very wide and bulbous nose. Now, she has a Rihanna nose. Not super thin as is the beauty standard. But very refined and fitting for her face. Fans think that Teyana Taylor's surgeon performs the best nose job in keeping with the ethnic territories and not letting things get white. 
Teyana Taylor entered the music industry in 2008 with the release of her debut single Google Me and she became prominent when she landed collabs in the form of guest features (uncredited) on Kanye West's songs from the album My Beautiful Dark Twisted Fantasy called Dark Fantasy and H*ll of a Life. She released her debut album VII with West's GOOD Music Label. She released two more albums since then.
Not just music, she also does acting. Some of the things she's been in are the VH1 television series The Breaks, Lee Daniels' Star, and the Amazon Prime film Coming 2 America. She has done a lot of things and yet, the one thing that people talk about the most when it comes to her is her nose because they are obsessed with her rhinoplasty. And I support their obsession. Why? Let's talk in detail about Teyana Taylor's nose job!
Would you like to read the plastic surgery stories of Natalie Imbruglia and Noah Cyrus?
Teyana Taylor Has Had a Nose Job and It's Incredible!
Teyana Taylor (@teyanataylor) has so obviously had a nose job and it's possibly one of the best plastic surgery procedures anyone has ever had. The cosmetic procedure has only upped the quotient of her looks. There are a million different ways that it could have gone wrong but fortunately for her, it didn't. She chose her surgeon well.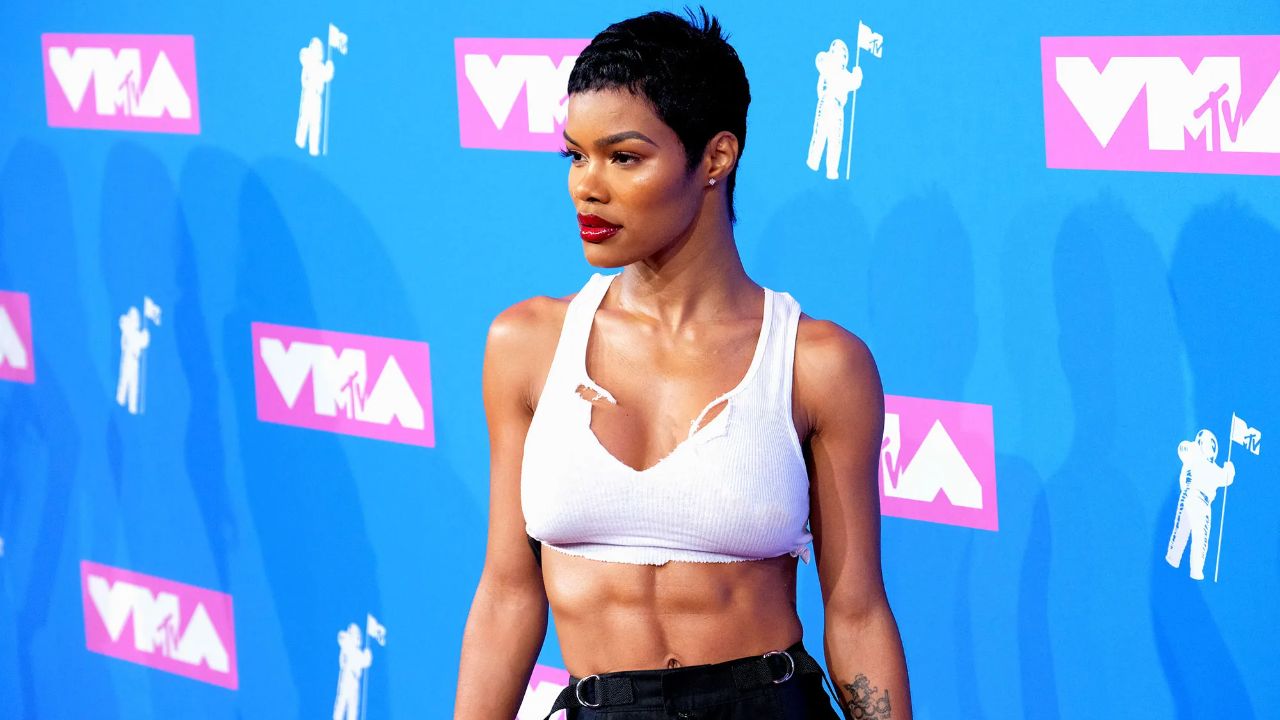 Teyana Taylor has had one of the best nose jobs in Hollywood.
Image Source: Us Weekly
So, let's discuss one of the things that is most talked about when you talk about Teyana! That's right! I am talking about her nose. Did you think it was going to her music? Come on, nothing she or anyone else does can top what her surgeon did with her nose and that's a fact. You cannot possibly talk about Teyana and then not bring up her nose job because it's incredible. A lot of her fans say that it's a work of pure art and I agree.
Check out the before and after pictures of Teyana Taylor and tell me if you don't think her rhinoplasty isn't the most brilliant cosmetic procedure in all of Hollywood. I will bet you a million bucks that you can't and I'm broke. That's how much trust and faith I have in her nose job. It has changed her looks and enhanced her appearance in the best way. The reshaping of her nose is a chef's kiss. How? Let's get into it!
Pre-surgery, Teyana had a very wide and bulbous nose. Her nasal roots were not very prominent and they flared out very wide which made her nostrils look very huge. Her nose looked way too big for her face. It didn't look very aesthetic as they say. But after the nose job, it's perfect. Her nasal roots are very much visible and they flare down with the perfect amount of width. Her nose bridge is much narrower and it fits her face very well. It's perfect now.
What Do Fans Think of Teyana Taylor's Nose Job?
You know what fans love about Teyana Taylor's nose job the most? It's the fact that she hasn't shaved off her nose to the last shred (for lack of a better word) making it look very thin like the bridge could collapse anytime. In Hollywood, since the stale and uninspired beauty standards detect that a perfect nose is a thin and narrow one, a rhinoplasty procedure, for many, just means shaving it off but Taylor had her surgeon do something different.
Teyana Taylor's nose job is a work of pure art, fans say.
Image Source: Billboard
Her surgeon, keeping in with her ethnic features, just refined her nose and didn't go all the way down in terms of thinness. As one admirer of her plastic surgery put it on a Lipstick Alley thread,
Teyana's old nose threw off her facial proportions. Her new nose is fabulous and very natural looking, it actually looks very similar to mine, so it's still a "Black nose". It's the perfect example of ethnic rhinoplasty (I hate that term), because seriously, If I had never seen her "before" pictures, I would think that she was born with it. However, I am quite sure that Teyana has had at least 2-3 nose jobs, because the change was very subtle and seemed to happen over time, which of course is the best way to do it.
Another user said that Teyana Taylor's nose job perfectly balances her face and creates harmony among her facial features. It never stands out or anything. It just lets her other features shine and never distracts from them. Also, it's not super thin and fans appreciate that the surgeon didn't kill the black nose by bringing in the 'whiteness.' They say it's one of the best drastic ethnic nose jobs.
Note that Teyana Taylor has never confirmed having plastic surgery to alter her nose.