Following his retirement from the NFL in 2016, Tony Romo has been suspected of receiving plastic surgery as his appearance has changed drastically and his face looks a little unnatural these days. 
Tony Romo (full name: Antonio Ramiro Romo) has to be on the list when it comes to having an unlucky career in the NFL. During his 14 seasons in the league, he only won 2 playoff games and never advanced beyond the divisional round. However, he was undoubtedly a very passionate and loyal quarterback.
After all, he spent his entire career with the same club, Dallas Cowboys. He also holds the record of having the highest passer rating among retired players who never appeared in the Super Bowl.
Prior to his career in the NFL, he played collegiate football for the Eastern Illinois Panthers where he won the the Walter Payton Award. Unfortunately, he had to retire in 2016 after a back injury during preseason. Currently, Tony Romo serves as the leading color analyst for CBS Sports.
On the other hand, many people have observed that his face looks unnatural these days. He looks completely different from what he used to look when he was playing in the NFL. As a result, many people wonder if he received plastic surgery. Well, we've got you covered.
Have a look at the plastic surgery stories of Miss USA and Michael B. Jordan.
Tony Romo's Unnatural Appearance Has Sparked Rumors of Him Receiving Plastic Surgery!
It is understandable your body and appearance change after you retire from a professional sport. However, Tony Romo's appearance has shocked many of his fans in recent years due to his unnatural change. And it comes as no surprise that people wonder if he received plastic surgery.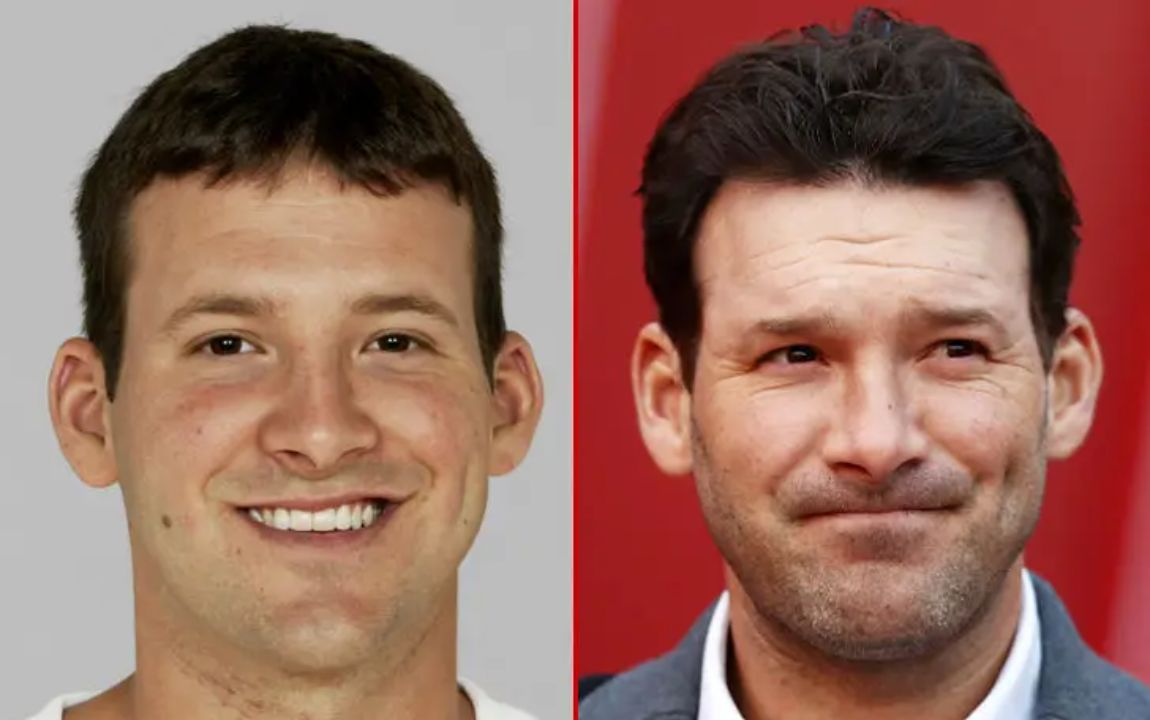 Tony Romo before and after plastic surgery.
Image Source: TMZ
We can clearly notice he has lost his natural charm when comparing his before and after pictures. Additionally, his face looks too smooth for someone who is 43 years old. We barely see any signs of aging, including lines and wrinkles, on his face. As a result, there's a high chance the former Dallas Cowboys quarterback has received a few non-surgical treatments, including Botox and fillers, to prevent aging.
In addition to possible plastic surgery, we believe his weight also has played a significant role in his appearance. He looks much leaner when compared to his picture from his NFL days.
Plastic surgery has become common for sports personalities as well, especially when you're an analyst. In the last decade, we've found many TV personalities receiving different kinds of cosmetic treatments to enhance their beauty. After all, who does not want to look attractive and young on television?
to appear on the televHowever, Tony Romo (@tony.romo) has neither accepted nor denied any of the allegations. He has yet to respond to the rumors if he is even aware of them. Please note that all of the given information is completely speculative. Regardless, we promise we will get back to you as soon as we get any updates about his possible plastic surgery.
Undrafted to 14 Seasons in the NFL: A Look at Tony Romo's Early Life!
Tony Romo was signed by the Dallas Cowboys even though he went undrafted in the 2003 draft.
Image Source: CBS Sports
Tony Romo was born in San Diego, California, on April 21, 1980. He was raised in Burlington, Wisconsin, where he first discovered his love of athletics as a child. Romo went to Burlington High School, where he was a standout in the sports of golf, basketball, and football.
He was a standout quarterback in high school, receiving All-Racine County recognition, and was renowned for his powerful arm and football IQ. Romo graduated from high school with honors, but big college football schools did not extend him many scholarship offers.
He made the choice to enroll at Eastern Illinois University, a lesser-known institution that participated in the NCAA Division I-AA (now called the Football Championship Subdivision). Romo continued to display his football prowess at Eastern Illinois, breaking numerous school and league records. During his senior year, he received the Walter Payton Award, which was presented to the top football player in Division I-AA.
Being undrafted in the 2003 NFL Draft made Romo's path to the NFL difficult. He nevertheless became an undrafted free agency signing with the Dallas Cowboys and progressed from the team's backup quarterback to the starter position over time.
And the rest is history. Tony Romo spent 14 seasons with the Cowboys and holds multiple team records, including passing touchdowns, passing yards, most games with at least 300 passing yards, and games with three or more touchdown passes.