Tua Tagovailoa seems to have undergone a noticeable weight gain ahead of the new NFL season. The quarterback appears to be much bigger than the 217 pounds he was listed on the Dolphins' website. Fans are praising Tua Tagovailoa for working hard during the offseason. It is impressive how he managed to pull off a weight gain during the time he should have been recovering from the injuries he sustained in the previous season.
Are you more excited about the new NFL season or are you more excited about the fact that Tua Tagovailoa debuted a new look and new weight gain recently and looking forward to how his game goes because going by the social media buzz, most people seemed to be super excited about the latter? The football quarterback has had a significant physical transformation and everyone seems to be in awe of it. He looks much healthier and seems to have come back stronger than ever.
Let's discuss Tua Tagovailoa's weight gain like every people on social media!
You might also want to read the weight gain stories of Jeremy Paxman and Jaret Reddick.
Has Tua Tagovailoa Had a Weight Gain?
Tua Tagovailoa (@tuaman) has undergone a significant weight gain over the offseason. Though he has not revealed the exact figure of how much he put on, we can tell he's put on a lot.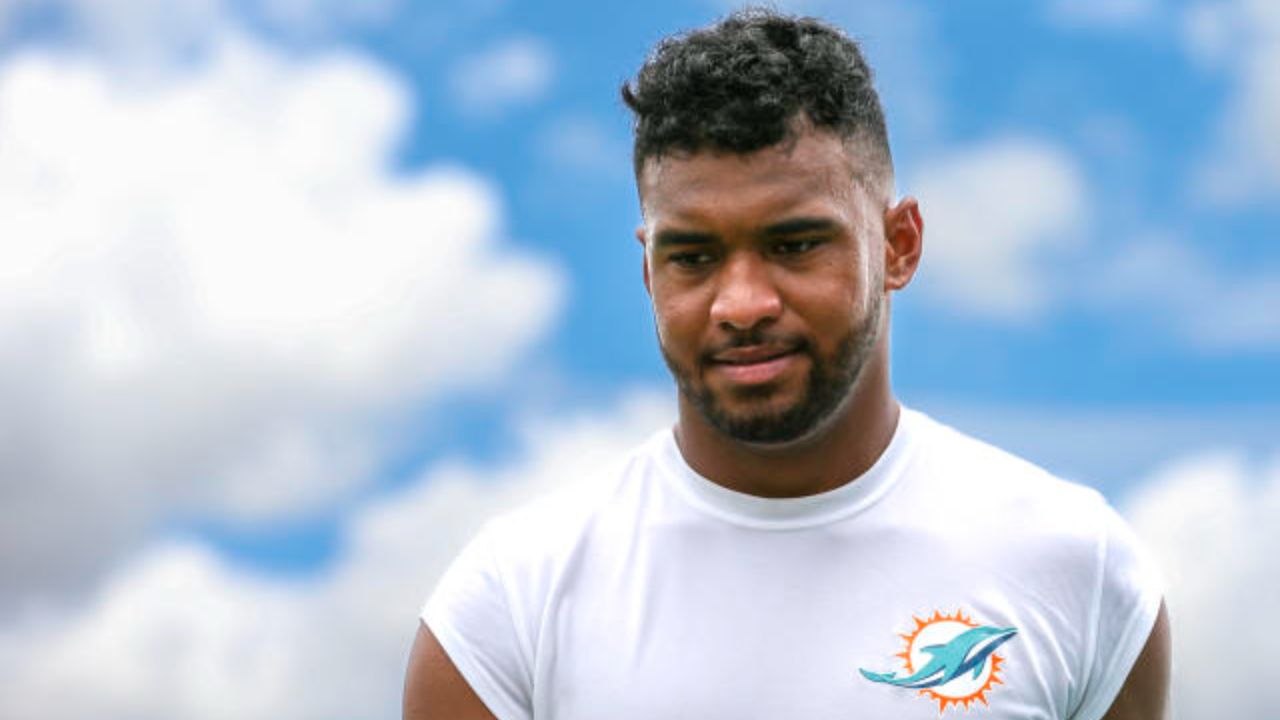 Tua Tagovailoa debuted a noticeable weight gain in the practice field ahead of the new NFL season.
Image Source: Yahoo Sports
When Tua hit the practice field in Miami Dolphins OTAs ahead of the new 2023/2024 NFL season, fans went crazy over his bulky new frame. His physical transformation was all the fans could see once they spotted him. He seemed to have been extremely hard at work in the gym and busy over the NFL offseason. It's not hard to arrive at that conclusion given how muscular he looked after the weight gain.
It's also very impressive how Tua Tagovailoa managed to hit the weights room and bulk up during the offseason when just the last season, he suffered two major concussions and could have spent time in recovering from his injuries. He even considered retirement because of the frightening neck and back injuries he sustained. So, what a pleasant surprise it was when Tua returned this season even looking more healthier than before. Plus, all that bulking up and weight gain. Let's just say that we don't need to be talking about whether or not Tom Brady was coming out of retirement for the second time to join the Dolphins because we have something much more interesting to talk about!
Everyone's talking about Tua Tagovailoa's weight gain. How could they not when he has so obviously added some extra muscle mass and looks much bigger than how he looked in the 2022 season? He was listed at 6 feet 1 inches and 217 pounds on the Dolphins' website. Now, it's time to update that. Fans were happy that he gained weight because for NFL quarterbacks, he was on the smaller side and now the extra weight could be helpful in preventing injuries. They also praised him for training in judo which could improve his falling technique.
Tua Tagovailoa was listed as 217 pounds on the Dolphins' website the previous season which is a bit on the smaller side for quarterbacks.
Image Source: NBC Sports
Tua Tagovailoa Praised For Managing to Pull Off Weight Gain During the NFL Off-Season!
Tua Tagovailoa pulled off a significant weight gain by working hard at the gym during the NFL offseason and everyone is showering praises on him for that. Fantasy Pro's reporter Derek Brown tweeted about how he did a double take because he didn't recognize that it was Tua immediately after he spotted him post his body transformation. He wrote,
Tua LOOKS THICC. I double taked watching a practice vid. Is that AJ Dillon tossing passes?
He continued in the comment section,
And no I don't think this is a bad thing..dude looks like he's been crushing the weight room.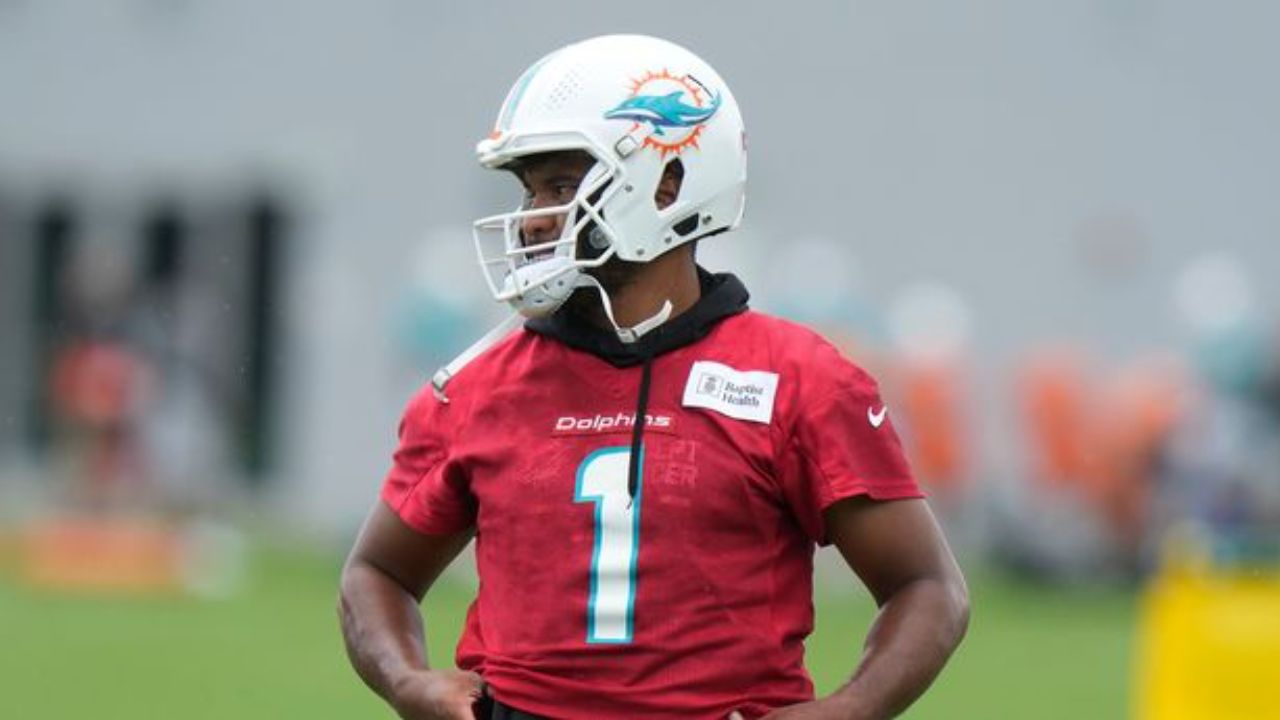 Tua Tagovailoa impressed fans by managing to pull off weight gain during the offseason despite sustaining frightening injuries the previous season.
Image Source: The Mirror
Tua Tagovailoa beefing up during the offseason has delighted many fans who were dreading the prospect of him retiring so soon because of the injuries. They were so disheartened when Tua admitted that he had been mulling over retirement. He said that he considered retirement for a time and he even sat down with his family and his wife to have those kind of conversations about his career. Now, he's come back so much healthier and stronger with extra weight gain.
It would have been very hard for fans to see him leave so soon. They are glad that Tua felt the same way about retiring.
But it would be really hard for me to walk away from this game with how old I am, with my son. I always dreamed of playing as long as I could to where my son knew exactly what he was watching, that he's watching his dad. It's my health, it's my body, and I feel like this is what's best for me and my family.
How delighted Tua Tagovailoa's fans are right now that they are not talking about his retirement and just praising him for managing to pull off that noticeable weight gain during the offseason despite sustaining several injuries!