A peek at Platinium hit artist Wiz Khalifa classic Impala's and envying sports car collections.
'HipHop' which is more like a synonym of lifestyle and riches that you made throughout the game. As we are known, Hip-Hop basically means a lifestyle filled with luxuries, rich toys, ornaments, and forth.
And our boy Wiz Khalifa is also one of the big names in the game - a self-made millionaire who has made a lifestyle for himself. Wiz initiated his career precisely after gaining recognization from his late 2000s mix-tape, subsequently, his career took off from his platinum hit single "Black and Yellow" in 2010.
Who is Wiz Khalifa?
Wiz Khalifa is an American rapper whose real name is Cameron Jibril Thomaz. He got his stage name after merging his two words, 'Wiz and Khalifa'. During his young years, he was named Young Wiz as he was good at everything he did - a successor.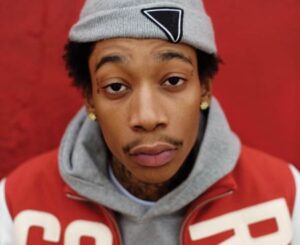 Rapper Wiz Khalifa.
Image Source: Mr. Smiley Face
Similarly, Khalifa means lead which was his grandfather who was a Muslim used to call him. So Wiz mixed both the words and came up with the name Wiz Khalifa.
Besides, the above-mentioned song, Wiz Khalifa is also popular for some of his popular songs like See You Again, Black & Yellow, and Young Wild & Free. And over there we have seen quite a lifestyle the rapper is living out of his superhit music career. And with that fans also seems to be anxious regarding Wiz's envying car collection and houses. So without wasting any time, let's dig in,
Wiz Khalifa Car Collection
If you've been following then by now you might know that which has lots of classy car collection in his garage. His car preferences seem more like a classy one as he's got most of the classic Chevrolet collection and few sports cars too.
So what are they, you might prolly be thinking right, well buckle up as we've present you the list below,
2010 Dodge Challenger SRT-8
The Black and Yellow hitmaker owns a 'Bumble Bee Dodge'. The beast features a 6.1-liter V8 engine with a five-speed automation transmission supercharged with a 500 horsepower V8 engine. Go from 0-100 within seconds.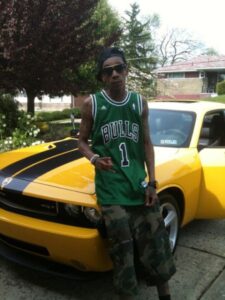 Wiz bought a SRT during his initial stage of fame.
Image Source: Wizdom
Coming to its design part the SRT has a coupe body style similar to Ford's Mustang.  And coming to the car price its version such as Challenger 2dr Cpe R/T is $30,860, similarly, Challenger 2dr Cpe SE is around $23,245 and Challenger 2dr Cpe SRT8 for  $41,000.
Green DODGE SRT-8
Khalifa enjoying a Doubie on his Dodge.
Image Source: Pinterest
This is another sporty beast in Captain hitmaker's car collection from the SRT series. He has two of them one 'Yellow' and another 'Green'. As stated above the specification for both the cars is pretty much the same.
The car prices range similarly to the above-mentioned SRT8 which was $41,000. And as per reports from cars.usnews, the ride starts from the price of $34,995 to a higher amount seeing the specification and performance.
Chevrolet El Camino SS
Classy white El Camino for a ride.
Image Source: Pinterest
Wiz has a wide collection of Impala on his garage and it articulates his love for muscle cars. And amongst them is this classic 'El Camino SS impala'. Wiz often switches his whips with mood so yeah, the pearl white impala sure is one of his favorites.
1962 Chevrolet Impala SS
Muscular king in the muscle car era.
Image Source: Mecum
Similarly, the Elevated hitmaker shares another Chevrolet on his collection.  The one's classy with a diamond-cut look. With its metallic look and silver body, the 1969 Impala is sure to grab the attention when you drive around the town.  So we would say Khalifa sure is a man with vintage and cozy taste. His collections are of the bests.
1969 Blue Chevy Chevelle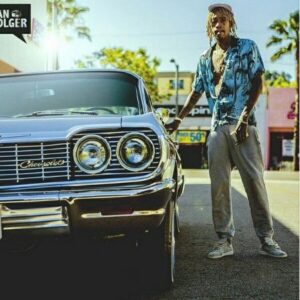 "I roll up" - Wiz Khalifa
Image Source: Instagram
Seeing his collection surely tells he loves muscle car more than any other cars. Wiz also owns a classy sea blue Chevelle. A classy one to drive around LA. Wiz has shown The vintage whip
1968 Chevelle Convertible
'Navy Blue' where' you heading to!
Image Source: Pinterest
Another impala again, Wiz sure is a guy with taste. Rather than going for a fancy sportscar, Khalifa has surrounded himself with classic impalas. And with some rims, design, and paint job the car sure has its own classy looks.
1985 Chevrolet Monte Carlo SS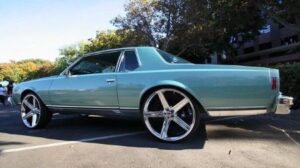 Chevrolet 1985 is one of the classics yet monster-piece in his garage collection.
Image Source: Mecum
The 1968 Monte Carlo is an outcome of premium and refined auto design coupled with lots of speed from underneath its hood.  Coming to the impala features, it comes with a similar engine to the Camaro and comes with installed roof's T-Tops. It's a heavenly ride and an absolute joy to travel in. So that's more of Wiz's car collection, and make sure to comment on the one you loved the most.
We hope you enjoyed the article, to find an article of your favorite celebrities House and Cars visit House N' Whips.