Brendan Fraser's triumphant return in The Whale highlights his inspiring weight loss journey, showcasing resilience and a remarkable transformation in 2023. Reddit users want to learn about his diet.
Let's talk about Brendan Fraser's incredible comeback in The Whale. Hollywood is buzzing with excitement and nominations are pouring in for his outstanding performance. It's been called all sorts of names for how truly spectacular it was, and it's not all down to his display of acting prowess. Fans admire how he endured a massive physical and emotional makeover for such a demanding role in the film.
Fraser has undergone a much-needed weight loss after his work in The Whale, and fans can't help but cheer his wins. Who can blame them? The man is as lovable a Hollywood actor as anybody can get.
Previously, we discussed the weight loss efforts of Gabourey Sidibe and Karen Martini.
All About Brendan Fraser's Weight Loss Journey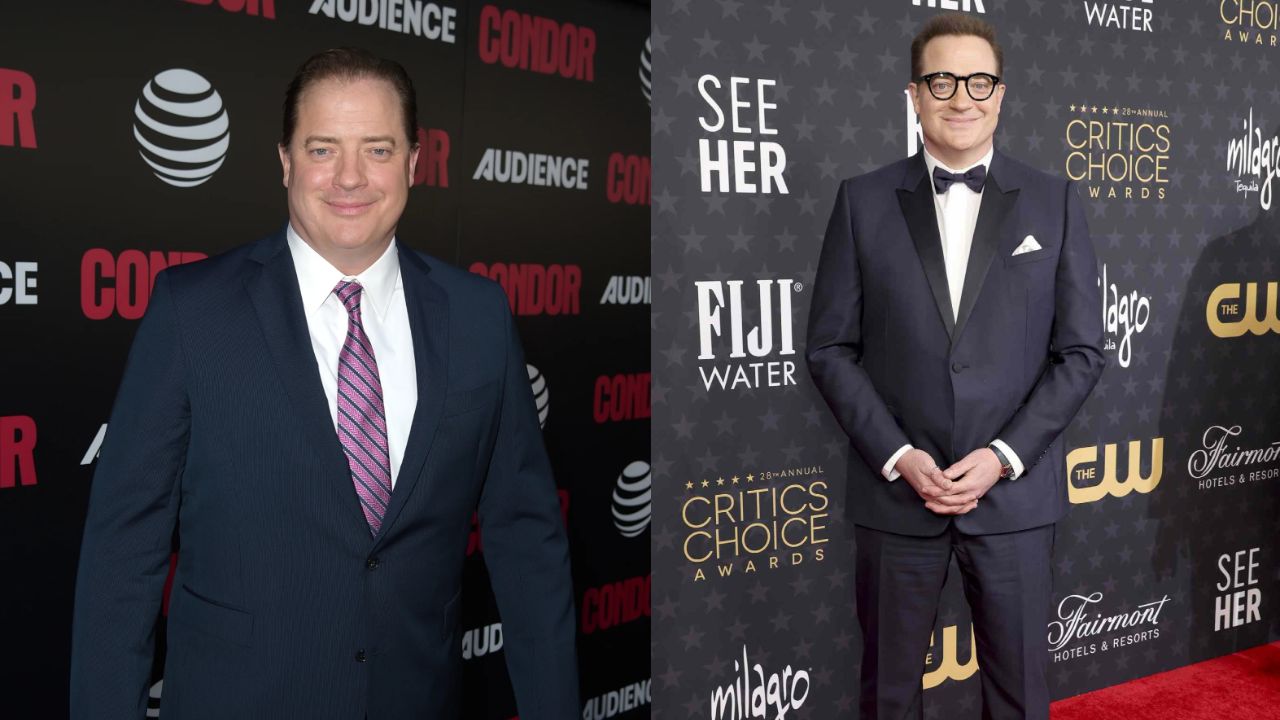 Brendan Fraser before and after weight loss.
Image Source: House & Whips
Brendan Fraser's weight loss remains visible since his work on The Whale concluded.
When The Whale made its much-awaited premiere at the Venice Film Festival last year, the movie was a recipient of a standing ovation that, believe it or not, lasted a whopping six minutes. The audience was blown away, and it even made Brendan Fraser shed a few tears of joy. Can you imagine the impact his performance had?
In The Whale, Fraser plays Charlie, a reclusive and extremely overweight online English instructor who is trying to reconnect with his estranged daughter while facing some serious health issues. It's a powerful story that really hits you in the feels.
Now that we've got the intro out of the way, shall we finally bump into the elephant in the room (pun intended)? Fraser's physical transformation for the role is mind-blowing. The guy went through an incredible makeover that left everyone talking. We're talking prosthetics, makeup, and a fat suit to bring Charlie to life. He didn't actually gain 600 pounds, though. That's just a rumor. As per reports, he had to carry around an extra 50 to 300 pounds on set. Still quite a challenge!
Full credit to the makeup team for an impressive job, while the props for the actor's prosthetics should go to none other than the talented Adrien Morot, whose notable credits include The Revenant and X-Men: Days of Future Past. They did not want it to seem unnatural from any angle, so much so that you would struggle to even realize he was wearing prosthetics. That's some next-level artistry right there!
Despite not actually packing on the pounds, Fraser had his own battles to fight. The Mummy star endured the toll both physically and mentally. The fact that he underwent numerous surgeries to heal from the injuries sustained during the filming of the third Mummy movie must not have been easy. Remarkably, the full extent of his recovery took 7 years. That's some serious perseverance!
But wait, there's more. Fraser faced personal challenges too. Remember that scandal involving abuse? Yeah, that, understandably, was not easy to fight off. The impact it left on his career, his wealth, and even his self-esteem cannot be expressed in words. It's anything but pleasant to witness someone go through such struggles.
But guess what? Brendan Fraser may be a lot of things, but he's not a quitter. He's made a smashing return, displaying his will and commitment. He's finally taken the steering wheel of his life, making healthy choices in the process, and cementing himself as one of the biggest stars in 2023.
Brendan Fraser's latest appearance at the Critics' Choice Awards showcased a slimmer version of himself following noticeable weight loss, offering us ample evidence that his work ethic is 100% still there. While he's yet to reveal his diet to the curious Reddit users, do you realize what's further impressive? He's transformed into an inspirational figure for anyone facing concerns about body image. By sharing his uphill journey with the public, he's providing inspiration to all of his fans.
So, let's salute Mr. Brendan Fraser, nothing short of an amazing individual who fought his battles in his dark days and came out of the tunnel in full glory. His persistence in taking good care of himself (visible through his clear weight loss after The Whale) is a testament to the strength of resilience and the power to reclaim one's narrative. We're cheering him on as he takes on new roles and creates a future filled with success and happiness. Cheers to you, Brendan Fraser!