Holly Holm is currently single and does not have a boyfriend. From 2012 to 2018, she was married to Jeff Kirkpatrick. She has not been in a relationship with anyone since her divorce. There are rumors, however, that she is dating Jon Jones. Everyone began wooing and gossiping about whether they were dating or not. However, they are best friends, and there is no evidence that they are dating.
Holly Rene Holm is a mixed martial artist from the United States who competes in the Ultimate Fighting Championship. She is a former professional boxer and former UFC Women's Bantamweight Champion. BoxRec ranks her as the best female professional boxer of all time. She is the only fighter to have won both a boxing and an MMA world title. She is ranked #15 in the UFC women's pound-for-pound rankings as of March 7, 2023.
When it comes to her personal life, she married Jeff Kirkpatrick in 2012, but it was revealed in early 2020 that the couple had divorced in July 2019. And fans are curious to learn if she is dating someone after her divorce. Does she have a boyfriend? Here is what we have covered.
Previously, we touched on the relationship status of Suzi Perry and Jonathan Majors.
Holly Holm Has No Boyfriend in 2023: Know About Her Ex-husband Jeff Kirkpatrick!
Holly Holm (@hollyholm) doesn't have a boyfriend. She is single at the moment. Since her divorce, she has not been involved in a relationship with anyone. However, there are rumors that she is dating Jon Jones. Chael Sonnen, a mixed martial artist has made a provocative remark, implying a possible love triangle involving Holly Holm, Jon Jones, and Valentina Shevchenko. His recent appearance on Barstool's podcast caused a stir by implying that there may be more to these high-profile fighters' relationship than meets the eye.
Sonnen's controversial remarks have sparked a debate about the nature of the interactions between Holm, Jones, and Shevchenko among fans and media outlets alike. Chael Sonnen, known for his outspoken trash-talking and mic skills, has criticized Jon Jones throughout the former UFC light heavyweight champion's turbulent career. He's made some unusual claims about Jones' ties to Holm and Shevchenko.
Despite his previous criticisms of Jones, Sonnen's latest statement has raised eyebrows by implying a bizarre love triangle between the three high-profile fighters. Chael Sonnen recently doubled down on his controversial claim about a possible love triangle in an interview with Ariel Helwani. Despite the skepticism directed at his statement, Sonnen stood firm and reiterated his previous remarks, fueling speculation about the nature of the relationship between the three prominent MMA fighters.
His interview with Helwani has only fueled the MMA community's ongoing debate and sparked even more interest in the personal lives of Holm, Jones, and Shevchenko. However, everyone started wooing and gossiping about whether or not they were dating. But, yes, there is undeniable chemistry between Holly-Jones. They are best friends, and there is no proof that they are dating. However, Jon Jones regards Holly as his sister. He recently explained how Holly inspires him as a sister in MMA fighting.
Holm's ex-husband Jeff Kirkpatrick is a businessman from Albuquerque, Holm's hometown. The couple met while in college. They dated for several years before exchanging wedding vows on April 27, 2012. Raya, Tamara, and Stevie are the names of the former couple's three daughters.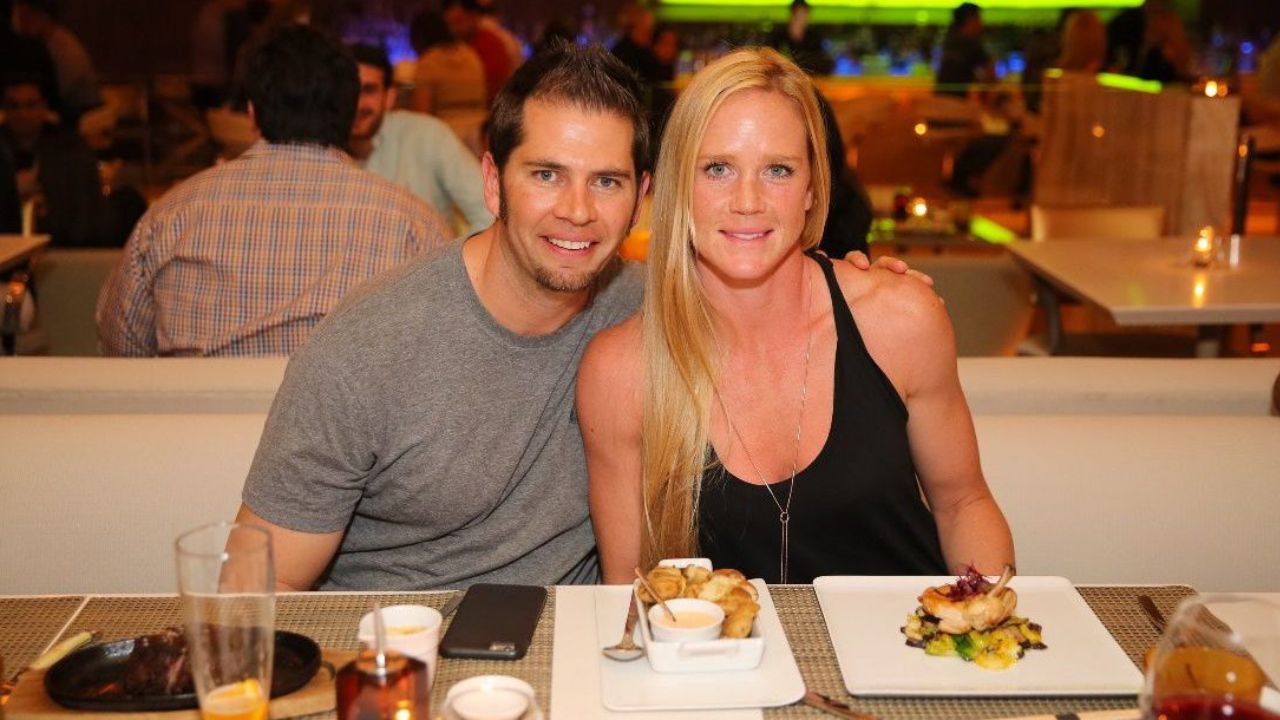 Holly Holm with her ex-husband Jeff Kirkpatrick.
Source: Affair Post
In January 2019, it was reported that the couple had been living separately and Holy had filed for divorce. The reason behind their divorce was incompatibility because of discord and conflict of personalities.
Holly Holm Won a Unanimous Decision Over Yana Santos (30-26, 30-27, 30-27)
Former UFC women's bantamweight champion Holly Holm defeated Yana Santos in a dominant performance. The women's bantamweight bout was the co-main event of UFC on ESPN 43 at AT&T Center in San Antonio, and Holm (15-6 MMA, 8-6 UFC) shone on the mat and in the clinch. After 15 minutes of dominance, the judges awarded 30-26, 30-27, and 30-27.  Santos (14-7 MMA, 4-4 UFC) started fast and pushed Holm against the fence.
The pro-Holm crowd chanted for the former champion as she worked her way through multiple first-round clinch positions. Both fighters landed a few strikes in space, but it was mostly a wrestling match. Holm completed a takedown with 30 seconds remaining to end the round in first place. Her sidekick knocked Santos to the ground early in the second. A few moments later, Holm got a big takedown, which the San Antonio crowd loved. Holm spent the next few minutes looking for side control submissions.
With less than a minute remaining, Holm secured a crucifix and began raining strikes. Santos was able to free her arm, but Holm took full mount and landed until the horn sounded. Holm had Santos on her back again in the first minute of the final round. Holm was dominating on the mat once more, landing punches and looking for submissions. Santos worked her way back up and got free with about 90 seconds to go, only to be taken down again to end the fight.