Nick Frost recently disclosed he had undergone 6 stone of weight loss. He started to take his health seriously after suffering from an eating disorder. However, we're unsure how much he weighs now.
Nicholas John Frost aka Nick Frost is a British actor, comedian, and screenwriter who has appeared in the Three Flavours Cornetto trilogy of films, consisting of Shaun of the Dead, Hot Fuzz, and The World's End, and the television comedy, Spaced. He also appeared in Joe Cornish's film Attack the Block.
Likely, Nicholas co-starred in the 2011 film Paul, which he co-wrote with frequent collaborator and best friend Simon Pegg. He has also portrayed various roles in the sketch show, Man Stroke Woman. Furthermore, he co-created and starred in the paranormal comedy horror series Truth Seekers with Pegg in 2020.
Recently, Nick Frost's appearance has been in the spotlight among fans online. As a result, fans and followers are wondering if the actor has lost some weight because he appears very different and is almost unrecognizable. Well, here is what we know about his weight loss journey.
Also, read the weight loss stories of Junior H and Chinenye Ezeudu.
Nick Frost Underwent Weight Loss of 6 Stone After Battling Eating Disorder!
Nick Frost (@friedgold) appears to have undergone a significant weight loss in recent days which has amazed many of his fans. Compared to his before and after pictures, he seems completely different.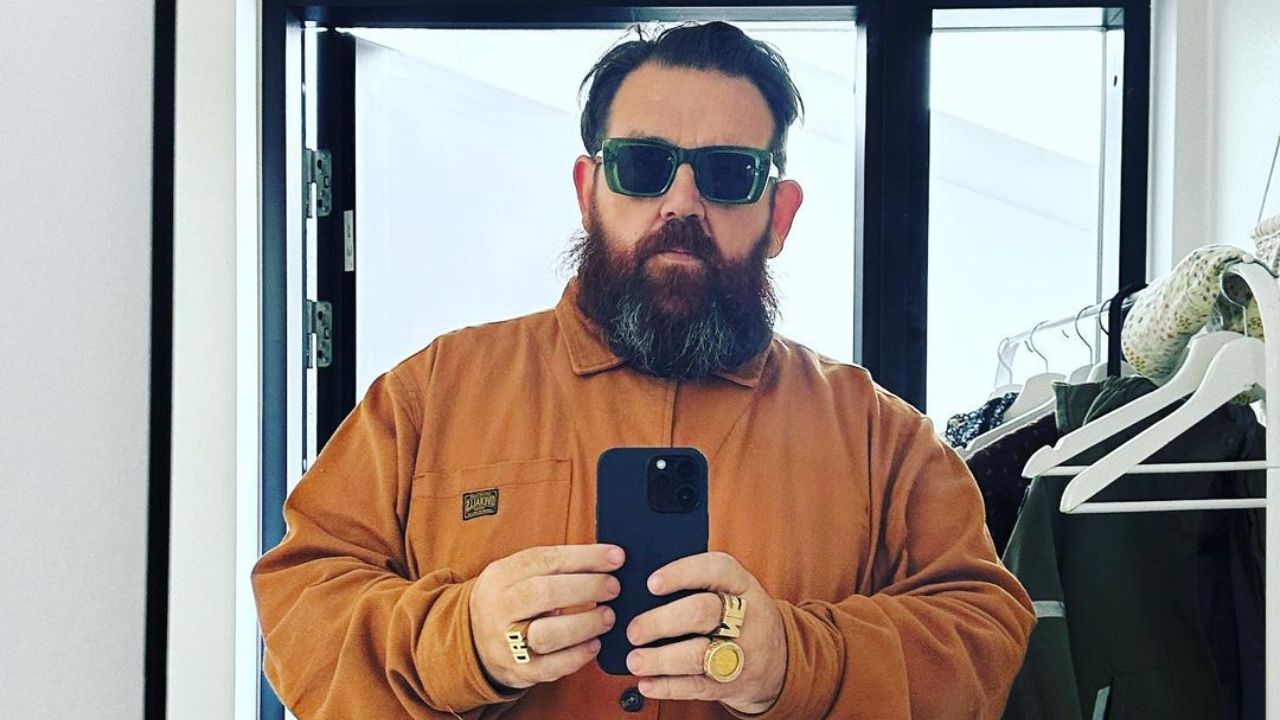 Nick Frost in his weight loss appearance.
Image Source: Instagram
But to let you know, he has recently spoken up for the first time about his eating disorder, describing surreptitiously bingeing on junk food. The 51-years-old comedic actor has since lost six stone in order to stay around for his young family, explaining:
I have a two-year-old, you know, and I'm just aware that big fat men in their fifties don't become big fat men in their sixties, and that's just a fact.
Speaking to The Sunday Times magazine about his eating condition, Nick Frost explained how he would hide in his car and devour two iced buns and four Snickers. He went on to explain how his eating problems began when he stopped smoking and drinking, as he replaced his old bad habits with new ones. He stated:
It was interesting stopping cigarettes and any kind of mind-altering chemicals and drinking, and thinking, 'Yes, I'm good, I've done it.' And suddenly you find yourself eating six Wispas in a dark room and hiding all your s***, enjoying the James Bondness of addiction, all the secret bits.
However, Nick Frost claims to have taken control of his food and health, and he proudly told the publication that he has undergone six stone of weight loss, adding, 'So now only a XXXL.' Later, revealing how he lost the weight, he said,
I've taken responsibility for it, because it's fine me saying, "I'm gonna make sure the kids have the best dad they can have," but it's b******t if I'm secretly eating in the toilet. So I've had to not do that.
Know About Nick Frost's Relationship With His Children!
Nick Frost and his girlfriend have a two-year-old daughter and a four-year-old son, and the family lives in southwest London. His girlfriend has never been photographed, and the name of their child has never been made public.
Nick Frost doesn't like to speak about his children.
Image Source: Instagram
He also has a 12-year-old son, Mac, from his previous marriage to Christina. They married in 2008, and after seven years of marriage, they separated in 2013, eventually divorcing in 2015. When asked about their special relationship, Nick told to The Guardian in 2019:
I think when Chris and I got divorced we knew people who didn't [get along] and you see what it does to their kids. I get sometimes that there's no other option, but once you've made the choice to get divorced for the benefit of the child, it seems churlish to then be shit to each other.
Additionally, Nick Frost confirmed the birth of his third kid in August 2021 by posting an Instagram photo of himself carrying the newborn home from the hospital. He wrote alongside the shot:
And then there were 3!!!! (Kids that is!) #thrilled #soinlove #grateful #incrediblemumma.