Even though Ashley Park admitted to having someone supportive in her life in July 2023, she has yet to reveal who her boyfriend is. And yes, she doesn't have a husband since she has never been married.
How do celebrities deal with racism in Hollywood? Well, we don't know about many celebrities' secrets, but we do know about Ashley Park, who revealed her secrets during an interview. Ashley Jini Park is an American actress, dancer, and singer. She gained fame after appearing in the Netflix original series, Emily in Paris, as Mindy Chen.
Previously, Ashley has admitted to being good at code-switching. She said that code-switching helped her as an actor because she is really good at immediately observing what somebody needs and what somebody feels safe with. Her honesty is about how she sometimes modifies her behavior in her life and career making her more adorable towards her fans.
On the other hand, many people have recently been curious to know about Park's boyfriend since she previously mentioned her boyfriend's support in her life. In this article, we will be talking about her boyfriend as of 2023 and her dating history. Let's get started.
Would you also like to check out the relationship status of Pete Tidwell and Lysa TerKeurst?
As of 2023, Ashley Park Hasn't Revealed Who Her Boyfriend Is!
As of 2023, Ashley Park (@ashleyparklady) has not revealed her boyfriend's name, but she has mentioned having someone supportive in her life. Previously she was linked with Benjamin Tyler Cook after seeing each other close, but the news was never confirmed, and later it was put down to street gossip. People are wondering if they can know more about her personal life, but it looks like the actress is taking time to reveal the news.
Ashley has been in the news for more than ten years, and her personal life has always been a topic of gossip. She has been very private. Although the actress has not given any information regarding her boyfriend's name or personal details, she mentioned having a lot of support from him during an interview for People in July 2023.
Ashley Park has yet to reveal her boyfriend's name.
Image Source: Broadway Shows
In the interview, Park told people that she is very happy to have someone supportive in her life. She also revealed that she was always that person who wanted to give all of herself to other people, and that's what made her feel fulfilled. It looks like she is in the best hands she could ever wish for, and her boyfriend seems to be her happy place. She stated;
I was always that person who wanted to give all of myself to other people, and that's what made me feel fulfilled, I don't want to be that person who is now this and is not able to be there for other people. But then I realize the people that I care about, whether it's my boyfriend or my friends, will never penalize me for not giving all of myself to them. They want to protect me as much as I want to protect them.
And of course, she does not have a husband since she has never been married. However, we do wish she gets married soon and we get to know her lover, directly as her husband.
Ashley Park Has Previously Been Linked to Numerous Names!
Unclear news has always had a lot of gossips to identify the truth, but until the truth is seen or confirmed, we can't claim any news. Ashley Park has been linked with numerous co-stars throughout her life, but none of these have ever been confirmed. Many people have claimed that Ashley just started dating someone new in February 2023, while others claim that she has been dating a mystery man since 2015.
In 2015, some of Ashley's fans called Conrad Ricamora her boyfriend after they saw photos surface of the two off-stage enjoying a holiday in Montauk, New York, and Disneyland. Again in 2018, she was linked with Zach Adkins after seeing their closeness, but none of the rumors were ever confirmed by any of the celebrities, and later they were tagged as close friends.
Were Ashley Park and Benjamin Tyler Cook Previously Dating?
When Ashley Park starred in Emily in Paris, many thought that Kevin Dias was her boyfriend in both the series and in real life, but later the rumors seemed to be fake as they don't seem to be close enough in real life. Before her interview with People in 2023, some of the fans even declared her to be on a single team, as there was no sign of her dating someone on her Instagram picture. However, it's clear that the actress is dating someone, but the person in question has not been identified yet.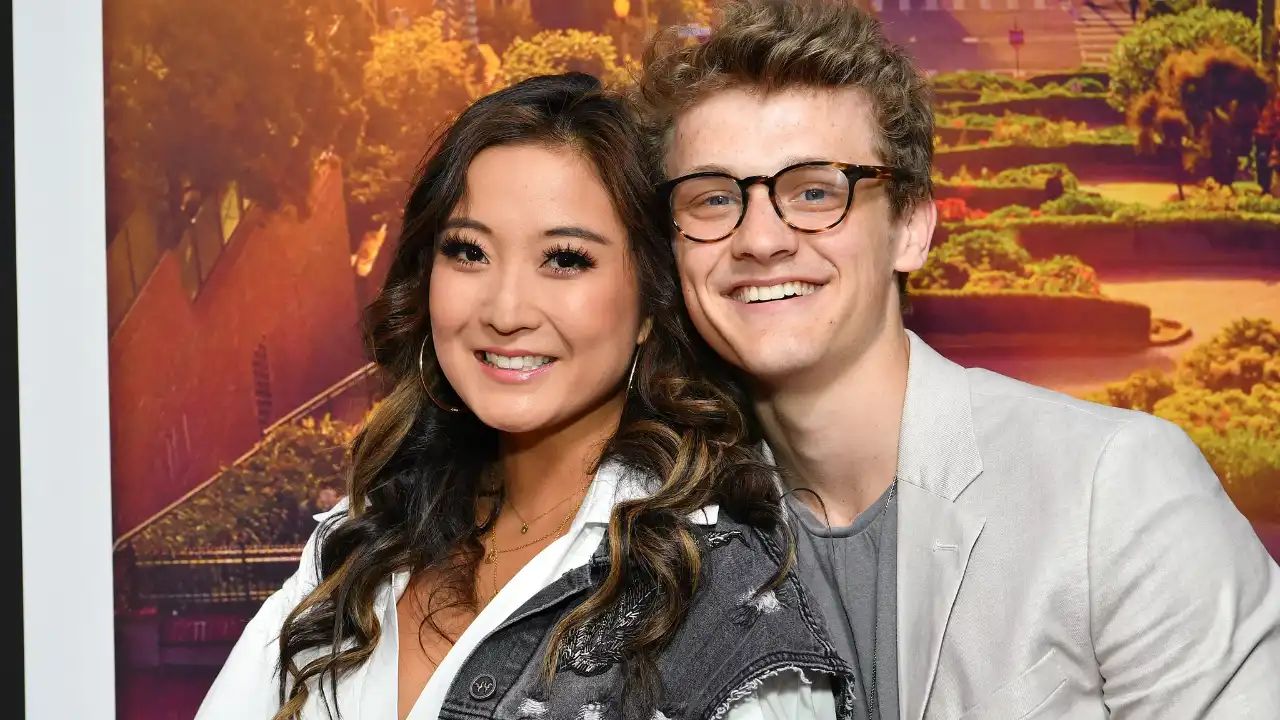 Benjamin Tyler Cook was rumored to be Ashley Park's boyfriend.
Image Source: PopSugar
Benjamin Tyler Cook and Park's dating each other was a huge gossip topic in 2015. They were said to be dating each other after the two were spotted together on several occasions, and they often shared photos of each other on social media. Well, both of them seem to be very private in their lives, and some people have even been calling them exes, but neither of them has denied nor accepted their relationship.