Charlotte Hegele has sparked weight gain speculations following the premiere of season 10 of When Calls the Heart on Hallmark Channel. Fans couldn't help but notice that the Canadian actress looked a lot bigger than she was the last time they saw her, which made them wonder if she was pregnant. There were many who assumed that she had recently had a baby. Charlotte Hegele has yet not acknowledged the weight gain speculations. She has not revealed if she is pregnant or if she recently had a baby.
Charlotte Hegele rose to prominence after she starred in the Canadian television drama series Bomb Girls in the role of Kate Andrews. To this date, that's the role she is most recognized for. Anyone brings up Hegele, people think about Kate from Bomb Girls. The Ontarian nailed her role in the series. She is probably one of the most loved television stars in Canada.
She was born in Toronto and raised in London, Ontario. She took an interest in acting from a young age and in 2008, when she was 18, she moved back to Toronto to attend Humber College's Acting for Film and Television Diploma Program. She also started acting in community theatre. After her graduation, Charlotte Hegele moved on to acting on television. She started working on several projects filmed in Toronto, some of which were Murdoch Mysteries and the television show Guidance (she played a recurring role in that).
After doing several such roles, she landed her first lead role in the World War II period drama Bomb Girls, her most successful and critically acclaimed project. She reprised her role in its subsequent film Bomb Girls: Facing the Enemy. She got a recurring role as Julie Thatcher on the American-Canadian television drama series When Calls the Heart in 2014, and she has been playing that role since then.
The tenth installment of the show recently premiered on Hallmark Channel and on watching that, people have noticed that she has had a weight gain. She looks much bigger on the show than she did before. Let's discuss Charlotte Hegele's weight gain!
Would you also like to check out the weight gain stories of Darrelle Revis and Jess Harding?
Charlotte Hegele's Weight Gain: Fans Think She is Pregnant; Some Think She Recently Had a Baby!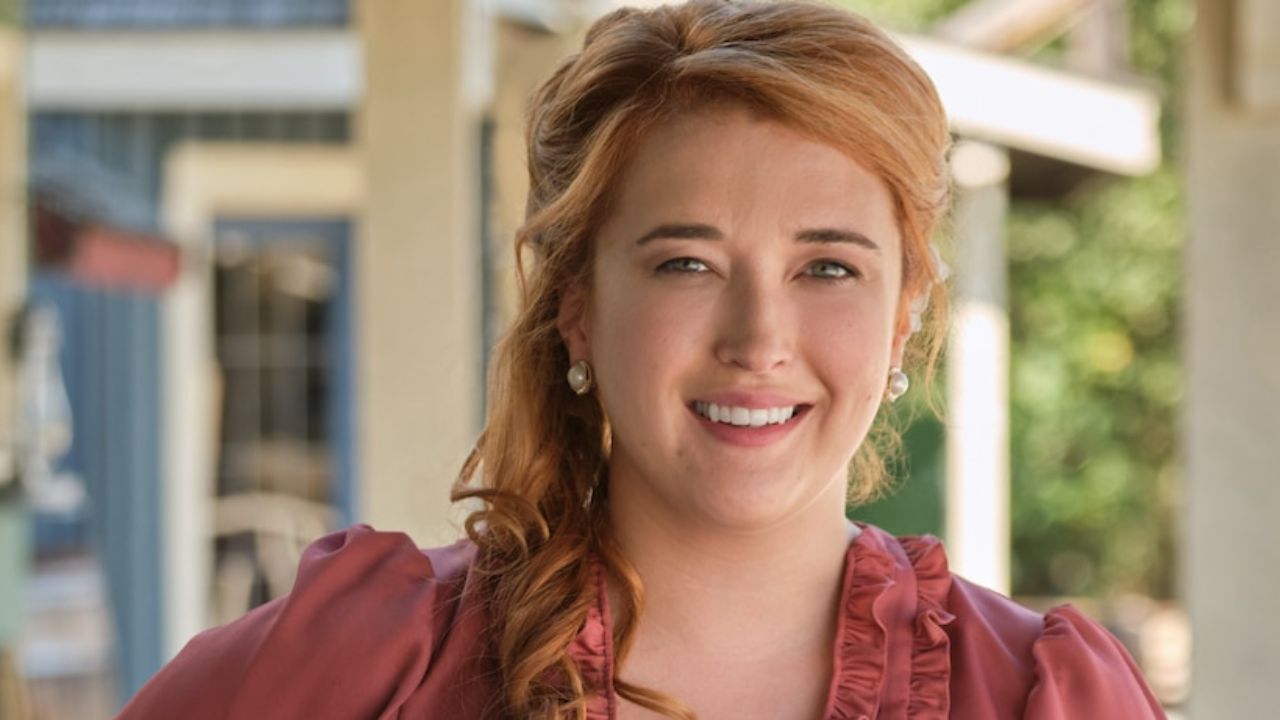 Charlotte Hegele after her weight gain in When Calls the Heart.
Image Source: TV Shows Ace
Charlotte Hegele (@charlottehegele) has undergone a visible weight gain and fans are curious to know what's up with her. Many think that she's pregnant while some others assume she had a baby recently.
So, Season 10 of When Calls the Heart premiered on Hallmark Channel recently. It also hit another milestone when it reached its 100th episode. Everyone was excited about the premiere of the new season and the show reaching the 100th episode in this season but it was almost drowned out by the speculations of Charlotte Hegele's weight gain. She plays Julie Thatcher on the series and she has had some hard-to-go-unnoticed transformation.
When the series first aired, fans were left shocked by how Julie Thatcher looked because that's not how she looked like the last time they saw her in the last season. She had changed a lot since then. And people are curious to know about what it was that brought about this transformation because people are always curious about these kinds of things. It would have been fine if they just wanted to know about Charlotte Hegele's weight gain but no, because when Hegele maintained silence amid the whole thing, people started making speculations about how she got bigger.
Because she looked visibly bigger than before and she was never big that way (the Bomb Girls star used to be a very slender and fit woman), many fans speculated that she was pregnant. Apparently, women cannot have weight gain because of reasons other than pregnancy (Pregnancy speculations are a bit intrusive so, it's annoying even though there's a chance that it might actually be true).
Charlotte Hegele Has Not Yet Responded to Weight Gain Speculations!
Charlotte Hegele has not yet responded to speculations of her being pregnant or of her having a baby.
Image Source: Twitter
While many people seemed to believe that Charlotte Hegele was pregnant, there were many others who didn't think that she was pregnant (Where's the baby bump?) but assumed that she had just gotten out of pregnancy i.e. had a baby (but weight gain she did have and if she's not going to have a baby, it must be because she already had one recently). Very creative, aren't they?
Anyway, we don't really know if Charlotte Hegele is pregnant or if she has a baby because she hasn't announced her pregnancy or her baby. From what we can see, we only know that she has had a visible weight gain. And Hegele does not seem very keen on talking about her transformation. So, even if it's natural to be curious about celebrities, let's put a pin on making baseless speculations and never come back to it again.