A peek at Loyal Hitmaker Chris Brown's supercar collection and houses.
Chris Brown, the 'Hall of Fame' figure of pop sensation, Hip-Hop, and R&B and relatively heard as the Next Michael Jackson gained prominence after his superhit songs With You went viral.
Through the song, CB did just not made all his fans hypnotize through his soulful vocal but also proved that he could dance with some amazing skills. And fast forward to 2020 he is already a popstar living the life of riches with his luxury house and supercars. So in order to know all the collection, Brown made through his musical career, Movie career, and as a fashion influencer, here we present you with all the details of Chris Brown's car collection.
1.7 Million Bugatti Veyron
Yes similar to fellow musical artists Post Malone, Chris too own the super expensive and luxury Bugatti Veron. Matter of fact, it is one of the most expensive whips in Chris' garage as the car costs around a staggering 1.7 million.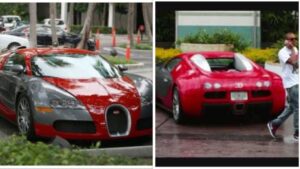 Snippet of Chris Brown's Bugatti Veyron.
Image Source: HouseN'Whip 
The supercar features an 8.0L W16 engine powered by four turbochargers and can develop up to 1, 001 horsepower. Coming to its transitions it shares a dual-clutch Direct-Shift Gearbox computer-controlled manual gearbox with seven gear ratios, with a super-fast shifting time of fewer than 150 milliseconds.
Lamborghini Gallardo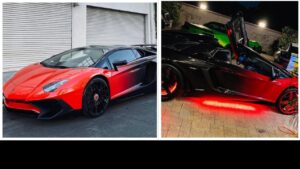 Brown often updates and paints his Lambo.
Image Source: HouseN'Whip
Similarly, the 'Easy' hitmaker also owns a super cool Lamborgini. The Lambo is from the model year of 2004-2014 with 6-speed manual transmission and 6-speed e-gear automated manual.
Talking about the vehicle engine it consists of 5.0 L even firing V10 (1st Generation); 5.2 L Lamborgini odd firing V10. The price of the Lambo ranges around $140,200 and going to $246,620 for the latest year the model was manufactured as per reports from Cars Guide. However, Breezy's cherry red and black painted car price may vary as the 31 years old has customized it and made some expensive enhancements.
Porche Panamera
The Loyal hitmaker also owns a classic Porche. Coming to the supercar specification, it runs with a twin-turbo 3.0-liter V6 which comes with 420 horsepower. Similarly, the powerful version of V8 creates 520 horsepower.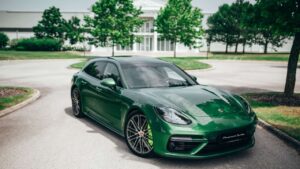 One of the beasts in Chris's garage.
Image Source: Instagram
Brown is often seen posting his dreamy car Porche on his Instagram wall. The supercar costs around $100000 as per reports from RusnakpasadenaPorsche. The beast can hit the Top track speed of 192 mph and can hit from 0-60 in just 3.2 s.
Chevrolet Impala
Yes, Breezy also owns the classic Impala on his garage. It's a classic piece which fellow rap artist Wiz also has a bunch of collections - you can have a peek from here.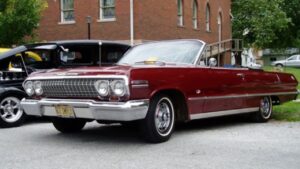 Got the 'Classic' Impala.
Image Source: Pinterest
Coming to the price, the car is usually sold for more than $24k. Yeah, not so expensive when we compare it to his super expensive car collection but a classic Impala is one of the classic choices of millionaires.
You May Like: Post Malone's Lavish Car Collection – A Peek at 'Posty' Garage
We hope you enjoyed the article, for more Celebrity House and Whip article visit House N' Whips.