Lamelo Ball has diamond teeth and many people wonder if it is real or fake. Well, it's real. He got it after he was drafted by the Charlotte Hornets. Here's his before and after photos.
LaMelo LaFrance Ball is a professional basketball player for the Charlotte Hornets in the National Basketball Association (NBA). The Hornets selected him with the third overall choice in the 2020 NBA draught. Later, he was elected NBA Rookie of the Year in 2021 and was named an NBA All-Star in the following season.
If you have been following LaMelo Ball, you might know, that he has been seen wearing a diamond cap on his teeth very often. As a result, many people are curious to know why he spends money buying fake teeth. Well, here is everything you need to know.
Previously, we discussed the intriguing stories of Taylor Swift and Mimi Keene.
Lamelo Ball Teeth: He Paid Between $30,000 and $40,000 for VVS Gold and Diamond Grills With 14 Karat Gold and a Honeycomb Set!
If you have seen LaMelo Ball's (@melo) before and after photos, you will notice something in his teeth on and off. Recently, an NBA parody account tweeted that he spent $80,000 on diamond grills. Despite the fact that the video was from a spoof account and that the individual in the video was clearly not him, the tweet went viral. However, he responded to the post the next day with a short, funny tweet. He tweeted,
they believe anything on dis app dats actually crazy.
LaMelo Ball before and after getting diamond teeth.
Image Source: HOUSE & WHIPS
If you don't know, when LaMelo Ball first entered the NBA, he was already making headlines for a variety of reasons. others were good, others were awful, but it didn't affect how he played in his first season. Winning Rookie of the Year is confirmation enough that this young man is on his way to a very successful career. Not only as a basketball player but also as a real fashion icon.
In addition, LaMelo Ball has established himself as a trendsetter in the NBA. His fashion sense also has taken a new turn, but it was something we should have all recognized when he first entered the league. The symptoms were all thereafter he was selected third overall by the Charlotte Hornets. But shortly after being picked, he went to buy pricey new teeth for himself. According to a report,
The finished product is a pair of 14k white gold chompers (8 top teeth, 8 bottoms) with VVS diamonds in a honeycomb set.
Likely, AP, the Jeweller store in Atlanta, also posted a photo of Melo wearing the new grills on Instagram, and it quickly went viral. He paid between $30,000 and $40,000 for this VVS Gold and Diamond Grills with 14 Karat Gold and a honeycomb set. Isn't this a lavish way to celebrate?
And, in case you're wondering, these are permanent. They are customized grills that have been styled to fit LaMelo Ball's teeth perfectly. They can be removed whenever he wishes. Many other NBA players and celebrities wear these customized grills. These seemed like a necessity now that he has been dubbed a fashion star in the league.
Some NBA Scouts Predict Lamelo Ball Will Flame Out!
LaMelo Ball, the Charlotte Hornets' point guard, is regarded as one of the NBA's most talented young players, but not everyone agrees. A league scout told Sports Illustrated's Chris Mannix that Ball is a guy who will probably flame out." Despite his talent, the scout believed Ball is more show than substance:
I just don't think he does enough all around. I actually don't think he's super dynamic offensively, I think he's just super dazzling. He's super dazzling. He's the dude with the best costume. He's just all the dazzle and he's not that dynamic.
they continued,
Can he shoot it really well from three? I don't know. Yeah, he's pretty good and crafty in the pick-and-roll, he's not strong at all, so he gets pushed around. He can't defend anyone. I don't see it. I don't see it, besides the cool passes.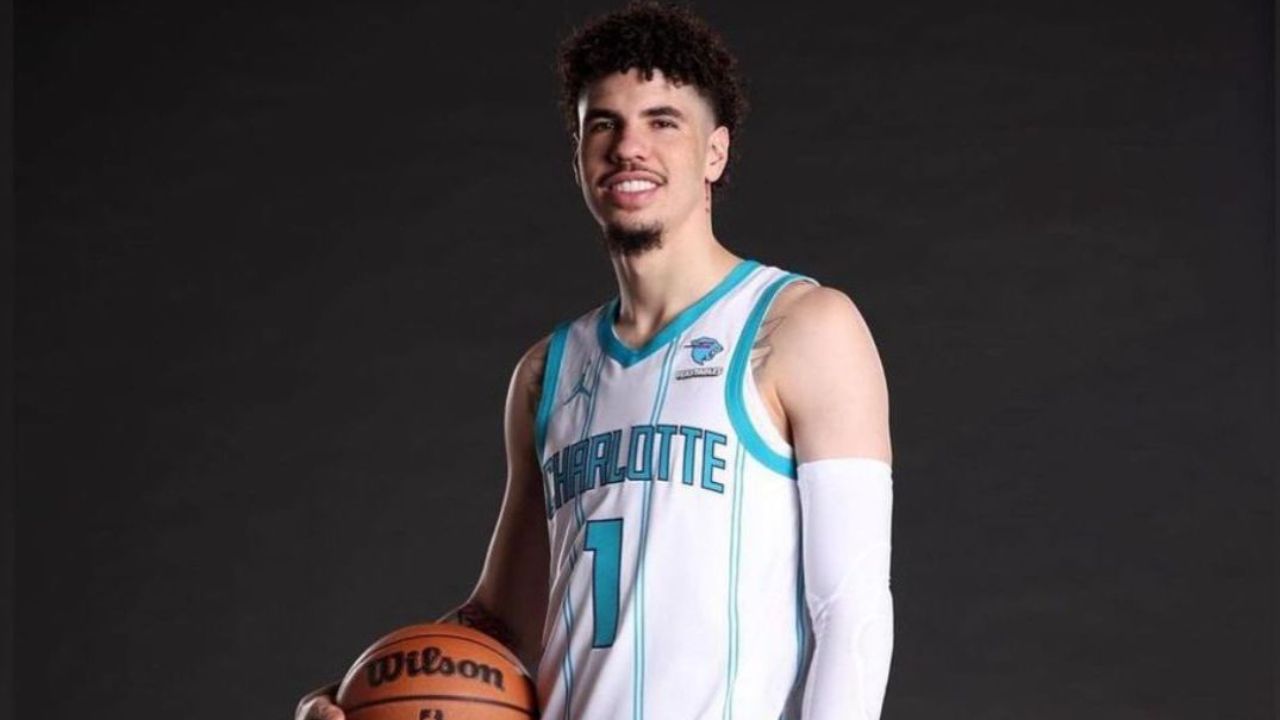 LaMelo Ball plays as a point guard from the Charlotte Hornets.
Image Source: Instagram
After being picked third overall by the Hornets in 2020, LaMelo Ball is in his fourth season in the NBA. He was limited to 36 games last season due to a fractured ankle that required surgery, but he's started all three preseason games for Charlotte so far and appears to be totally fit for the 2023-24 season.
In his limited time on the court last season, the 22-year-old averaged 23.3 points and 8.4 assists. His point and assist totals have risen each year he's played in the league.
Despite LaMelo Ball's talent, the Hornets have never finished higher than 10th in the Eastern Conference since he joined the team. Charlotte will be hoping to improve on their 27-55 record from last season. Furthermore, he and the Hornets will open the regular season against the Atlanta Hawks on Wednesday, Oct. 25.