Luke Humphries's latest weight loss appearance has fascinated many of his admirers as he has reportedly lost more than 2 stone following a heavy workout routine.
Luke Humphries is a professional darts player from England who competes in Professional Darts Corporation (PDC) competitions. He is known as Cool Hand Luke and is the current World No. 4. He is the current World Grand Prix champion and the 2019 PDC World Youth Championship winner.
In 2017, Humphries won five PDC Development Tour championships and finished first in the Development Tour Order of Merit. As a result, he qualified for the 2018 PDC World Darts Championship, where he was defeated by Jeff Smith, and he was given a PDC Tour Card for the 2018 and 2019 seasons.
As we know, Luke Humphries was struggling with his overweight body which even affected his health and performance. As a result, he decided to go on a journey to maintain his physique as well as his health. However, his current weight loss appearance has completely shocked many. Well, read on to know more.
Also, check out the weight loss stories of Maurkice Pouncey and Romily Weeks.
Luke Humphries Reportedly Underwent Weight Loss of 2 Stone in Just 2 Months!
Luke Humphries' (@lukehumphries180) weight loss helped him transform his body and adopt a fit and healthy lifestyle. He recognized the importance of physical health and well-being as he sought to improve his performance and thrive in the sport he adores. He undertook a strenuous fitness routine and adopted healthier habits with uncompromising dedication to his aim.
Luke Humphries before and after weight loss.
Image Source: WEIGHT&Skin
As we know, Luke began losing weight during lockdown in 2021 in order to increase his stamina and performance. His on-tour performances have improved significantly as he has risen through the ranks. His transformation started with losing two stone in less than two months. In February 2021, he tweeted,
Really working hard towards the new darting season in a few weeks. Lost over 2 stone since Christmas. on reflection big changes were needed to myself to get to that next level in my career. I'm practising harder than I ever have. Hoping the rewards will pay off this year.
Only a month later, he reached his first PDC major final, the UK Open. Despite being defeated by James Wade, he stated after the battle,
Losing a bit of weight is a healthy life and a healthy mind. I feel really good, I feel full of energy. The hard work that I've put in through lockdown is helping me in that aspect and hopefully it carries me through to being a better player in the future.
According to reports, Luke Humphries engaged in a variety of physical activities to increase his general fitness level. He spent time on routines designed to build his physique and increase his endurance, including cardio training, weightlifting, and flexibility exercises. Furthermore, he experimented with various sports and hobbies that not only challenged his physical ability but also added variety to his fitness regimen.
His efforts to live a better lifestyle included more than just exercise. He paid close attention to his nutrition, making deliberate choices to feed his body with nutritious foods. He ate a well-balanced diet rich in lean proteins, fruits, vegetables, and whole grains while avoiding processed foods and sugary beverages.
Since starting the weight loss journey, the 28-year-old player has maintained a leaner figure on tour. He is now ranked 4 in the world and reached the World Matchplay semi-finals, his best showing at the tournament. Following the significant weight loss, he has also produced career-best runs at the Grand Slam of Darts, European Championship, World Grand Prix, and Masters.
In conclusion, Luke Humphries ' transformation story demonstrates his everlasting commitment and passion for his passion. He has not only enhanced his physical ability but also shown the value of overall well-being in achieving success in professional sports by committing to a fit and healthy lifestyle.
More About Luke Humphries' Weight Loss Strategy!
Luke Humphries lost weight by following a focused exercise routine that he could do from the comfort of his own home. To stay active and lose weight, he did a range of workouts ranging in length from 20 minutes to an hour. This enabled him to reap the benefits of exercise's calorie-burning actions.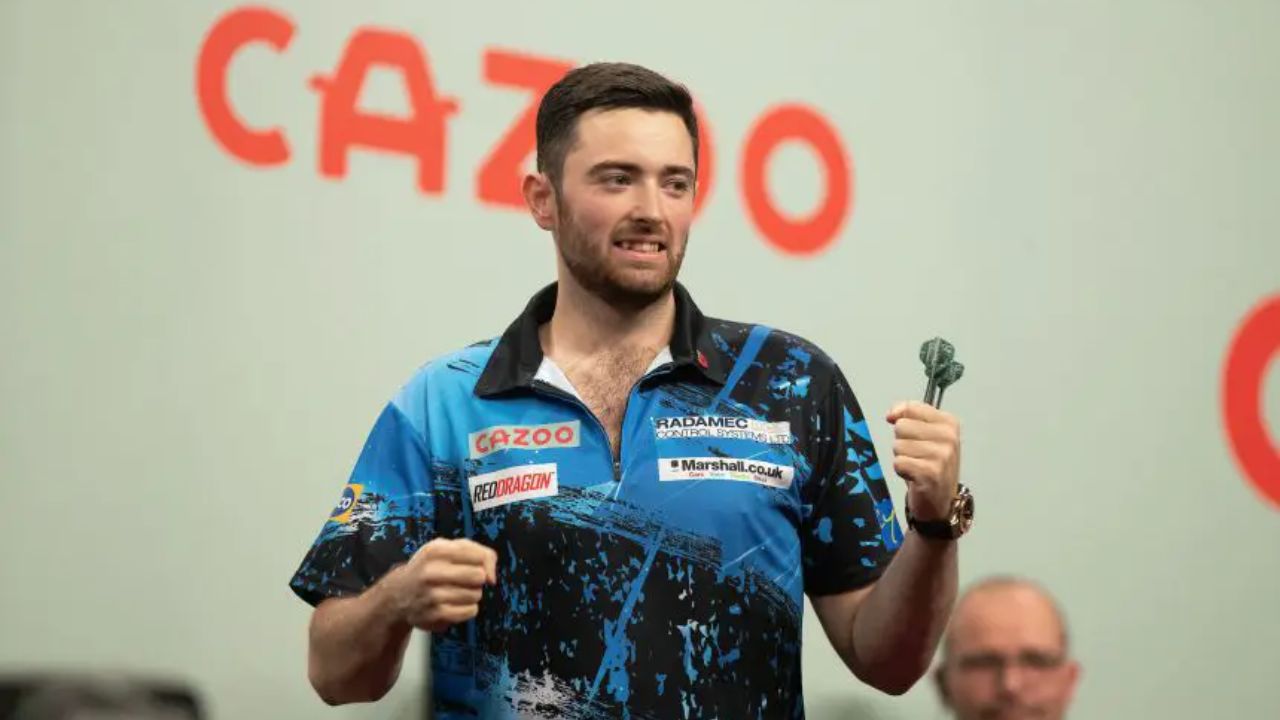 Luke Humphries' latest appearance.
Image Source: Sky Sports
The 28-year-old PDC Major Champion had a wide selection of fitness options from which to choose. Walking and running gave him cardiovascular benefits and increased his overall endurance.
Powerlifting, which is known for its efficiency in weight loss, was most likely his favorite option. This type of strength training not only helped him gain muscle but also helped him burn calories during and after the workout.
Furthermore, Luke Humphries experimented with several hobbies to add diversity and keep enthusiasm in his weight loss journey.
Swimming provided a total-body workout that included cardiovascular conditioning and muscle toning. He also did pilates and yoga, which helped not only his physical fitness but also his balance and emotional well-being.