Ariel Winter insists that she has not had any plastic surgery other than breast reduction which she said she got because her back started to hurt. The Modern Family star is suspected of having a nose job and lip fillers because she appears a little different than before. Ariel Winter maintains that her facial features look different because of her weight fluctuations and not because of plastic surgery.
Ariel Winter literally grew up in front of the cameras as she portrayed the character of Alex Dunphy in the ABC comedy series Modern Family. She was just 11 years old when the show premiered in 2009. By the time the show ended in 2020, she had transformed into a young adult. She had changed so much in those years. But did she change because she just grew up or because she had plastic surgery?
Some of her followers seem to think the latter. They believe that the actress has had a few tweaks here and there. They are especially convinced that she has gotten a nose job and Botox or a brow lift. But they don't understand why she denies getting anything done when she has been so open about having breast reduction. Here's everything to know about Ariel Winter's plastic surgery!
Also, read the plastic surgery stories of Lisa Kudrow and Angela Rippon.
Ariel Winter's Plastic Surgery: The Story of Her Breast Reduction!
Ariel Winter (@arielwinter) is suspected by some of her followers to have undergone plastic surgery including a nose job and lip fillers. She has only ever admitted to having a breast reduction surgery.
Ariel Winter's fans suspect that she has had plastic surgery on her face.
Image Source: Entertainment Tonight
The Modern Family star has always received too much-unwanted attention because of her voluptuous figure. She is naturally a big-breasted woman and she had to endure a lot of pain as well as negative scrutiny of her body because of that. She grew increasingly uncomfortable in her body because of her ample bosom. So, she got plastic surgery to reduce the size of her breasts.
Never did Ariel Winter think that she would ever need to undergo a breast reduction procedure when she was younger because she was so flat. She still remembers being at her sister's wedding and being so flat and wishing she would grow boobs. As she wished, overnight, her boobs grew and they kept growing and growing and never stopped. Eventually, they started hurting so badly to the point that she couldn't take the pain and had to have plastic surgery to reduce the size of her breasts.
At just 15 years old, Ariel Winter was wearing an F-cup bra. No wonder she couldn't take the constant back pain. She didn't plan on suffering from back pain for the rest of her life because of her breasts. So, she went ahead and got plastic surgery to make her breasts smaller. Also, it was not just the pain but it was also how she felt about her body. She didn't feel great about her disproportionately large breasts.
Once, when she went to a swimsuit store with her cousin, she was unable to find a bathing suit that fit her and she felt really bad about herself. She was not happy with her body because she couldn't go to a party with her friends and wear the same thing as them because she was conscious that if she was not completely covered up, she would look a certain way that she was not intending to look. So, eventually, she decided to get plastic surgery to adjust the size of her breasts to make herself more comfortable.
Ariel Winter underwent breast reduction because of the constant back pain.
Image Source: The Cut
Nobody in Ariel Winter's family was shocked by her decision to undergo breast reduction because they were aware of how her large breasts caused her pain. After she got plastic surgery, she got rid of the constant back pain that tormented her and though it was never her fault in the first place, people's perceptions of her also changed. She felt amazing about her body after the procedure and she has no regrets about going from a 32F to a 34D.
I got it for myself. I can't even really put it into words about how amazing it feels to really feel right. This is how I was supposed to be.
Ariel Winter Has Denied Getting Other Plastic Surgery Procedures!
Ariel Winter has been very candid about her breast reduction surgery but what about the other plastic surgery procedures? Many people suspect that she has had lip fillers and a nose job in addition to breast reduction but she has always denied having facial surgery. She gets very annoyed with people speculating that she has had cosmetic work on her face and often fights back those accusations.
When a follower commented on a picture she posted on Instagram, asking her how many surgeries she had had on her body and face apart from the breast reductions, cheekbone and chin shaving, and lip fillers, she wrote that she had not had plastic surgery on her face and that it appeared as though she "changed looks" because of her weight loss.
I wasn't going to reply but I HAVE to ask… what the f— is cheek bone and chin shaving???? You're also wrong about all of it by the way 🙂 one breast reduction and I lost weight but you do you boo.
But not everyone buys what Ariel Winter said about her looking different because of weight loss and not plastic surgery. Many people think that she has had a subtle nose job. They believe that she has retained the overall shape of her nasal tip but made it smaller and not as prominent compared to other facial features. They also suspect that she has had lip fillers. Apparently, her "keyhole pout" when her upper lips started to unnaturally protrude and the obliteration of Cupid's bow are such a "tell." Now, they don't seem as prominent but it was so obvious that she injected her lips at some point.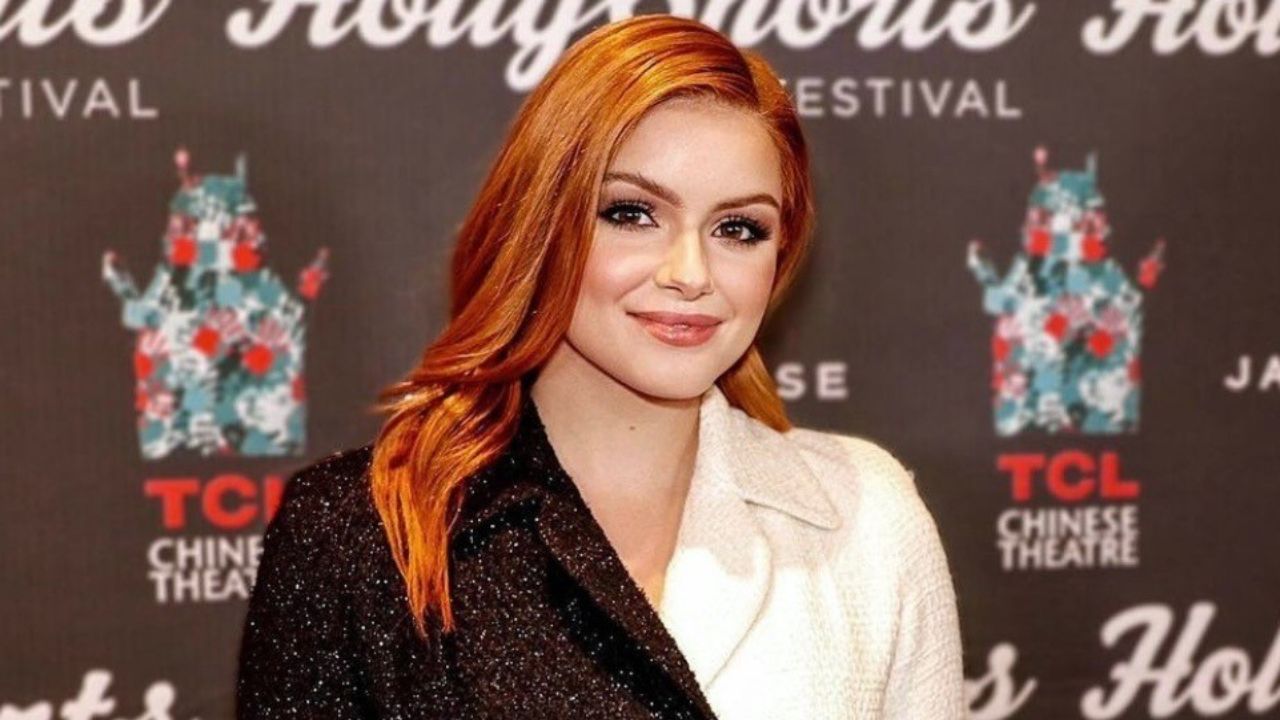 Ariel Winter is suspected of having a nose job, lip fillers, and Botox or a brow lift as well.
Image Source: Deadline
Besides a nose job and lip fillers, she is also believed to have gotten either Botox or a brow lift because of her extra-arched eyebrows. Her tighter jawline has some of her fans convinced that she has either had Botox in her jaw or had submental liposuction (it contours the jawline by removing excess fat). But don't tell her or just don't insinuate that she has had plastic surgery in the comment section of her Instagram page because she doesn't like it.
Also, because it's none of our business and Ariel Winter has always maintained that she has not had plastic surgery, it's clear that she does not want to reveal any procedures even if she might have had it. In response to the comments about cosmetic surgery, she has always said,
I didn't get plastic surgery.