Beth Holloway does not seem to have a husband at the moment. It appears that she has stayed single after she got divorced from George 'Jug' Twitty in 2006. Though there were speculations that she was married to John Ramsey after their dating rumors, Ramsey denied the rumors. Beth Holloway divorced her first husband and Natalee's father David Holloway in 1993.
Beth Holloway became a widely known figure in the international media after the disappearance of her teenage daughter Natalee from her high school graduation trip to Aruba. Following the unfortunate incident, she dedicated her life to finding her daughter and providing her with justice. She also began to speak on the topic of personal safety and tried to aid the families of missing persons in the search for their loved ones.
She has stood tall and strong in the face of what happened to her daughter, and alone. People wonder if she's single or if she has a husband who's not very present. Let's learn more about Beth Holloway's relationship status and her husband if she has one!
Previously, we touched on the relationship status of Spider-Punk and Brittany Battaglia.
Who is Beth Holloway's Husband?
Beth Holloway has become somewhat of a public figure after what she did in the aftermath of her daughter Natalee's disappearance. She has been doing everything she can in her power to locate her missing daughter and while she's not doing that, she's been advocating for personal safety so that other people don't go disappearing like Natalee. Because she has been in the media a lot, people often wonder about her husband, Natalee's father.
Some even used to question why it was just Beth Holloway fighting to get her daughter (who was declared dead legally in 2012) justice. They wanted to know what her husband was doing while she was out pushing the authorities to investigate Natalee's disappearance. As it turned out, by the time Natalee went missing, her father and Beth had already been divorced.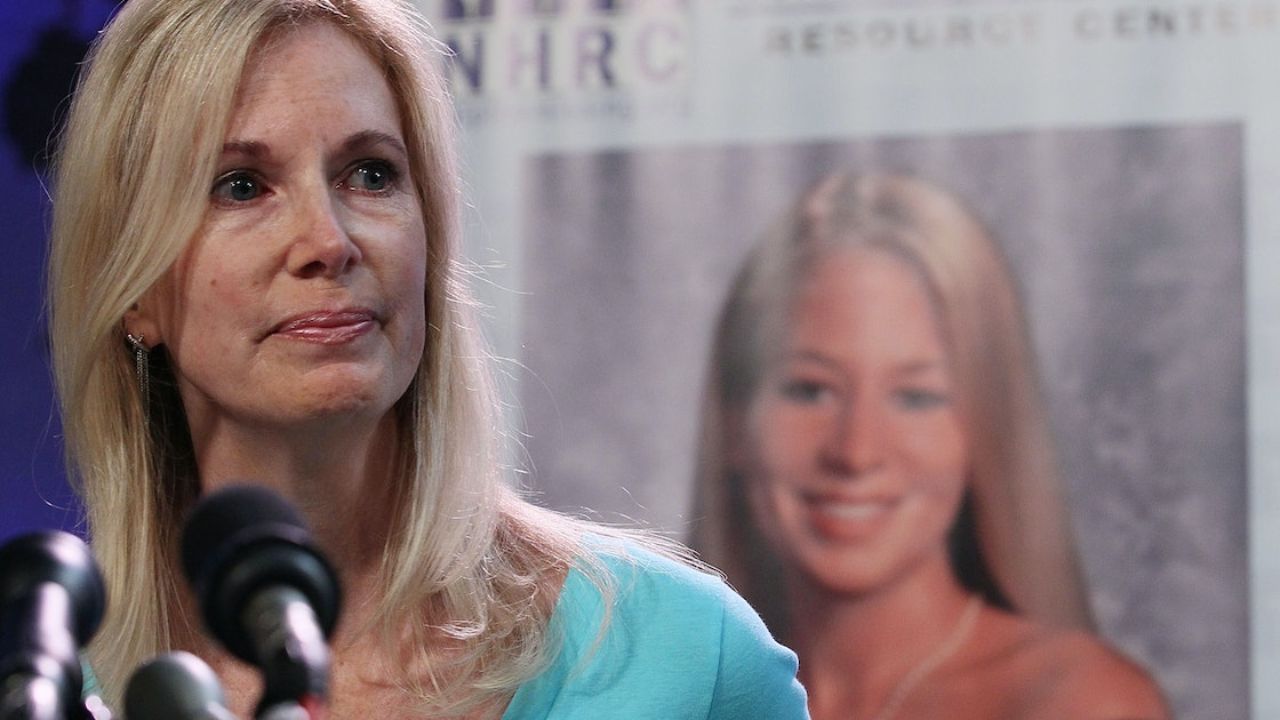 Beth Holloway's first husband and Natalee's father was David Holloway.
Image Source: Bustle
It's not in the public records exactly when Beth got married to her former husband and Natalee's father David Holloway but many think it has to be somewhere in the mid-1980s. Natalee was born in 1986 after they tied the knot and settled in Jackson, Mississippi. They had another child, a son Matthew together. Then, the couple got divorced shortly after in 1993 after which Beth raised both children on her own.
Beth Holloway's former husband didn't seem to have much of a relationship with the kids which must be why he was not as active as Beth in the search. He was involved but not as much as Beth. Maybe not even as much as Natalee's stepfather George "Jug" Twitty. Beth had already remarried at the time her daughter disappeared. She got hitched to Twitty, an Alabama businessman, in 2000.
Jug Twitty was there alongside Beth Holloway during the early stages of the search when Natalee disappeared in Aruba on May 30, 2005, while she was on a graduation trip with her classmates from Mountain Brook High School. But as it went on and went on and Natalee was nowhere to be found, Beth's second husband returned to Birmingham, Alabama, while she remained in Aruba for almost three months.
Not long after the tragic incident, on December 29, 2006, Twitty filed the divorce papers. It was shortly after Beth Holloway and her first husband David filed suit against the Kalpoe brothers who were the prime suspects in the case. It was written in the court filing that the two of them have "such a complete incompatibility of temperament that the parties can no longer live together."
As for her relationship status right now, Beth seems to be single. There is nobody she's dating publicly right now. There was a rumor that she got married to John Ramsey after the duo were spotted together a couple of times but those rumors seem to have died down.
Is John Ramsey Beth Holloway's Husband? Is She Married to John?
Beth Holloway was falsely rumored to have married John Ramsey.
Image Source: The Oklahoman
Not long after Beth Holloway got separated from her second husband, she started getting linked to John Ramsey. It began shortly after the pair met at a fundraiser. They were reported to have hit it off and to have started dating. Some even went as far as to speculate that the two of them had gotten married after they were allegedly spotted kissing.
However, John Ramsey put a stop to the speculations that Beth had gotten a new husband by denying the dating rumors. He, via his attorney, Lin Wood, told the Daily News that he was just "friends" with Beth. He said that they had "developed a friendship of respect and admiration" out of common interests and concerns related to their children.
So, yeah, Beth Holloway seems to be single right now. She definitely does not have a husband and if she has and she is just keeping it private, it's definitely not John Ramsey.