Capasso triplets from Extreme Sisters get the same plastic surgery so that they never look different. The TLC stars look like they have gotten Botox, dermal fillers, nose job, and lip fillers. The Capasso triplets have also gotten their bodies enhanced by getting a breast augmentation. The Extreme Sisters are often trolled and called childish for getting plastic surgery to look the same even though they are identical.
Let's talk about Extreme Sisters and their extremity today. The hit TLC reality show has a very fresh concept and the premise is unique it was really interesting to see the close bonds of the siblings being tested to see how far they would go for one another. We were hooked in the very first season. And the second season that just premiered last month was also promising. There seemed to be enough trouble as it is for the siblings but really, triple the trouble in the latest season and that's how you get Capasso sisters (triplets, of course!).
Yeah, the latest group of siblings to hit the reality show is a set of identical triplets named Hannah, Katherine, and Nadia Capasso. The Capasso triplets not only joined the show but stole the whole show. If it was interesting before, it's gripping and enthralling, and captivating now. Because you know what they are extreme about? Looking physically similar. Considering the fact that the Capasso sisters are identical triplets and already look similar, that's very weird.
But it is what it is. They are very extreme in that they want every inch of their body to match one another. I cannot explain it and stress how weird it is in any words except by saying that they want their bust to measure the same. They want the same measurement and the same figure, let's put it that way. And they are prepared to do anything to achieve that and you know what that anything entails? Plastic surgery! Yup, Capasso triplets (they really take the crown for the most extreme sisters, don't they) are willing to get surgery to look the same. Let's talk more about Extreme Sisters' Capasso Triplets' plastic surgery!
Also, check out the plastic surgery stories of Julia Tica and Finola Hughes.
Capasso Triplets' Plastic Surgery: The Extreme Sisters Have Gotten Botox, Dermal Fillers, Lip Fillers, Nose Job, and Breast Augmentation!
Capasso triplets (@thecapassotriplets) - Hannah, Katherine, and Nadia - have successfully created a generic look of influencers (Instagram look) here for themselves with tweaks here and there. The sisters have so obviously undergone plastic surgery. They have had Botox, nose job, dermal fillers, lip fillers, and breast augmentation from the looks of them.
Capasso Triplets from Extreme Sisters gets matching plastic surgery to continue to look the same.
Image Source: The US Sun
The Capasso triplets made their reality television debut in Season 2 of Extreme Sisters and they have managed to steal the show with their extremity to look the same even though they are identical triplets. They want to live together, look the same, and die together. They want no world of separation. Wanting to live and die together does not seem too bizarre but wanting to look the same does and it gets even weirder when you take into account that when one of them gets plastic surgery, the other ones follow because they have to look the same.
The Capasso triplets are really committed to looking identical no matter what physical changes occur and to experiencing each aspect of their lives together. Hannah, Katherine, and Nadia are 25 years old but still live together, sleep in the same room, play games together, and go on holidays together. They have even invented their own language and communicate with each other in that made-up language. Knowing the whole thing, the plastic surgery thing might not seem as bizarre and extreme.
I mean, the Capasso sisters have gone on to say on national television that they 'sleep with our legs entwined' and that 'we share bras, clothing, shoes' in the trailer for Season 2 of Extreme Sisters. If they have formed that kind of twisted bond that seems like it knows no boundary because they are identical triplets then, no wonder they would want to look the same forever. They wouldn't want anyone to miss that they are identical triplets. Maybe that's why they go to extreme lengths to look the same.
It should come as no surprise when the Extreme Sisters stars' Capasso triplets revealed that having matching bodies and matching appearance is the most important thing to them. Hannah, Katherine, and Nadia Capasso will do whatever it takes to mirror each other. And that whatever so far means having matching lip fillers, facial fillers, and nose jobs. Yup, plastic surgery so that their faces look the same amount of full and lips look the same amount of plump.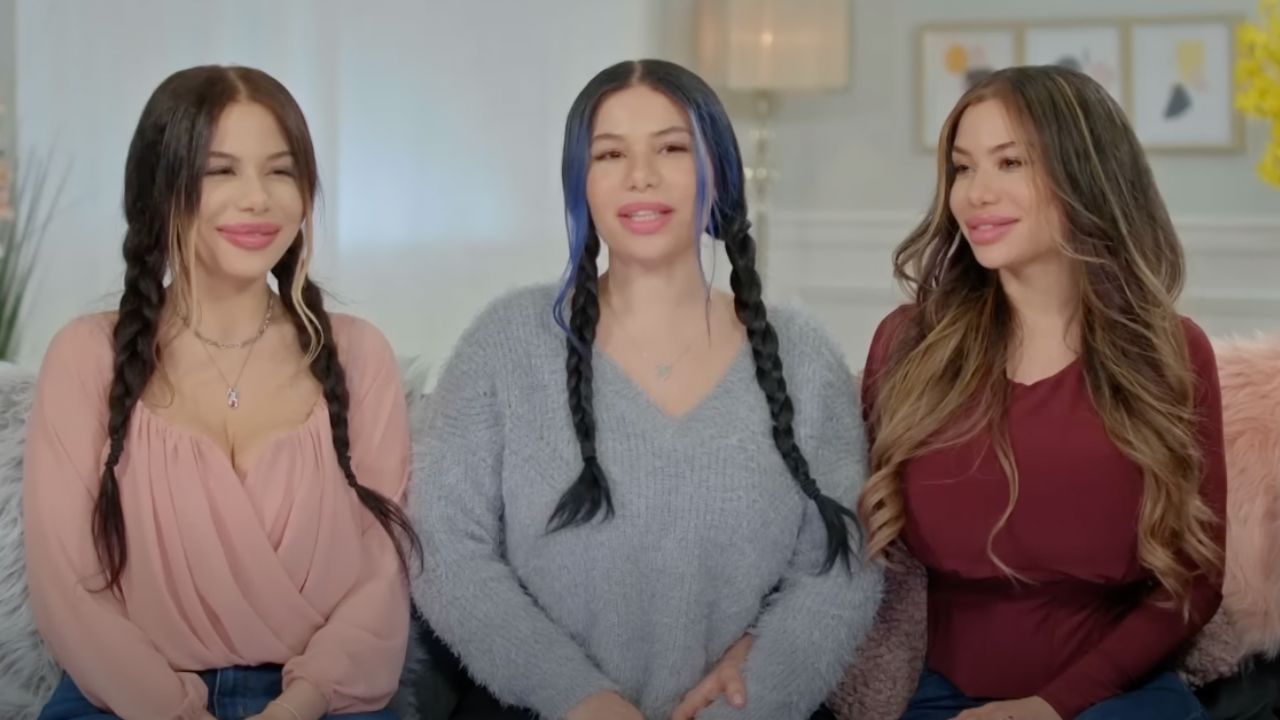 The Extreme Sisters' star Capasso Triplets not just get the same plastic surgery to look the same but they also live together, vacation together, and sleep in the same room.
Image Source: Reality Titbit
If that's not extreme, I don't know what is. Getting the same plastic surgery so that they never look different and go through the same changes is bizarre on some different level. So, it must be killing the Capasso triplets since one sister got boob augmentation because now the sisters' busts do not match. They are already looking to rectify the situation. Hannah got her boobs enlarged and Katherine and Nadine are preparing to follow suit so, are looking into surgeons because they 'want to look the same' as Hannah.
Now that they have brought their weirdness to the Extreme Sisters, more people know of them so, they have attracted many trolls who ridicule the Capasso triplets for being 'childish' and getting the same plastic surgery so they continue to look the same. However, the sisters are not really here for it. They feel so lucky to be born with built-in best friends and so, they want to look the same forever. I don't know how that follows but that's what they said.
Also, it's weird that the Capasso triplets have to look the same but still, they have to get plastic surgery. I mean, if they didn't get any cosmetic procedures, chances are they continue to look the same with very negligible differences. But no. They have to enhance their bodies and get the same cosmetic procedures so they all are changed in the same way.
The Extreme Sisters are into glamor and glitz. We can see that in how they wear tight dresses and have full faces of makeup and make sure their cleavages are pushed up. We can also see that in their shared wardrobes that consist of diamante-lined corsets, metal bralettes, patterned mini-dresses, and fishnet tights, and how they wear tight gym sets, racy pajamas, and lingerie as everyday clothes. We can tell that the Capasso triplets have enhanced their bodies and gotten plastic surgery to look like an influencer though they dub themselves gamers by profession because they livestream themselves playing a range of video games.
The Capasso triplets look like they have enhanced their faces as well. They have so obviously gotten dermal fillers and lip fillers. Their lips look way too fake plump to not have fillers injected. And the complexion of their faces. It wouldn't have looked that way if not for dermal fillers. Plus, the smoothness of their foreheads. That screams Botox. And their bodies also are enhanced. They have had their breasts enlarged.