Eugenia Cooney's constant weight loss has terrified her fans for her health because she is never not losing weight. The influencer has been sporting that rail-thin figure for so long that people have forgotten what she looked like before. Eugenia Cooney sought out professional help for her eating disorder but going by her weight loss even after that, it does not seem to have worked much.
Eugenia Cooney is most certainly the skinniest influencer out there. It's wild how her career trajectory has turned out. She initially began livestreaming on the broadcasting service YouNow and later opened a YouTube channel in 2011 after which she gained popularity with her content which were mostly clothing hauls, beauty, cosplay, and vlogs of her daily life. She was also noted for her emo and gothic looks until her figure took over.
Now, her physique is what keeps her relevant on social media. Her figure has become such controversial because of how extreme it is. She looks so unhealthy and frail and skinny that people can't help but worry about her health and weight loss, and worry for anyone who might be influenced or triggered by looking at her. Her anorexia and eating disorder has troubled her followers and the rate at which she's losing weight is disturbing to look at. Here's everything to know about Eugenia Cooney before and after weight loss!
Also, check out the weight loss stories of Marlo Hampton and Sutton Stracke.
Eugenia Cooney Before and After Weight Loss: How Did She Look Before Her Illness and Anorexia?
Eugenia Cooney (@eugeniacooney) has sparked not just discussions about her weight loss but she has also sparked outrage among her followers because according to them, she is very triggering to people with eating disorders and anorexia.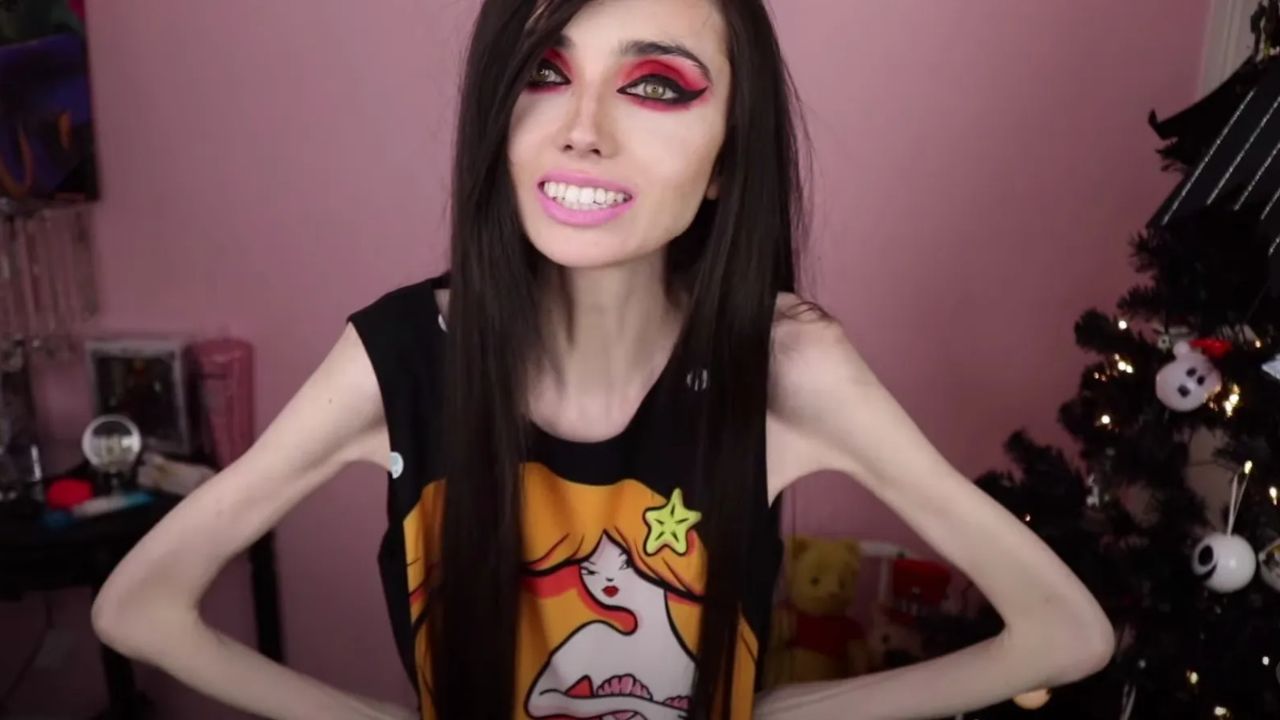 Eugenia Cooney's drastic weight loss has scared her followers for her health.
Image Source: The Sun
Cooney may have gained popularity because of her emo and gothic looks but now, she's more known for being the skinniest influencer and for her anorexia and eating disorder. She has been a very controversial figure because of her appearance, her physique in particular and her constant weight loss. Every time she shares new pictures of herself, it brings a wave of upset because it's so difficult to take in her extreme figure, and more importantly, it's very triggering for people with eating disorders.
Eugenia Cooney is literally just skin and bones. However, she was not always like this. Even though it's hard to imagine herself as anything but the same skinny and frail and unwell-looking woman, she looked different before anorexia hit her hard and she went on a weight loss spree. She was slender even before but she looked like any other regular slim girl. But now, look at her before and after pictures and tell me if it does not scare you to look at her.
It's so painful to look at her before pictures because she seemed to be in a much better condition and looked very healthy and well compared to now and knowing that she was once like any other normal slim girl, her never-ending weight loss cycle can be hard to take. Her spiral of anorexia and drastic transformation in her physique terrified her followers for her health because it was so obvious from the way she looked that her health was deteriorating.
It didn't help that Eugenia Cooney seemed to be in denial in the beginning. She acted like her weight loss was no big deal at first when her anorexia was disturbing everyone. And she didn't take it seriously until only recently after she was placed under a 5150 hold requested by one of her friends. It really took her being involuntarily held for 72 hours in a hospital for psychiatric assessment and crisis intervention to accept that she had a problem.
Her followers were a bit relieved when the social media personality accepted that she had anorexia and she had to check and control her weight loss to return to being normal-sized. But her acceptance didn't mean much because though she was assessed by medical professionals and though she entered into a month-long treatment program, she pretty much looked the same like there was not even a bit of change/ improvement in her physique. She continued to look emaciated and frail as if she needed assistance, as ever.
Eugenia Cooney's Constant Weight Loss Has Terrified Her Fans!
Eugenia Cooney is accused of promoting anorexia by her followers.
Image Source: Business Insider
Some people felt sympathetic towards Eugenia Cooney after she discussed her eating disorder, weight loss, and struggle during the unexpected 5150 hold with YouTuber Kati Morton. She said,
Once you get there, it's very scary because you see some crazy things going on. There was a bunch of people screaming, there was one guy who was telling me how he'd just got out of a county jail.
But not all people felt that way about her. Many were still frustrated with her because of her refusal to get help for her anorexia and eating disorder (she continued to look the same way and retained her weight loss and the status quo meant she was not really accepting help) because to them, she was promoting anorexia. They wished they could do something about that but they have tried everything.
They have begged Eugenia Cooney to seek help (since 2016), they have expressed their fears, and they have expressed their outrage but nothing worked. They even launched a petition to ban her from YouTube for promoting anorexia with her serious underweight condition. More than 18,000 people signed the petition to get her banned from YouTube but the petition was later removed for violating community guidelines.
And now, the internet personality continues to scare her followers with her weight loss and thin frame. As far as she is concerned, it's okay to lose weight and look the way she does because she is not influencing anyone to look thin like her. In response to the petition as well, Eugenia Cooney said something along that line.
Some people are saying I'm like a bad influence on girls. I just want you guys to know like I have seriously never have tried to be a bad influence on YouTube or to influence anyone badly. I would never want to do that. I have never told anyone to try to like lose weight or to try to like change the way they look or to look like me.