Katie Cassidy has frequently been linked to plastic surgery, a chin implant to be precise, as her chin now looks more pointed and unnatural. However, the 36-year-old actress has yet to respond to the allegation.
A Royal Christmas Crush, starring Katie Cassidy and Stephen Huszar, has just arrived on Hallmark Channel. The story centers on Ava (Katie), a stunning young woman who gets the opportunity to work at the Royal Ice Hotel in an unexpected way. She takes the chance of a lifetime, but she has no idea that this isn't the only life-changing encounter in store for her.
When Ava begins working at the ice hotel, she develops a particular relationship with the most important visitor, the Royal Prince himself (Stephen), and the two go on a whirlwind romance. A lot of people are excited about the movie. After all, Katie really fell in love with Stephen during the second week of the shooting of the movie. Yes, they're now a real couple.
On the other hand, a lot of people have noticed that Katie Cassidy looks a little unnatural. As a result, they wonder if the actress has received plastic surgery to enhance her beauty. Well, we've got you covered.
Have a look at the plastic surgery stories of George Michael and Vivica Fox.
Katie Cassidy Has Yet to Respond to the Rumor About Receiving Plastic Surgery (A Chin Implant)!
Katie Cassidy (@katiecassidy) initially gained fame after she was cast in Arrow in 2010. She played one of the lead roles in the series. When you compare her current appearance to Season 1 of Arrow, you can clearly observe the changes in her face. Many people have been accusing her of undergoing plastic surgery for a long time now.
Katie Cassidy before and after plastic surgery.
Image Source: Celeb History
If you look at her before and after pictures, you can see her chin has changed drastically. And fans have been accusing her of receiving a chin implant. Her chin now looks way too pointed and sharp, which was round before. However, Katie Cassidy has neither accepted nor denied the allegation yet.
In case you're unaware, a chin implant is a surgical treatment that includes putting a synthetic implant into the chin to improve its form and projection. It is widely used to define the chin and improve facial symmetry. The surgery is usually performed under anesthetic and needs only a brief recovery period.
Many Reddit users also agreed that her appearance changed significantly after Arrow Season 1 and she looked more beautiful before receiving plastic surgery. One person wrote, "She had a chin implant done after season 1. Throughout the season you can notice that she's had Botox done as well. I don't know why she did that surgery though, she looked prettier before it."
In this modern era, most celebrities are linked to plastic surgery. While some of them openly admit to receiving it, most of them do not want to reveal it to the public. And it seems Katie Cassidy is among the celebs who like to keep it to themself.
On the other hand, some people believe her weight loss is the reason why her chin looks so pointed. While she has definitely lost significant weight, we don't think losing weight would make a substantial difference in her chin.
Regardless of what the truth is, it is important to note that all of the above information is based on speculation only. We promise we will get back to you as soon as we get any updates about her possible plastic surgery.
Katie Cassidy on How She Fell for Stephen Huszar While Filming A Royal Christmas Crush!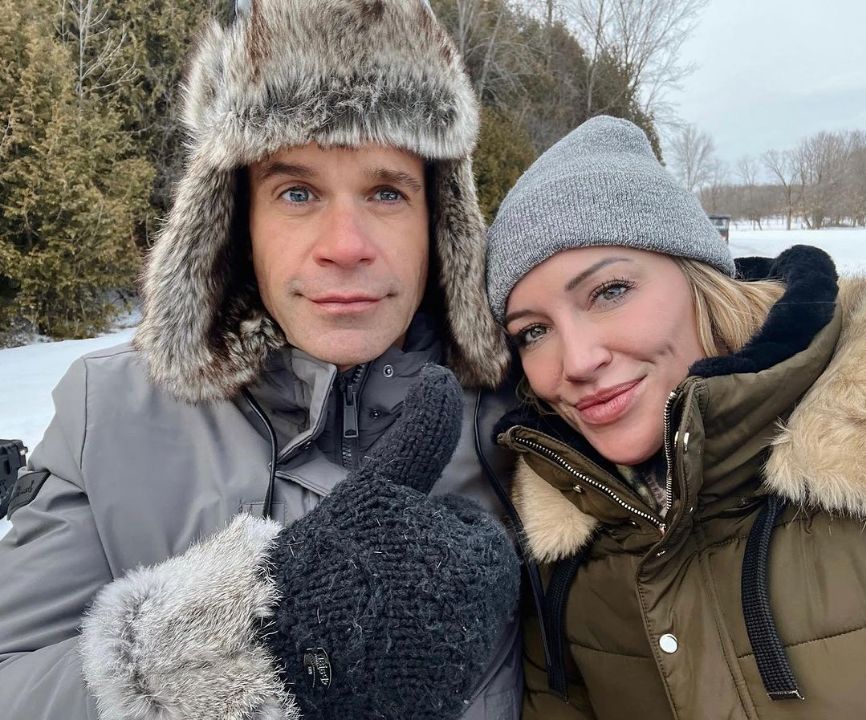 Katie Cassidy and Stephen Huszar fell for each other on the set of A Royal Christmas Crush.
Image Source: Instagram
During the promotion of her recently released Hallmark movie, A Royal Christmas Crush, Kate Cassidy recalled how she fell in love with co-star Stephen Huszar. The Arrow star, 36, stated the romance blossomed after the couple spent lunch together during the second week of production for the Hallmark film. She told,
I think we went for lunch or something, and I noticed his crystals. I love crystals. And we started bonding over spirituality and I started to get to know the real Stephen and I was very smitten. How could you not be with a s--- eating grin looking at this horrible-looking person and this jawline?
The pair told ET that they discovered common ground soon after they met for the first time. She added,
I'm very open. When we first met, he didn't know who I was. I didn't know who he was. It was all very genuine and real and we took each other at face value. This may sound a little cheesy, but when you know, you know. Or it's meant to be. It's the universe. And timing is everything.
Last month, the insider revealed that the co-stars were dating saying,
They're very much in love and just got back from a European trip in which they joined her family in Portugal, then headed to Spain and France, before hitting Monaco for the Grand Prix.