After Lauren Elizabeth announced that she was pregnant, her followers realized that she had been dating someone all along, and their interest in who her boyfriend is spiked up. As it turns out, the Youtuber has been dating a 28-year-old executive manager named Matt Torvik. It's not clear when Lauren Elizabeth started dating her boyfriend Matt Torvik, but it seems like they have been together since 2021.
Lauren Elizabeth never imagined that she would go on to be one of the most popular YouTubers and cross the one million subscriber benchmark when she created a channel named 'LoveLaurenElizabeth' more than a decade ago in 2011. But now, here she is, one of the most successful influencers with a massive fan following on her social media. Her videos on fashion and style tips seem to have marked and hit the target really well.
Now, she has almost a million followers on Instagram and 647,000 on Twitter. And all of them are interested to know more about her boyfriend Matt Torvik because they only recently realized that she is not single and that she had been dating her partner since 2021 after she announced that she was pregnant. Read to know about Lauren Elizabeth's boyfriend Matt Torvik!
Also, check out the relationship status of Madeline Jane Kingsbury and Tones and I.
Lauren Elizabeth's Boyfriend 2021: She's Pregnant With Matt Torvik As of 2023!
Lauren Elizabeth (@laurenelizabeth) seems to have been dating her boyfriend Matt Torvik since 2021. She's currently pregnant with him.
Lauren Elizabeth is pregnant, y'all. And she is excited as are we. For her, obviously. She announced that she was expecting her first child via a post on Instagram where she also teased her first-trimester vlog after which the comments section flooded with congratulatory messages. She had been keeping a secret of her pregnancy till now and her baby is due on September 2023. But the question is not when is the baby going to come, but who is she having the baby with?
Bet you didn't even know that she was in a relationship till just now. But now that Lauren Elizabeth's announced that she's going to have a baby, you might want to know about the father of the baby. Is it her husband, is she married, or is it her boyfriend and she has been dating? Well, it's her boyfriend. Many of us thought that she was single since 2021 but she could have been with her partner since then.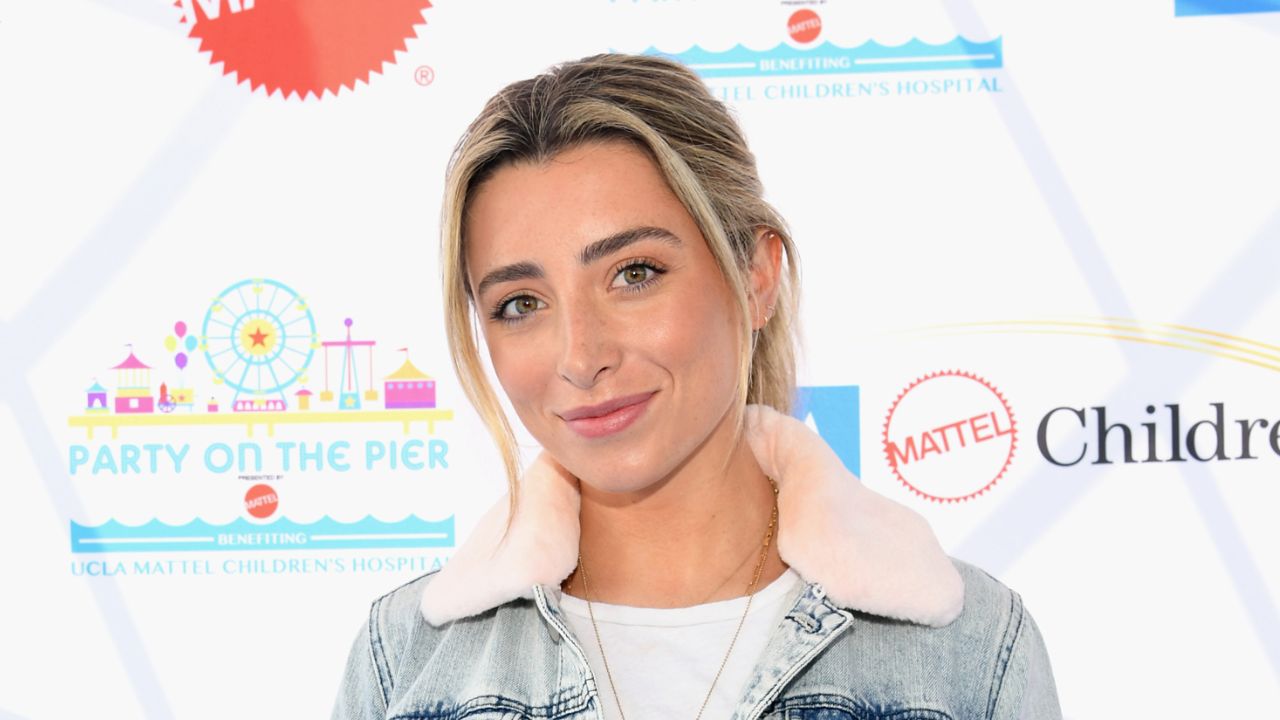 Lauren Elizabeth is expecting a baby with her boyfriend Matt Torvik in September 2023.
Image Source: Just Jared
I mean, Lauren Elizabeth never explicitly revealed that she was not single and that she had been dating her boyfriend Matt Torvik so, if anyone had not been keeping up with her, they would not have known that she had a partner. They only began to realize that she might not be single after all when she shared the exciting news of her pregnancy with her 875k followers on her Instagram page. Her post featured a sonogram image along with her and her partner's hands.
If it was not already clear that Lauren Elizabeth had a boyfriend, then the other pair of hands might have given it away. As soon as people found out that the YouTuber had been dating, they began to scroll through her Instagram page, and on doing that, they realized that her social media posts and vlogs over the last few months showed that she was in a relationship. But because she was not explicit about it, her followers did not pay attention.
However, now we know that the social media influencer is not single and that she has been dating her boyfriend Matt Torvik for quite some time now. But since when? It seems as though Lauren Elizabeth had been dating him since 2021 when she was supposedly single. And who is he? What's the partner's name? The comment that fellow influencer Kenzie Elizabeth wrote, "I hope Matt enjoyed his hand modeling time" revealed that Lauren's partner is named Matt.
Lauren Elizabeth and her boyfriend Matt Torvik seem to have been dating since 2021. 
Image Source: Pinterest
A quick scroll through Lauren Elizabeth's profile revealed that her boyfriend is Matt Torvik and according to his LinkedIn, he is an executive based in Chicago. It's not very clear exactly when the couple started dating but scrolling through Matt's Instagram page, it looks like they started dating either in 2021. Lauren may have been noticeably absent from the posts on his profile but his 2022 recap featured many cute photos with her. If they had not started dating in 2021, it might have been a little too early for that.
Now, about Matt Torvik, Lauren Elizabeth's boyfriend and the father of her child who she may have been dating since 2021, he went to John Hersey High School before he completed his graduation with a degree in Sports Marketing and Management from Indiana University Bloomington in 2018. As a student, he was known to be a part of several clubs including the Men's Club, Volleyball Club, Delta Tau Delta, and the Sports Marketing Alliance.
He also worked as a waterfront specialist at Gold Arrow Camp from 2016 to 2018 while he was studying. After graduation, he landed a job as a business solutions consultant for a Denver-based company and he was soon promoted to carrier sales representative and later on, a manager.