Leila Hormozi is open about receiving numerous plastic surgery procedures, including a nose job, brow lift, Botox, and fillers.
Leila Hormozi is a first-generation Iranian-American entrepreneur, philanthropist, and investor who began her career in fitness and is now well-known as a scaling, operations, and management specialist. By the age of 28, she had amassed a net worth of $100 million.
She is currently the CEO of Acquisition.com, the holding business her husband, Alex Hormozi, founded. They pool their financial and intellectual capital to invest in other firms. She is also the Co-Founder of Gym Launch, Prestige Labs, and ALAN. Additionally, she also has a YouTube Channel where she wants to give back to the entrepreneurial community.
On the other hand, we've recently found that the rumor about Leila Hormozi getting a nose job is circulating on the Internet. A lot of people have been curious to know what the truth is. Well, we've got you covered.
Have a look at the plastic surgery stories of Ryan Gosling and Gillian Taylforth.
Leila Hormozi Is Open About Receiving a Nose Job!
As mentioned earlier, Leila Hormozi (@leilanhormozi) is very active on YouTube. Five days ago, she posted a video with the title "so, this happened..." with a picture (thumbnail) she took while getting some work done in her nose. As a result, people wonder if she received a nose job.
Well, yes. Leima indeed received a nose job. In the video, she admitted to receiving multiple plastic surgery procedures, including a nose job and brow lift. She also revealed that she has been taking Botox and fillers for 6 years now.
Leila Hormozi is open about getting a nose job.
Image Source: Instagram
As Leila Hormozi said in the video, she received a nose job because he wanted to remove the hump. In the video, she also explained why she received the surgery. She said that she wants to become a public figure and wants people, especially women, to open up about their life. She doesn't women to be ashamed of getting cosmetic treatments.
While she didn't say much about it, we did our research and found out that a surgeon named Dr. Ramtin Kassir was the man behind her nose job. He has posted a couple of videos on his YouTube channel. In the first video, he posted a before and after video claiming the CEO of Acquisition.com "disliked the bump, droopy tip and overall size of her nose" but now has a balanced nose. Similarly, he has shown that her droopy tip is now gone in the second video.
However, we're unaware when Leila Hormozi got her nose done. Nevertheless, there's no denying that her nose balances much better with her face and she looks more confident. We should praise her for opening up about all the cosmetic treatments she has received. Not many people, especially celebrities, share about receiving cosmetic enhancements.
Meet Leila Hormozi's Husband, Alex Hormozi!
Leila Hormozi and her husband, Alex Hormozi (@hormozi), got married in 2017. Alex is a YouTuber-turned-entrepreneur. As seen on their social media, the couple is very supportive of each other and works together to expand their business empire.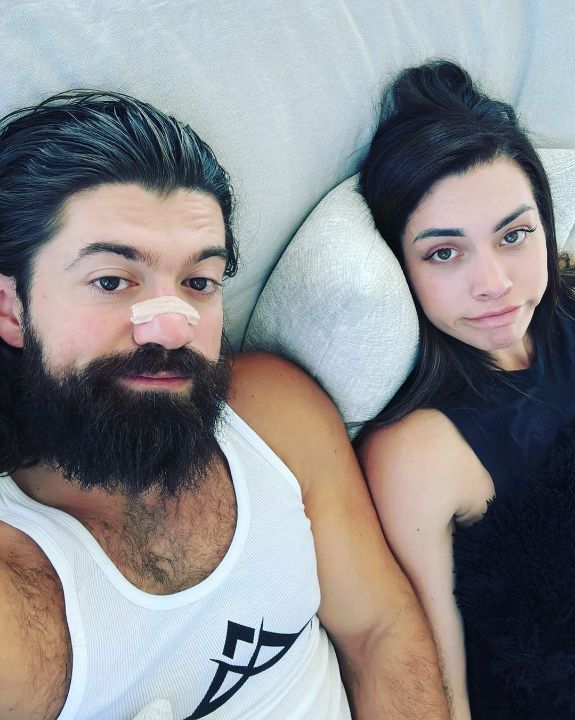 Leila Hormozi and her husband, Alex Hormozi.
Image Source: Instagram
In case you're unaware, Alex is a fitness enthusiast as well. His love for fitness is what has made him what he is today. He is best recognized for being the founder and managing partner of the investment firm, Acquisition.com.
He began his work as an associate at Harmonic International in 2011, after graduating from Vanderbilt University. He also worked as a project manager for the firm from 2012 to 2013. Alex quickly discovered that he was not made for the typical 9 to 5 work. In 2013, he opened his first gym, United Fitness. He went on to build five additional gyms in three years.
His career skyrocketed once he established Gym Launch in March 2016. Alex has established himself as a YouTuber as of 2023, having over 1.43 million subscribers on his self-titled channel.