Mack Brown has undergone a drastic weight loss of 35 pounds since he embarked on a new lifestyle last year. The football coach said that he is in much better shape than he's been in the last 20 years. Mack Brown started fasting late last winter, cut his portions, and cut sugar which has ultimately resulted in his weight loss and incredible transformation.
Mack Brown currently serves as the head football coach for the University of North Carolina. It's his second stint there. He coached the UNC from 1988 until he departed in 1997 to leave for Chapel Hill to become head coach for the University of Texas. He is credited with revitalizing the North Carolina and Texas football programs. He returned to Carolina in November 2018 to coach the Tar Heels two days after the firing of Larry Fedora.
It was his return to not just Carolina but coaching as well. He had taken a five-year hiatus from coaching which she spent as an ESPN analyst. Before he served in the head coach positions at Texas and North Carolina, he also coached for Appalachian State and Tulane. Since departing from Chapel Hill, he has passed Dick Crum for most wins in program history to become Carolina's all-time winningest coach. Not long after he returned, he became the subject of weight loss discussions. Here's everything to know about Mack Brown's weight loss!
Also, read the weight loss stories of Natalia Bryant and Coleen Nolan.
Mack Brown's Weight Loss: He's in Better Shape Than He's Been in 20 Years!
Mack Brown (@coachmackbrown) has undergone a significant weight loss of 35 pounds since last year and fans want to know all the whys and hows about it because he looks incredible after the physical transformation.
So, Brown's North Carolina came out on top in their season opener against Shane Beamer's South Carolina by a final score of 31-17. Oh, and did you recognize him by the way? If you didn't, let me tell you that he was the one who appeared as if he was trying to choke (??) Beamer. He has gotten very slim, hasn't he? He has had an incredible transformation that has left his followers wanting to know everything about his weight loss, especially about how he pulled it off.
As it turns out, Mack Brown embarked on a new lifestyle last January, and since then, he has changed a lot. He looks like a completely different man in many respects, especially in weight. He said that he feels like a new man after his weight loss. During his summer press conference at the Kenan Football Center, he said that he is in better shape than he has been in 20 years. He had already lost 35 pounds and said that he "has more to go" before hitting his final goal of 50 pounds.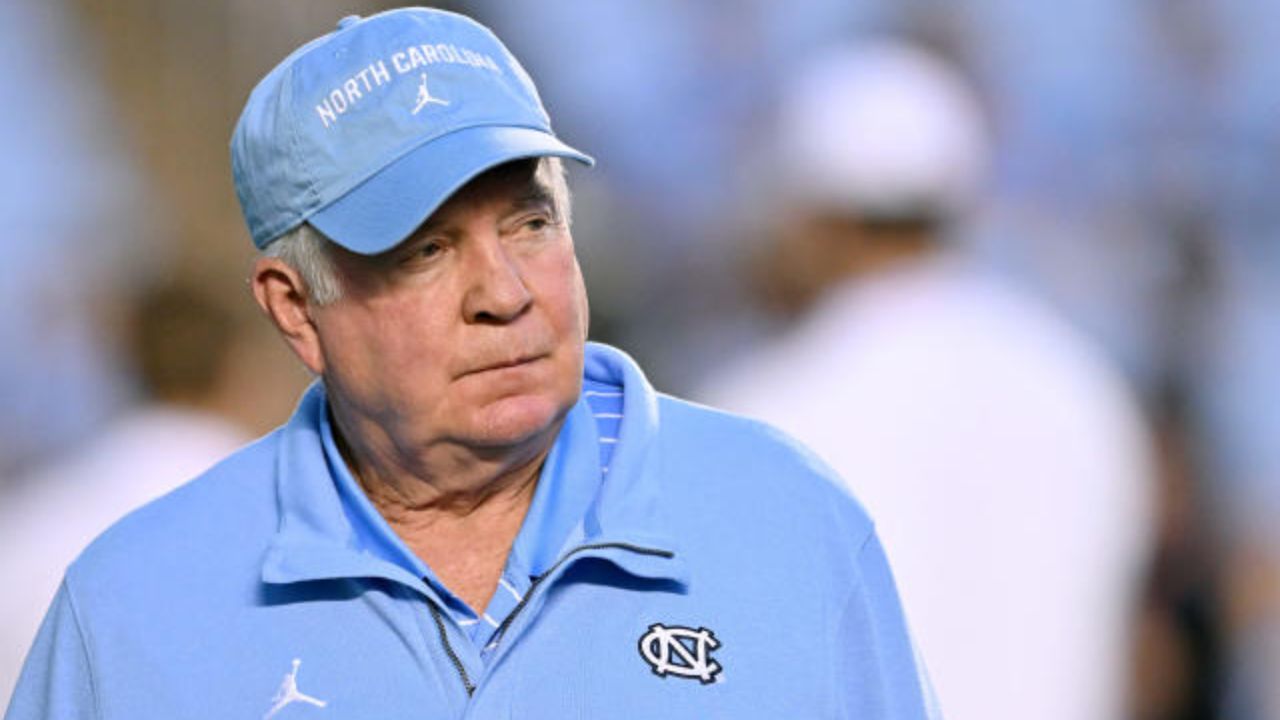 Mack Brown underwent a weight loss of 35 pounds.
Image Source: Yahoo Sports
It's very impressive that he lost 35 pounds and he is very proud of his accomplishment as he should be because he is 72 and you know how hard it gets to lose weight as people get old. Mack Brown joked that weight loss was even harder for him because of his wife Sally who is a great cook and Italian and whose efforts in the kitchen made it difficult to show restraint in his eating habits. As he said, "She wants me to eat what she doesn't eat, so that wasn't good. Partly, it was her fault, lack of discipline on my part."
But eventually, he learned to restrict and you can see how wonderfully he has been rewarded for that in his impressive physical transformation. Mack Brown, in order to help himself with his weight loss after he gained a lot of weight during COVID-19, went to strength and conditioning coach Brian Hess saying he wanted to start working out. Initially, he hesitated because the plan Hess gave him was an intense one but when a speaker came in and told the story of a man stranded in a desert, he had an epiphany of sorts and started his weight loss journey.
How Did Mack Brown Have a Weight Loss?
The story was that the man was stranded in the desert, he had no food, no water, no cell service, and no mode of transportation. He fell and cut his arm badly after which it started bleeding badly so, to save himself, he cut it off. Mack Brown's takeaway from the story was to cut everything that's not good in life. This really motivated him to go all in for his weight loss.
That's the only way he could live. So, the (speaker) basically said, 'If you've got something that's not good in your life, cut it out. Cut it loose.' And I'm sitting here telling these players to be in great shape, I'm sitting here telling them to lose weight or gain weight, and here I am, I let myself get out of control and I got way too heavy.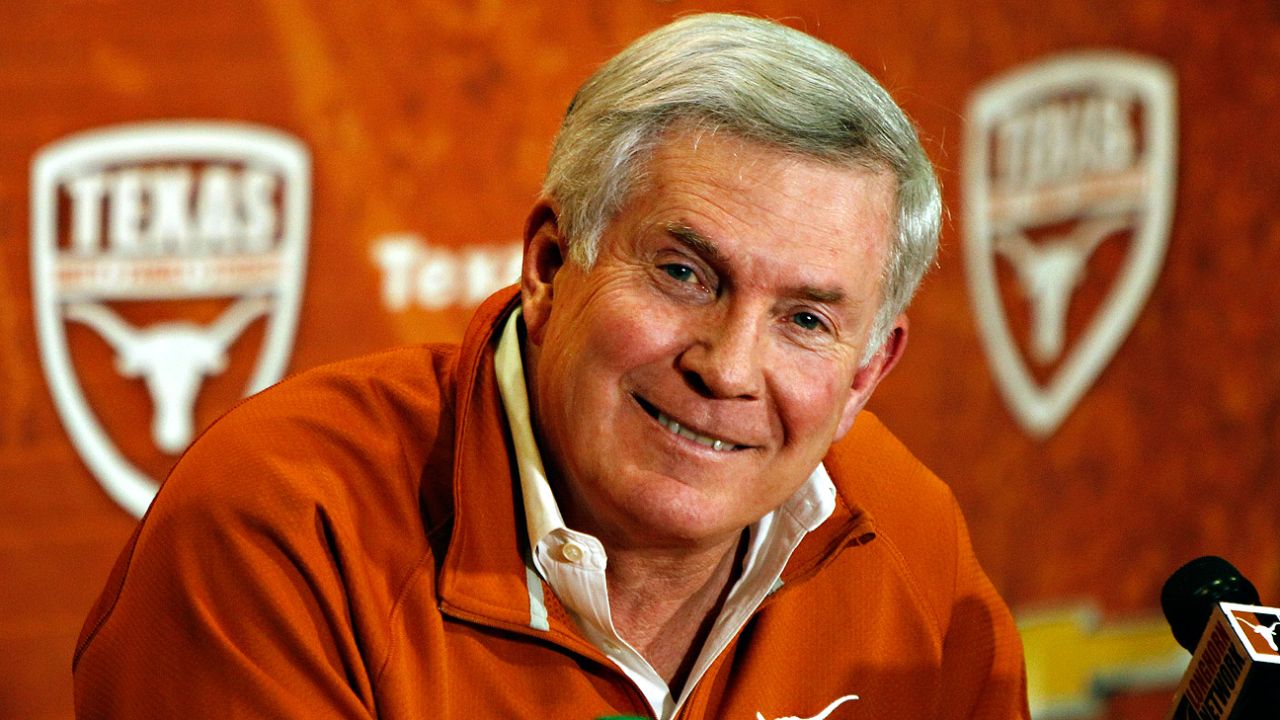 Mack Brown started fasting late last winter to lose weight.
Image Source: ESPN
For weight loss, Mack Brown started fasting late last winter. Now, he doesn't eat until 11:30 or noon each day nor does he have a meal past 8 p.m. He has cut his portions and he has cut out sugar. He has also limited himself from six to one Diet Peach Tea Snapple per day. He has come a long way from being a nervous eater who put on 30 pounds during Covid. Now, he does calorie-counting of everything that he eats.
I was a snacker, so if I'd see a little bag of Peanut M&M's, 'Oh my gosh.' Now, I say, '210 calories? Not worth it.' So, I put it down.
Mack Brown also walks every day, often to and from work, as he lives on the edge of campus. And he feels a lot better about it. His weight loss has really changed his way of thinking as well as living.