Salt Papi has undergone a major weight loss transformation ever since he started training for boxing. The 29-year-old star has lost over 27 pounds since his first boxing match. 
You probably know who Salt Papi is if you're regular in either social media platforms or the boxing world. He has recently gained much respect from people around the world for showcasing his boxing skills out of nowhere.
The 29-year-old star initially gained popularity as a video creator. The British star, who is of Filipino descent, gained a lot of followers because of his funny reaction content. Not just in the UK, people recognize him all across the world and it appears his fame has just begun rising.
Those who have seen Salt Papi from the beginning of his social media stardom know very well that he does not look the same anymore. Thanks to his weight loss, he looks almost recognizable. As a result, many of his fans are curious to know why and how was he able to lose so much weight. Well, we've got you covered.
Previously, we discussed the weight loss efforts of Sonia Evans and Brendan Fraser.
Salt Papi Has Undergone More Than 27 Pounds of Weight Loss Ever Since He Started Training for Boxing!
Salt Papi (@theofficialsaltpapi) has overturned his life ever since he debuted in boxing on May 2022. Of course, he does not look the same anymore. Even though the 29-year-old star has never mentioned anything about his transformation, it's as clear as crystal that his boxing career is the primary reason behind his weight loss.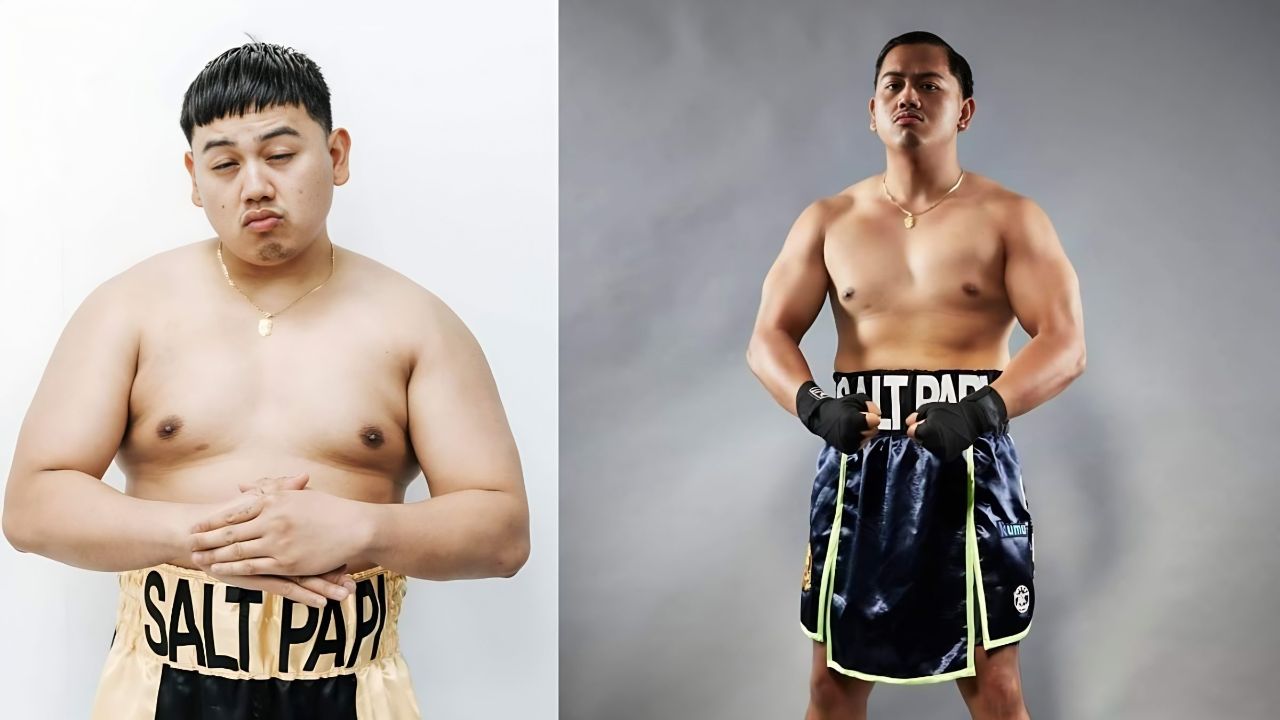 Salt Papi before and after weight loss.
Image Source: Diyaryo Milenyo
For those who are unaware, weight has a direct impact on boxing. You have more speed and efficiency as you weigh less. Additionally, we just cannot fight anybody. We need to match our opponent's weight class to fight. Thus, Salt Papi is clearly very serious and focused on his boxing career.
Talking about his weight, Papi weighed around 207 pounds before he started training for his debut fight against Halal Ham. He lost 11 pounds before the fight. A couple of days earlier, he weighed 180 pounds in the weigh-in before the fight against Anthony Taylor. He has lost over 27 pounds overall since he started his boxing career. That definitely is a huge achievement.
When you compare Salth Papi's before and after pictures, you might not even believe it's the same person. Thanks to his weight loss, he has enhanced his boxing skill a lot these days. Many critics even say he has the chance to beat KSI someday.
As you might have been aware already, boxing athletes put in a lot of hard work to prepare themselves for a fight. Not just hard training, but they also take their calorie intake seriously. Likewise, Papi certainly has worked hard on his diet and exercise routine.
Salt Papi's latest appearance. 
Image Source: Instagram
Therefore, it comes without saying that Salt Papi's boxing determination has completely changed his life. In addition to proper weight loss transformation, he also has been earning a lot, more than he makes as a social media celebrity. Hopefully, he will lose more weight in the coming days and fight KSI someday. After all, KSI definitely needs to feel what it is like to lose a boxing match.
Salt Papi Got His First Defeat in a Crossover Boxing Against Anthony Taylor!
The fan favorite, Salt Papi, had his first defeat in "crossover boxing," losing to Anthony Taylor by a unanimous decision after three rounds this week. Taylor triumphed over Papi in three rounds by scores of 29-28, 30-27, and 30-27.
Taylor, an experienced fighter who has competed in both MMA and boxing, never reached a particularly high level in either sport but is a well-trained competitor who understands what to do in the ring, just struck Papi too many times and too cleanly. Meanwhile, Papi has gained respect from both the crossover world and the "real" boxing world.
To be really honest, Papi simply was not able to show the same level of play that we had previously seen against less-prepared opposition. Taylor was able to catch Papi with the right hand and then get clear of any of Papi's attempts at a countershot.
In a post-fight interview, Salt Papi praised Taylor saying,
I respect the judges' decision, he was just the better man tonight and he deserved it, man. He's a very tough fighter, that's why a lot of people are scared of him. I didn't get knocked out! I was happy fighting with him. I could have gone more rounds, but there's no more rounds.
Similarly, Taylor responded by saying,
Give a shout-out to Salt Papi here. Everybody discredited me, talking about I was gonna fuckin' gas out. Everybody second-guessed me. I had to prove you guys wrong, man.