Cameron Diaz is open about receiving plastic surgery (Botox) throughout her career. Looking at her recent photos from 2023, fans claim she now looks a little unnatural.
Cameron Diaz, an American actress, will return to the big screen in the upcoming action-comedy Back in Action, four years after announcing her retirement from acting. Diaz will reunite with fellow Annie actor Jamie Foxx, who is working on his fifth Netflix Original.
Back in Action, directed by Seth Gordon of Horrible Bosses, is an upcoming Netflix Original action-comedy film. Brendan O'Brien, the writer of Neighbors, wrote the screenplay for the feature. O'Brien is joined as executive producer on the project by Datari Turner (Uncorked) and Mark McNair (Into the Storm).
Throughout the year, Cameron Diaz has received criticism regarding her appearance along with her successful career. And with the news of her return, many people have claimed that the actress has received numerous plastic surgery to enhance her beauty as well as prevent aging. So, if you are curious to learn more about her transformation, here is everything you need to know.
You might be interested in the plastic surgery stories of Gavin Newsom and Mick Hucknall
Cameron Diaz's Plastic Surgery in 2023: The Back in Action Actress Is Open About Receiving Botox to Maintain Her Youthful Appearance!
According to experts, Cameron Diaz's (@camerondiaz) new look in 2023 is the result of too much plastic surgery, cosmetic treatments, and injections, which have left her looking almost freakish. She was once a stunning actress, but with Botox, she now appears ridiculous as evidenced by her recent photos.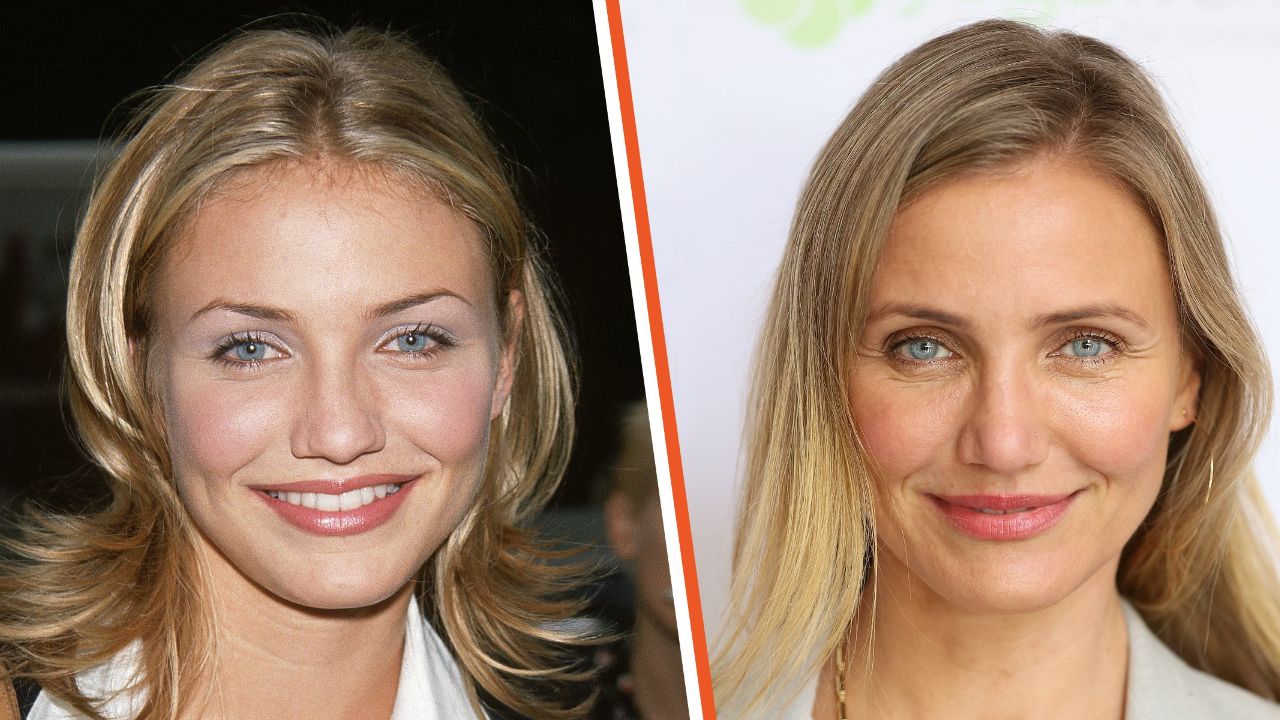 Cameron Diaz before and after plastic surgery.
Source: AmoMama
Cameron Diaz became an overnight sensation in her film debut, The Mask, opposite Jim Carrey in 1994. She quickly rose to fame as a rom-com queen known for her bright smile and stunning looks, but has she ever had plastic surgery? For your concern, the Long Beach, California, native told Marie Claire In 2009 that she wished she had more curves but had come to terms with her body. Cameron said,
I'd love a bigger butt, more meat on my bones. I'd love to be more voluptuous. It's just not my body type.
However, the There's Something About Mary actress also stated that she tried facial injections but didn't like the results. Later, the blonde beauty spoke with Entertainment Tonight, saying,
I've tried [Botox] before, where it was like [a] little tiny touch of something. It changed my face in such a weird way that I was like, 'No, I don't want to [be] like [that]' … I'd rather see my face aging than a face that doesn't belong to me at all.
Cameron Diaz chose to accept the laugh lines on her face. She told the publication, "I love it, I don't mind. It's like, 'Guess what this means, I've smiled my whole life.' I love life. I'm happy I don't have a problem with that."
Despite being one of Hollywood's most in-demand actresses, Cameron decided to retire from filmmaking after 2014's Annie. While she did not formally announce her retirement, the My Best Friend's Wedding actress wrote books about staying healthy as well as her personal life. On January 5, 2015, she married Good Charlotte rocker Benji Madden, and the couple welcomed daughter Raddix in December 2019.
In a 2016 interview with The Huffington Post, Cameron stated that she has no judgment on how people feel good when it comes to Botox or other cosmetic procedures. She explained,
They're to help people feel a little bit better about themselves. If they do feel better about themselves, then those procedures have worked. I have no problem with that. And [in] a lot of instances, it does make you look like you've taken a nap ... or that you might be a little younger than you looked maybe the day before.
Cameron elucidated how the five pillars of well-being — nutrition, physical activity, sleep, stress relief, and meaningful relationships — are essential for healthy aging. She told the outlet, "Those are the things that truly impact aging and help you age better. Those are the things that you really have to know and incorporate — along with the Botox, if that makes you happy."
Cameron Diaz's latest appearance.
Source: Fox News
In addition, Diaz let go of the negative self-talk because it was toxic. Because of her experiences, the actress began to appreciate her body, and she realized that her body was strong enough to accompany her through life. She stated: "It's toxic. You just start to pick yourself apart. And you're like, 'why am I sitting here like being so mean to myself?' My body is strong. My body's capable… why am I going to talk down to it? Why am I going to be mean to it when it's carried me this far?"
Cameron Diaz, who recently turned 50, is unconcerned about defying age. The actress does not have a beauty regimen and occasionally forgets that she purchased beauty products, only using them twice a month if she is lucky. She's so carefree that she doesn't even wash her face. The actress revealed on Michelle Visage's Rule Breakers that she is not in the mood to put effort into her appearance. She would rather remain strong and focus on her child.