Chris Samuels has undergone a weight loss and he's showing it off. He looks like he is reveling in his new body. While a lot of The Real Housewives of Potomac viewers suspect that he has taken Ozempic or that he has had surgery to lose weight, in the interactions he had with his followers on Instagram, he said that he cut off meat and went to the gym. Chris Samuels has not acknowledged the speculations that he took Ozempic or he had weight loss surgery.
Chris Samuels played as an offensive tackle in the National Football League (NFL) for ten seasons. The former professional football player played college football for the University of Alabama. Recognized as a unanimous All-American, he was selected third overall in the 2000 NFL Draft. He played his entire pro career for the NFL's Washington Redskins (now Washington Commanders). He was a six-time Pro Bowl selection.
He is very much loved in the football community but it's not the football fans that are giving him much attention currently. It's the viewers of The Real Housewives of Potomac who are hyping him up after his weight loss. (He appeared alongside Monique on RHOP.) They are showering him with praise and appreciation for the efforts he put in to lose weight. Some think that he might have used Ozempic or that he might have had surgery. Let's discuss Chris Samuels' weight loss!
Previously, we touched on the weight loss stories of Joy Reid and Peter Cosgrove.
Did Chris Samuels Have a Weight Loss?
Chris Samuels (@officialchrissamuels) has undergone a significant weight loss and fans can't help but shower him with praise and appreciation for his new fit physique.
Chris Samuels shows off weight loss amid his divorce from Monique.
Image Source: The US Sun
It's not just the news of his divorce from Monique Samuels from The Real Housewives of Potomac that's making headlines, it's his weight loss as well. He has gone through a massive transformation in terms of his physicality. He got a new fitter body and he's showing it off on Instagram. People are bound to talk about that.
Recently, Chris Samuels posted a series of photos of himself on Instagram to flaunt his noticeably slimmer physique. He shared a few pictures of him at a tropical resort on May 28, which he captioned, "You can't wait until life isn't hard anymore before you decide to be happy." In the snap where he was standing on a bridge with palm trees and an ocean visible in the background, he did look very happy and fit as well. His weight loss and physical transformation are really commendable.
Though his recent social media activity is pretty much about showing off his new body post-transformation, fans are stunned to see each picture that comes next. So, they couldn't take their eyes off those resort pictures as well. Some fans seemed very envious and curious about his weight loss. One follower wanted to know what he cut out to lose weight. To them, he replied that he cut out beef, chicken, and pork. When another asked what he ate instead of the things he cut out, he said that he had been eating plenty of fish.
It looks like many of his followers are looking for his advice on how to lose weight. While Chris Samuels just mentioned a little bit of his diet routine, he seems to have put more effort than just changing his eating habits for his weight loss. The video he posted of his arms day at the gym says so. He aptly captioned the clip of him working out, "Keep pushing." A follower commented that he "looks like a totally different person" and he truly does with his new body.
Fans Are Cheering For Chris Samuels; They Also Wonder If He Had a Weight Loss Surgery?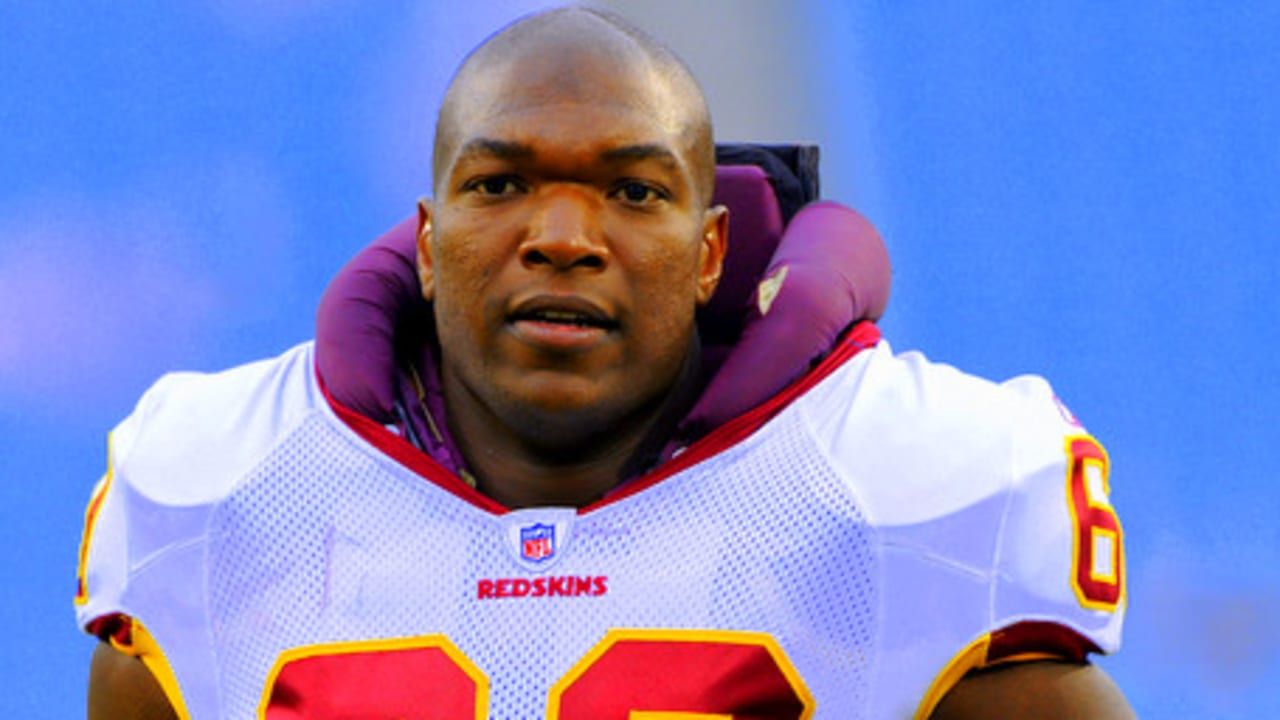 Fans suspect Chris Samuels either took Ozempic or had weight loss surgery.
Image Source: Washington Commanders
Fans are celebrating Chris Samuels' weight loss and they especially love the timing. Because currently, his divorce from Monique Samuels is ongoing, many of the viewers of The Real Housewives of Potomac think that it's great that he is channeling his grief into something productive and healthy and not moping about it. They are cheering him on with comments like "The revenge body is ACTIVATED," and "Chris won't be single for too long."
Now, he has not explicitly mentioned that he got started on his weight loss journey because of his divorce. But fans are sure that it has been a motivating factor for him to be able to show what she's missing. Well, as long as he's happy and fit.
While many are celebrating Chris Samuels' weight loss and cheering for him, there are some others who want to know how he lost weight. And they don't buy that he has attained his slimmer physique just by cutting out chicken, beef, and pork from his diet and going to the gym. Apparently, his transformation is way too dramatic for it to be as simple as just workout and diet.
Some of them suspect that the former NFL player has taken Ozempic. One of them pointed out that he looks like he lost all his muscle which is a tell-tale sign of what happens when you take Ozempic. There are also speculations that he had weight loss surgery. If Chris Samuels either had Ozempic or bariatric surgery for weight loss, he has yet to reveal it, and until he does, those are mere speculations on the fans' part.