Emma Hernan has recently been accused of receiving plastic surgery like a nose job and breast augmentation surgery to look younger and enhance her beauty. However, the 31-year-old Selling Sunset star has not responded to any of the allegations. On the other hand, many people believe makeup is the primary reason behind her drastic transformation. 
Since her debut appearance on the program at the beginning of Selling Sunset season 4, Emma Hernan has been one of the Netflix show's main characters. She was one of the characters on the program with a dramatic journey due to her disagreements and conflict with Christine Quinn, a character from the original show.
The Oppenheim Group, a real estate brokerage firm, is the focus of the show, which focuses on its employees as well as their personal and professional lives. Given that Selling Sunset is one of the most well-liked reality programs in recent memory, most of these characters have emerged as legendary personalities in pop culture, with fans frequently discussing intimate topics like relationships and breakups on social media.
The sixth season of the show arrived on Netflix on May 16, 2023. With the release of the new season, many people have drawn their attention to Emma Hernan's appearance. They believe she looks completely unnatural and wonder if she has undergone plastic surgery. Well, we've got you covered.
Previously, we touched on the plastic surgery stories of Rebekah Vardy and Mary from Selling Sunset.
Emma Hernan Has Been Accused of Receiving Plastic Surgery to Enhance Her Beauty!
Emma Hernan (@emmahernan), who began modeling by the time she was just 12 years old, has always wanted to look beautiful. While the Selling Sunset star has not responded to any of the allegations, many viewers believe she has undergone plastic surgery to enhance her beauty.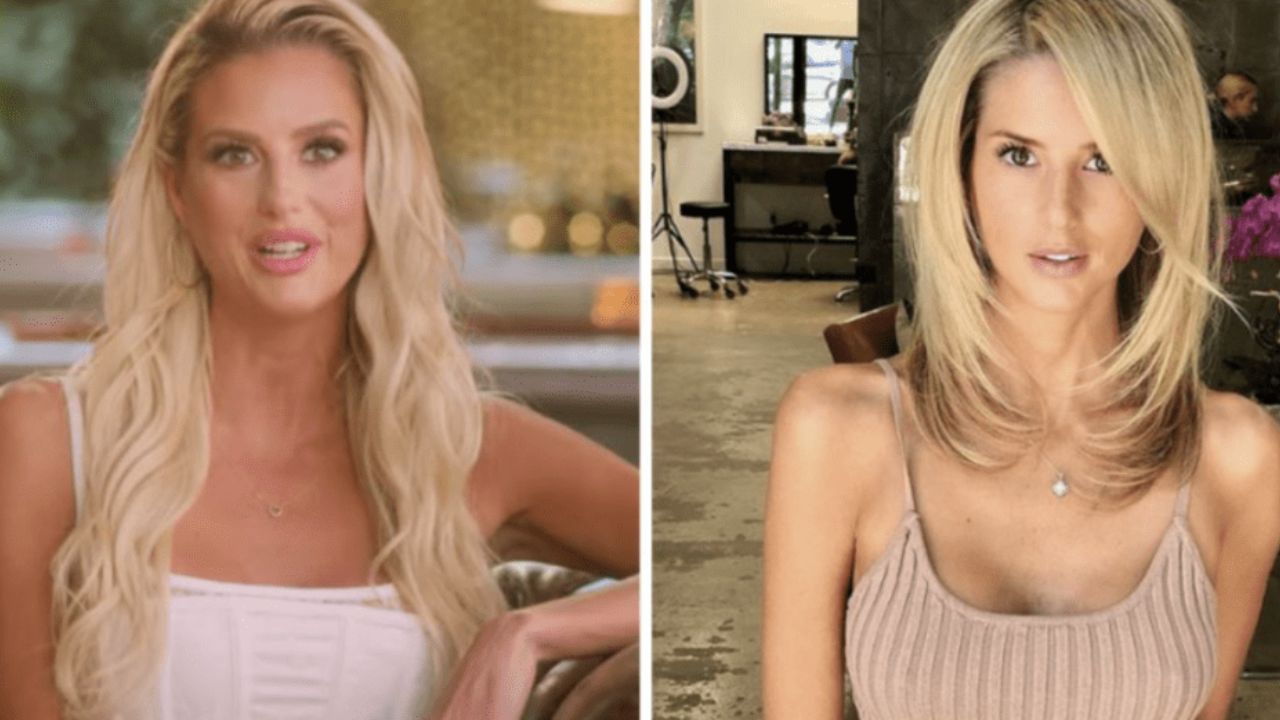 Emma Hernan before and after plastic surgery.
Image Source: The Tab
There is no doubt, Emma looks absolutely young and beautiful. After all, she is just 31 years old. However, many people have accused her of receiving breast enhancement surgery and a nose job.
According to reports, Emma's breast region was noticeably smaller in 2010 and her face appeared to be less organized overall. However, she now has a pretty bigger breasts. Also, she now has what many would consider a "perfectly shaped" nose. Her nostrils seemed slightly more rounded in earlier pictures compared to how her nose now appears. Plastic surgery can really change how you look overnight.
Emma Hernan now looks completely different than what she used to look in her modeling days. It can't solely be attributed to puberty. Her cheeks were rounded, her lips were significantly smaller, and her jawline was much less prominent.
However, she has always maintained her white-blonde hair, and since then, admirers have referred to her as "Barbie" in their comments on her Instagram posts. As of 2013, she hardly resembles the early model she once was, with a considerably fuller face and heavier fake eyelashes.
Emma now often shows off a highly rounded breast and large, pouty lips when posing for photographs. Some fans of Selling Sunset even claim that she resembles co-star Heather Rae Young, who received breast augmentation surgery and fillers in both of her lips.
In addition to investing and selling homes, Emma Hernan still does modeling. The fact that she has long legs makes them one of her best features. She normally has incredibly toned abs and an athletic physique, which makes it seem like she works out frequently (or that she just has a rapid metabolism).
Emma Hernan's latest appearance.
Image Source: Instagram
Whether it's plastic surgery or not, we cannot deny the fact that Emma looks absolutely stunning. On the other hand, we should also note that makeup plays a vital role in the change in people's appearance.
Emma Hernan Makes It Look Like Selling Sunset Is Partially Scripted!
Emma Hernan makes it brutally evident that the scenes in Selling Sunset are at least somewhat written because her acting is substandard, despite the fact that there is a veil around reality TV where viewers trust the true talks and reactions on a show. She frequently comes off as reading from a script rather than engaging in conversation with her fellow Oppenheim Group employees.
In Selling Sunset season 5, her perilous walk along the edge of the pool was more agonizing to watch than the one-liners she receives from clients. For instance, Emma's response seemed forced and even rehearsed when Bre Tiesi, a newcomer to the Selling Sunset group and the mother of one of Nick Cannon's many children, accused her of communicating with her buyer.
Emma retained that Bre's billionaire buyer, Adam, had been a friend of hers for years and was only interested in her recipe for empanadas. Emma also insisted that she would never steal a customer. While Bre's dialog felt genuine, Emma's response did not.