Hannah Waddingham's plastic surgery remains a hot topic of discussion, while the Eurovision 2023 co-host emphasizes natural skincare and aging gracefully.
Get ready to meet the nicest and funniest person in Hollywood, or should I say, Surrey, England! We're talking about none other than Hannah Waddingham, the incredibly charming actress who even after a long day of press interviews is always as warm and engaging as ever, making you feel like the most important person in the world.
You might recognize Hannah from her roles in popular shows like Game of Thrones (remember the fierce Septa Unella?) and S*x Education (she played Jackson's awesome mom, Sofia Marchetti). But her claim to fame has skyrocketed with the success of Apple TV's Ted Lasso. In the show, she brilliantly portrays Rebecca Welton, the owner of a Premier League club, alongside Jason Sudeikis's lovable character, Ted, an American football coach turned soccer manager in England.
Currently, making waves for co-hosting Eurovision 2023, viewers can't help but wonder if Hannah Waddingham underwent plastic surgery. Without further ado, let's find out.
Previously, we discussed the plastic surgery efforts of Uhm Jung-hwa and Vanna White.
Did Hannah Waddingham Undergo Plastic Surgery?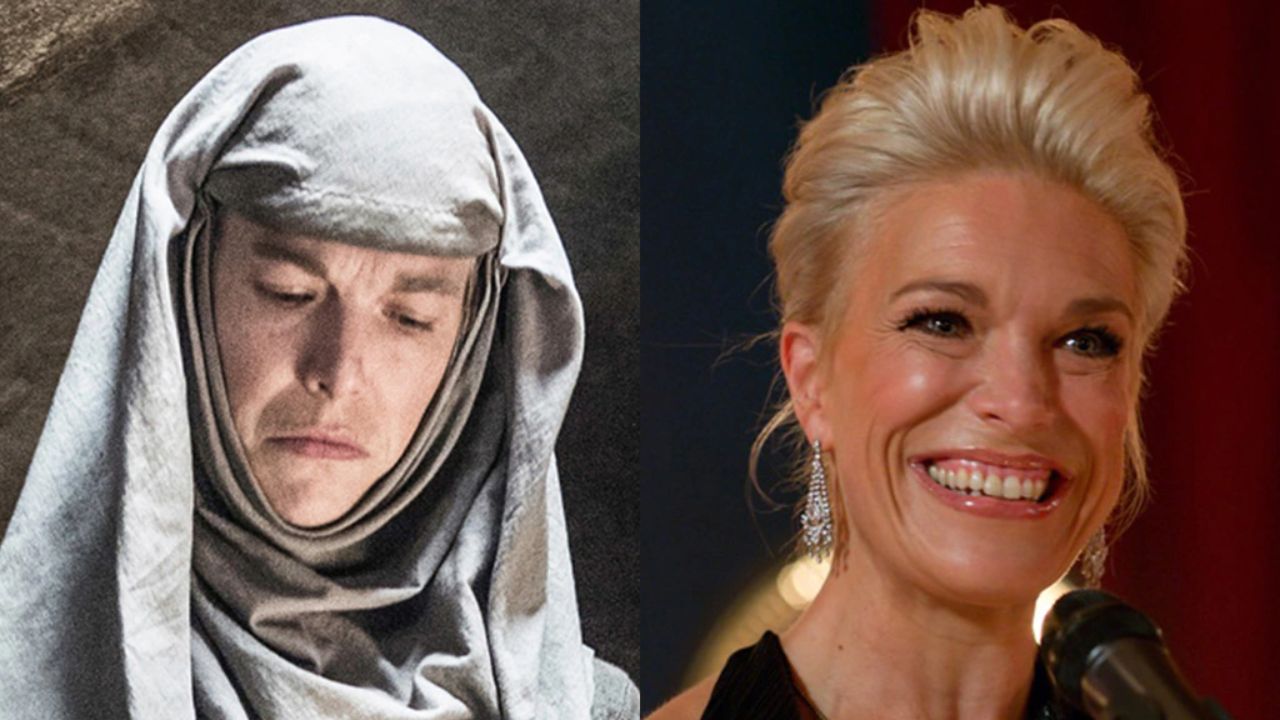 Hannah Waddingham before and after alleged plastic surgery.
Image Source: Pinterest
Hannah Waddingham, the amazing English actress, has got quite a reputation in the entertainment world, and boy, can she rock the stage! Hannah kicked off her professional life in the theater, and her career debut in The Beautiful Game back in 2000 was an undisputed hit.
That's far from it! She also played the Lady of the Lake in Spamalot on both London's West End and Broadway. And guess what? She even got nominated for an Olivier Award for that! Talk about talent, right?
If you're getting a feeling that she might look familiar, that's because you're likely to recognize her from some big productions as well. She's been in a heap of popular shows, most notably S*x Education, Game of Thrones, and Les Misérables. But her breakout role came in the comedy series Ted Lasso, where she totally slayed as Rebecca Welton. That performance landed her a Critics' Choice Television Award and even an Emmy!
But hey, it's not just her acting skills that people talk about. Hannah Waddingham's got this flawless skin that everyone's envious of. And guess what? She's an avid believer in natural skincare. She wants to age gracefully and keep things organic, which I think is pretty cool.
Now, let's get to the juicy part surrounding her alleged plastic surgery. Fans are wondering if she went under the knife following her appearance as the co-host of Eurovision 2023. However, speaking in an interview, she gave her honest opinion on the matter, insisting she's not a fan of injectables. Rather, she carries a fondness for creams, oils, facials, and massages. She's even got some favorite brands like La Mer, True Botanicals, and Elemis. Can you honestly blame her for giving such delicate attention to her skin, given she's surrounded by cameras all the time?
Needless to say, most fans often seek the Septa Unella star's before and after photos, in a bid to contrast her plastic surgery transformation, but sorry to disappoint you, there are hardly any clues about her cosmetic endeavors. On the flip side, Hannah has been open about her skincare routine and her dedicated efforts to keep things natural. No plastic surgery for her, no sir!
Hannah Waddingham has made it abundantly clear that she believes in doing things the natural way that makes her feel good about herself, and she is anything but eager to fight the process of aging. That's an admirable trait to possess, in all honesty.
So, there you have it—Hannah Waddingham, the talented actress with flawless skin and a natural skincare game on point. She's all about embracing who she is and rocking it with confidence. You go, Hannah!