Wendy's appearance has changed dramatically since her accident, leading people to wonder if the Red Velvet member received plastic surgery. She is said to have undergone a nose job, blepharoplasty, and orthognathic surgery, though she has never admitted it.
Shon Seung-wan, better known as Wendy, is a South Korean singer and one of the members of the girl group named, Red Velvet. She made her solo debut in 2021 with the EP Like Water. Later, she joined SM Entertainment's supergroup, Got the Beat, in 2022.
In addition to her career in music, Wendy has appeared on television on a number of occasions. She was a panelist on the reality show, We Got Married and was cast for the comedy show, Saturday Night Live Korea.  Later, she hosted Wendy's Youngstreet on the radio from 2021 to 2023. Furthermore, she also made her stage debut in the musical Rebecca in 2023.
As we know, Wendy was in a serious accident after falling from a stage during rehearsals for a music awards show. Her face and legs were injured as a result of the fall. Despite the setback, she returned in 2021, but with a new look. As a result, fans suspected she had plastic surgery to remove the scars from her accident. Well, here's everything we know about her transformation so far.
You might also like to read the plastic surgery stories of John Stamos and Leona Lewis.
Red Velvet's Wendy Has Been Accused of Receiving Numerous Plastic Surgery Procedures After Her Accident at the 2019 SBS Gayo Daejeon!
According to rumors, Wendy (@todayis_wendy) has undergone numerous plastic surgery procedures after her accident during rehearsals for her solo stage at the 2019 SBS Gayo Daejeon on December 25, 2019. The Red Velvet member fell from 8.2 feet due to a lack of common safety measures by the music festival's crew members in terms of stage designs, as well as a lack of lift stairs.
In the incident, she had a pelvic fracture, a cracked cheekbone, and a broken wrist on the right side of her body. Later, her planned activities were canceled in order to focus on treatment, and the idol was hospitalized for two months.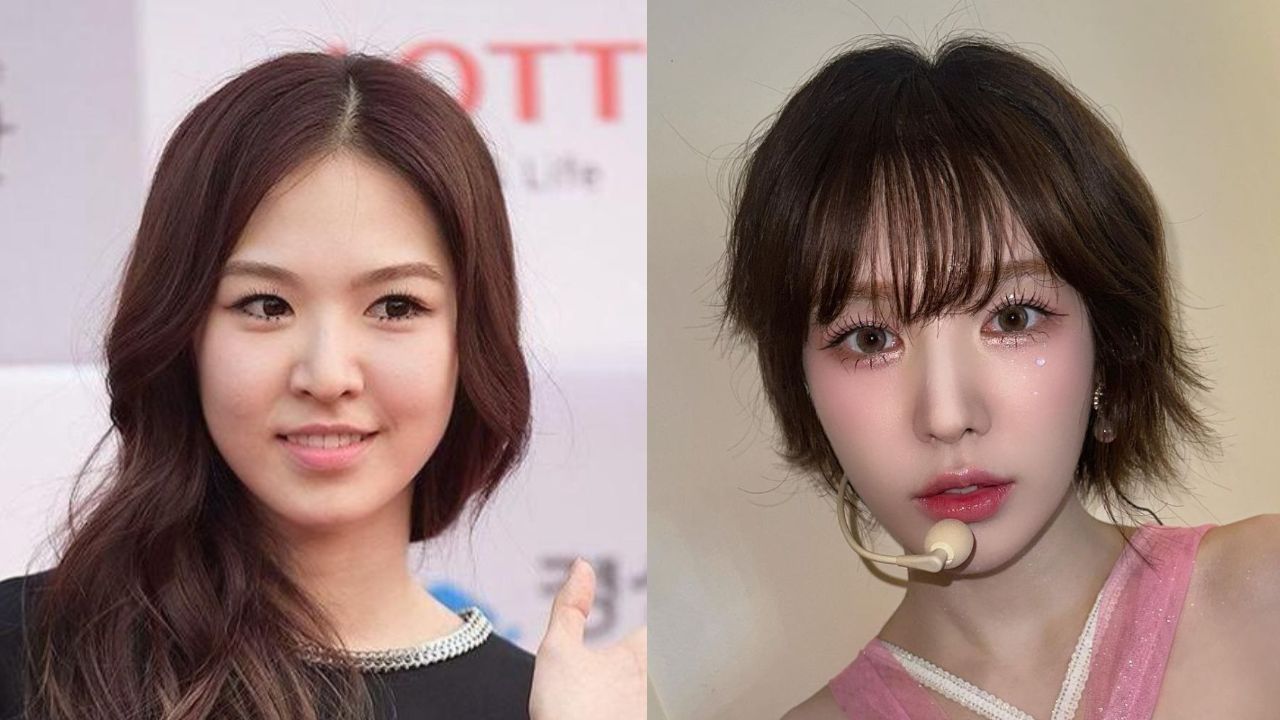 Wendy before and after plastic surgery.
Image Source: HOUSE & WHIPS 
However, following the third episode of JTBC's musical variety show, Mysterious Record Shop, the singer later stunned viewers with her new look, especially her nose, which appeared to have a higher bridge and a sharper tip. The nose also appeared to be smaller than before directly indicating a nose job. Likely, some fans believe her new appearance is the result of blepharoplasty and orthognathic surgery on her eyes and jaw.
Because Wendy's face appeared swollen, some speculated that the Red Velvet member had undergone plastic surgery. The rumors went viral after an anonymous user on an online community forum asked, "Did Red Velvet's Wendy get nose surgery?" They noted that they had no malicious intent, but she looked different, causing them to ask, "Is this really Wendy?" They also included screenshots of her episode appearance.
While some questioned the idol's decision to undergo plastic surgery, the majority of people decided to protect Wendy from any malicious rumors. Fans even claim that, while her face appears to have changed as a result of reconstructive surgery following her dangerous accident, not because she wanted it to, but because she had to.
Wendy's swelling appeared to worsen in subsequent episodes, and some speculate that it was caused by the fall and her physical therapy. Many people are requesting that people refrain from making unnecessary negative comments about her, especially since she has done nothing wrong.
More About Wendy's Rehabilitation and Recovery Journey!
As we know, Wendy's recovery from a serious accident was fraught with both physical and emotional difficulties. Her injuries were severe, but she was gradually able to progress through rehabilitation with the assistance of her carers. She used a variety of coping mechanisms to deal with the physical and emotional consequences of her experience.
One of her strategies involved relying on her support system, which included family, friends, and healthcare professionals. Despite the obstacles in her path, her perseverance and determination aided her recovery.
Wendy has motivated many fans after being fully recovered from the accident.
Image Source: Instagram
Today, Wendy continues her rehabilitation with the same strength and courage that have always defined her. Many people wondered if she would ever return to her former life as an artist after her accident. However, her incredible strength and resilience have demonstrated that she is a fighter who is not afraid to face any challenges that come her way.
The Red Velvet member's positive attitude towards her recovery journey has inspired many, and she has demonstrated that it is possible to overcome adversity and emerge stronger. Her story reminds us that accidents can happen to anyone, but how we deal with them is crucial.
We've learned the value of self-care and support from loved ones as a result of her experience. As we continue to enjoy Wendy's music and admire her talent, let us remember the sacrifices and difficulties she has overcome to get to where she is now. Her story teaches us a valuable lesson in resilience, determination, and the power of the human spirit.