Steve Harvey's weight loss journey has again resurfaced after the American television host was accused of fraud recently. Well, he has lost more than 30 pounds after he made his mindset of losing weight. He claims to have followed a diet plan that included a shake made from Elevate (L'Evate) powder as well as fried chicken (20% of the whole diet).
How many of you know Steve Harvey and know about his latest news? You guys might know Steve from hosting different television shows like, The Steve Harvey Morning Show, Family Feud, Celebrity Family Feud, and many more. Aside from these shows, the 66-year-old American television host is recently in the spotlight as he is accused of fraud, blaming Oprah Winfrey and Tyler Perry for bad advice.
According to the sources, Vincent Dimmock has filed a lawsuit against the actor & comedian for not paying him a commission on the $20 million he raised for the Steve and Marjorie Foundation. What do you think about this controversy? Whether this news is true or not, the viewers are yet to find out the truth behind this but with this news spreading, the American television show host's weight loss journey has also come to the surface.
Many are really questioning Steve and his weight loss journey. They want to know every single detail about his transformation. Well, let's discuss it in detail.
Previously, we touched on the weight loss stories of Kate Mara and Cole Prochaska.
Steve Harvey Claims to Have Undergone a Weight Loss of More Than 30 Pounds Ever Since He Started His Journey!
Steve Harvey's (@iamsteveharveytv) weight loss transformation has become a matter of gossip on the Internet for a while now. The American television host has lost more than 30 pounds after he started his journey to lose some weight and the change can be seen clearly when you compare the before and after photos of Steve.
Steve Harvey's weight loss is visible in his recent pictures.
Image Source: Instagram
This is not the first time Steve Harvey has been in the spotlight and the viewers have talked about his weight loss journey. The talk about his weight goes way back to 2007 when he decided to lose some weight. The 66-year-old American television host had a lifetime of bad food habits and a demanding job schedule that had made him exhausted and uninspired.
But all of this changed after his son referred to him as an old man at the age of 60 and that really hit him hard leading him to see this as a test to regain his youth. After this, Steve thought about having a transformation, and along with former Mr. Olympia Lee Haney, Harvey set out on a weight loss adventure that forever altered his life.
At the time, Steve Harvey tried to lose 21 pounds in 21 days by going on the Martha's Vineyard detox and that's the kind of determination you need to be focused on something and really achieve it. You really gotta give it up to Steve for his determination and hard work that he put in after that to lose weight.
The American television host claimed that he tried each and every fad diet there was before committing to a whole lifestyle makeover at the age of 50, from the grapefruit diet to the cabbage diet. The decision of Steve to work out with eight-time Mr. Olympia, Lee Haney was the best decision he could make for himself.
Steve has not only worked out on his own but also tried to inspire middle-aged men to get off the couch and start working out by developing the '50 and Fly' campaign and the American television host has managed to lose more than 30 pounds since he started working out.
Steve Harvey's Diet Plan: He Regards Elevate (L'Evate) Shake Powder as His Most Important Supplement!
Speaking about Steve Harvey's diet and workout routine, he didn't do much. He just had nutrient foods that helped him to fuel his body to carry him throughout the day, and he specifically followed Elevate (L'Evate) You Vitality Daily Green shakes (made in powder form) which are designed by top nutritionists. Steve also followed the 80/20 rule, and according to Harvey, it is an eating strategy in which you consume 80% healthy and 20% fried chicken. Steve stated,
You gon get off path; you can't stay on a diet. We got foods out here that taste good. Try to eat 80/20; you not gonna eat perfect all the time. When you fall off the wagon, get back up on the wagon.
Well, if one were to be asked a personal opinion about his way of losing weight, they can freely say that these methods are somewhat efficient. I mean just look at Steve, you guys know how he was before right? Well, Steve was successfully able to lose those weight and he looks so fit and healthy now.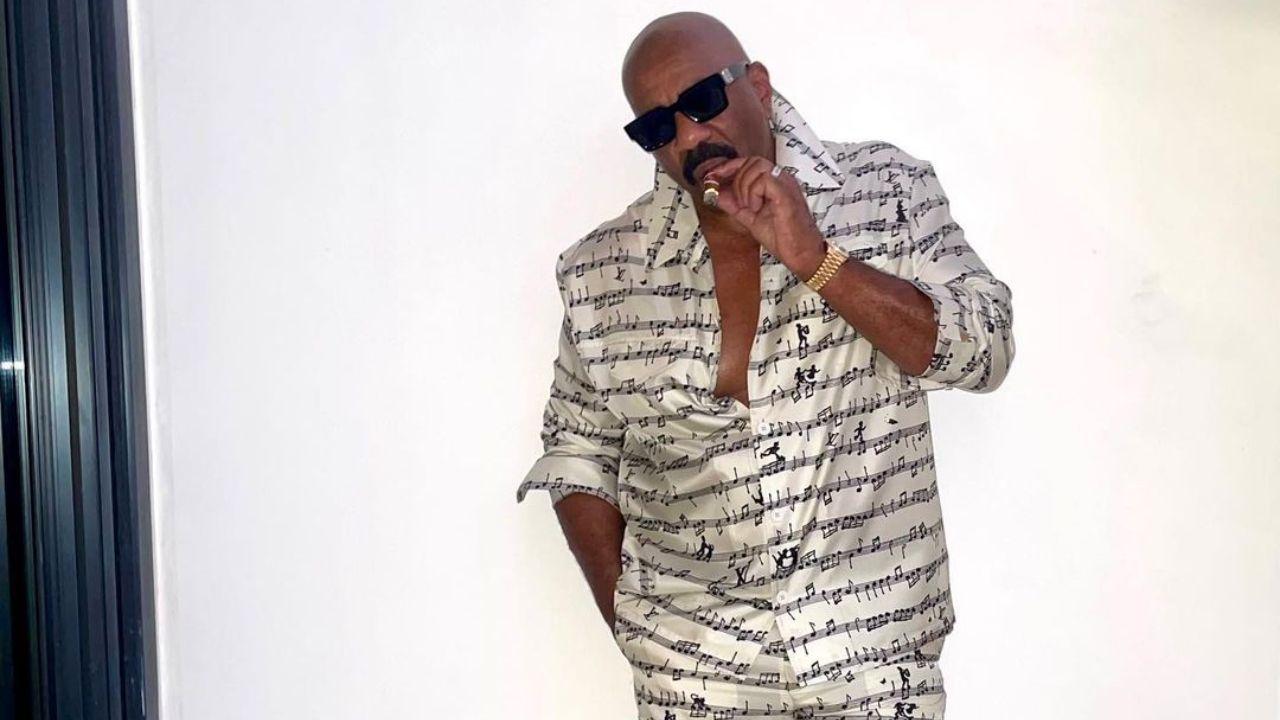 Steve Harvey's diet plan included a shake made up of Elevate powder.
Image Source: Instagram
Age is a mindset, as seen by his view on life and health. It represents the length of time that we have lived here physically. Age, however, is not a reliable indicator of physical fitness and well-being. If one were to follow a healthy diet and workout routine then they can easily make their 60s look like 40s.