Samantha Mason, who is also known as Vanilla Hippo, underwent a massive weight loss that essentially stopped her life from being cut short because of morbid obesity. The My 600-Lb Life star weighed 950 pounds at her heaviest and now, she weighs 450 pounds. It's an incredible feat how Samantha Mason aka Vanilla Hippo managed to make her weight loss journey a success considering she was not just addicted to food but, as a fetish model, ate food for a living.
Samantha Mason's case has to be one of the most difficult cases of weight loss in the history of TLC's My 600-Lb Life because even though she was determined to lose weight to be healthy and live longer, eating food was her livelihood and she couldn't give that up easily. Mason, also known as Vanilla Hippo, said that her life was food and she couldn't figure out what her life meant if she could not have food. But she eventually managed to lose weight. How? Here's everything to know about the My 600-Lb Life star Vanilla Hippo's weight loss!
Would you also like to read the weight loss stories of Clair Norris and Ruben Standard?
How Did Vanilla Hippo Lose Weight? All About Samantha Mason's Weight Loss Journey!
Vanilla Hippo, whose real name is Samantha Mason, underwent a significant weight loss and saved herself from dying early due to obesity and got healthier than ever. She went from weighing 950 pounds to being about 450 pounds.
The TLC viewers couldn't help but feel sorry for Samantha Mason when she was first introduced in Season 9 of My 600-Lb Life because her hardship was similar to nobody's before. Vanilla Hippo weighed 950 pounds at 6'2". Her life was in danger of being cut short because she was overweight to the point of being morbidly obese and she wanted more than anything to change that. She wanted to live healthily. And weight loss was her only solution and her dream.
Samantha Mason aka Vanilla Hippo had a weight loss of about 500 pounds.
Image Source: The Cinemaholic
But how could she ever lose weight when the very thing she was battling - her food addiction - was also her means of livelihood? Samantha Mason would have to stop eating too much if she ever were to lose weight but eating food was how she earned her living. She was a fetish model who also went by Vanilla Hippo and was paid to eat food. How could she ever manage her weight like that? How could she even embark on a weight loss journey without giving up her occupation?
Samantha Mason said she wished her life was just a nightmare that she could wake up from because food was her entire life and she didn't know what she was without food. Her food addiction was endangering her life and she desperately wanted to have a weight loss but how was Vanilla Hippo going to earn without eating food? She had chosen to get in her line of work because finding a job at her size was out of the question so, in order to make money, she started fetish modeling for a website that catered to people who liked large women like her.
Vanilla Hippo had a setup in her apartment where she would film herself eating for people. She had to try to meet the necessary criteria for a life-saving surgery from Dr. Younan Nowzaradan while eating like her life depended on it because her life literally depended on it. Samantha Mason knew her career was "unhealthy" because it only reinforced her addiction. Her daughter Bella said that her career actually improved her self-image in that she knows that people find her beautiful and as a human being, not some huge maniac. While that's an excellent point, excellent points are not going to save her life and help her in her weight loss journey. And she had to keep her health and weight in check as well.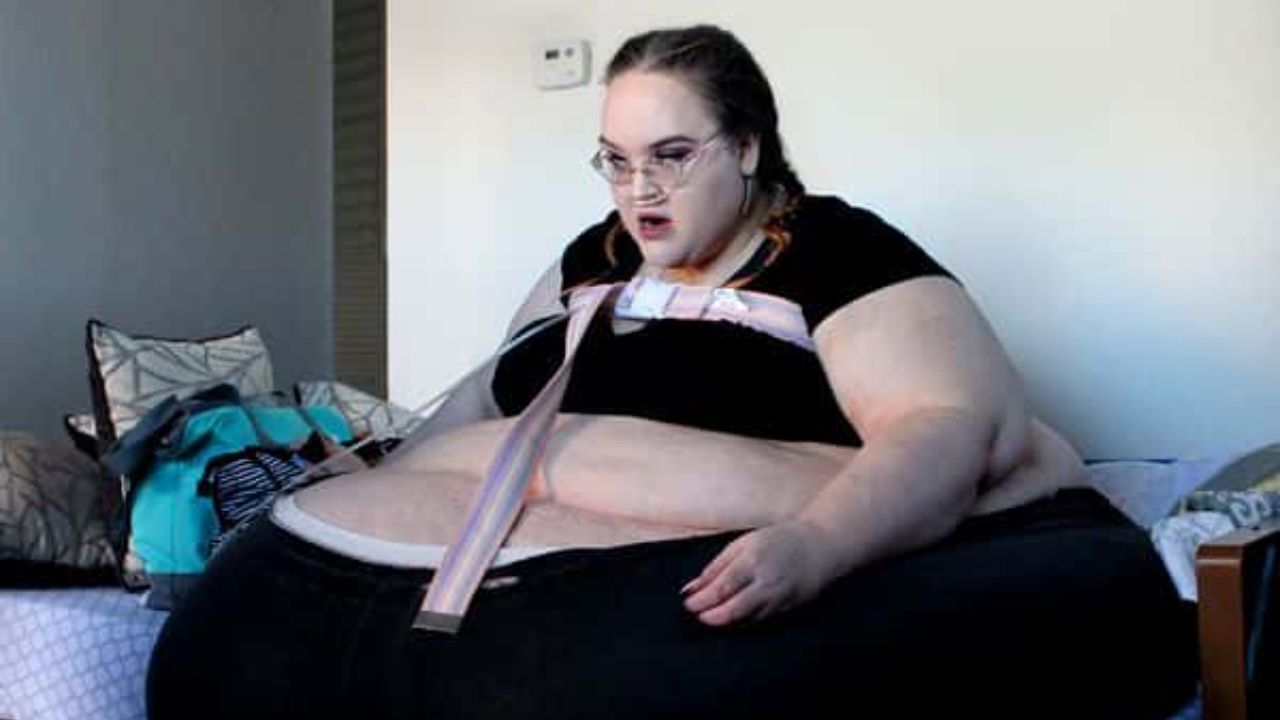 Vanilla Hippo had to battle her food addiction to qualify for weight loss surgery.
Image Source: MEAWW
But easier said than done because old habits die hard and food was not Vanilla Hippo's habit but addiction. She when Dr. Now put her on a 1200-calorie diet, she couldn't stick with it. She often cheated on her diet and it took a toll on her health. Samantha Mason began having chest pain and stomach pain and she had to be taken to the hospital. There were no serious issues but she kept on gaining more weight in the hospital and weight loss seemed impossible which worried her.
It never seemed as though Samantha Mason could get fatter but she did it. While she remained at the hospital for six weeks, she ballooned up even more. It was required of Vanilla Hippo to follow the diet to qualify for weight loss surgery. She didn't lose much but she still had emergency bariatric surgery because her life was at risk either way. After the weight loss surgery, she lost over 300 pounds and dropped down to 616 pounds.
Anybody would have imagined that Samantha Mason would be happy after the weight loss but no, she was not. Because food was the entire source of happiness and means of living for Vanilla Hippo, she had a hard time figuring out her life after she had to let it go. As a result, she had to be sent to rehab to overcome her emotional and physical complexities because her weight loss journey was not over and if she wanted to continue, she had to do something about her emotional state.
It seemed to have worked because Vanilla Hippo has come a long way from being 616 pounds. Samantha Mason weighs about 450 pounds now. She regularly updates her fans about her health and weight on Twitter and TikTok. She continues to describe herself as a super-sized big model and the My 600-Lb Life viewers hope that she continues her weight loss journey at her own pace.