Ashley Leechin, the TikToker who went viral for being a Taylor Swift doppelganger, is accused of getting plastic surgery to look like the pop star so that she can capitalize on the pop star's fame for relevancy. Swifties believe that she has had a nose job, chin and jawline restructuring, Botox, fillers, and veneers. Ashley Leechin who only admitted to having fillers and her teeth redone, has denied having plastic surgery to look like Swift even though her before and after pictures show drastic differences in her face.
Ashley Leechin was once told by someone that she looks like Taylor Swift and she ran with it and that's how she got her fame is what many Swifties say about her. The American social media personality first went viral on TikTok when people started to notice that she bore a resemblance to singer-songwriter Taylor Swift after which she began to create her social media content that largely focused on her life as a lookalike of the popstar.
She really built an enormous platform out of her looking like Swift (she has more than 1.5 million followers on TikTok). Ashley Leechin made videos emulating Swift's signature style by wearing bright red lipstick and mimicking the singer's behavior by posing with her kittens, even naming her kittens after the sitcom characters. While this garnered her a lot of attention, it eventually drew a lot of criticism as well. Swifties began to drag her for trying to get clout through excessive impersonation of Swift in public places. They also mocked her for getting plastic surgery to resemble her.
She has always denied having any cosmetic surgery but she has also developed a reputation of being unserious and unreliable with her silly antiques for her statements to matter. So, let's discuss Ashley Leechin's plastic surgery! Check out her before and after pictures as well!
Previously, we touched on the plastic surgery stories of Beyonce and Kylie Jenner.
Ashley Leechin's Plastic Surgery: Did She Alter Her Face to Look Like Taylor Swift?
Ashley Leechin (@itsjustashley13) is accused by Swifties of getting plastic surgery to resemble Taylor Swift and capitalize on the singer's fame for clout. She is believed to have modified her facial structure and features for that purpose. She has only admitted to having facial fillers and getting her teeth done. But she allegedly had more than that, including a nose job and chin and jaw restructuring.
Ashley Leechin is believed to have had plastic surgery to look like Taylor Swift.
Image Source: Us Weekly
Ever since Leechin put herself on the map by posting social media content that focused on her life as a celebrity lookalike, her appearance began to get scrutinized as it was what she became famous for. Because the celeb she resembled was megastar Taylor Swift who is known for having a massive and sometimes, unhinged fanbase, and because she fed more into her similarity, the intensity of scrutiny began to increase with time, which resulted in plastic surgery accusations.
Swifties are convinced that Ashley Leechin didn't actually look like Swift but she changed her face to look more like her for clout. They said the only similarity she had with the singer was that they were both blonde white women. She only looked like her from certain angles, with certain hair and makeup, and when she posed in a certain way. In a rare moment that she resembled the singer, somebody must have commented on it and she ran with it, is what they believe. In doing so, she got plastic surgery to take a shortcut to fame and relevance by hopping on Swift's celebrity.
Ashley Leechin, at first, denied the accusations that she changed herself to resemble Swift and said that it was all bullying and online hatred on Swiftie's part. She insisted that her appearance was not the product of plastic surgery and that people had been saying that she looked like Taylor since she was a teenager. Maybe she successfully convinced some people that she had not had cosmetic surgery but after her before and after photos resurfaced in media, she discredited herself.
Because there's no way that anybody would ever mistake Ashley Leechin for Taylor Swift before plastic surgery. She looked like a completely different person, the one who didn't resemble Taylor in any way. She had a different nose, she had different lips, she had different eyes, and the shape of her face was also unlike the musician's. Like the fans said, the only thing similar about them is that both of them were white and blonde.
Ashley Leechin Denied Having Plastic Surgery; She Said She Only Had Fillers and Her Teeth Redone!
Ashley Leechin, before plastic surgery, had much smaller eyes than Taylor Swift. She had a long nose with a prominent bump whereas, after the nose job, it looked shorter to match with Taylor's. Also, her lips were much thinner and of different shape but it looks like she got tons of lip fillers because they are huge now and they also match the shape of Swift's.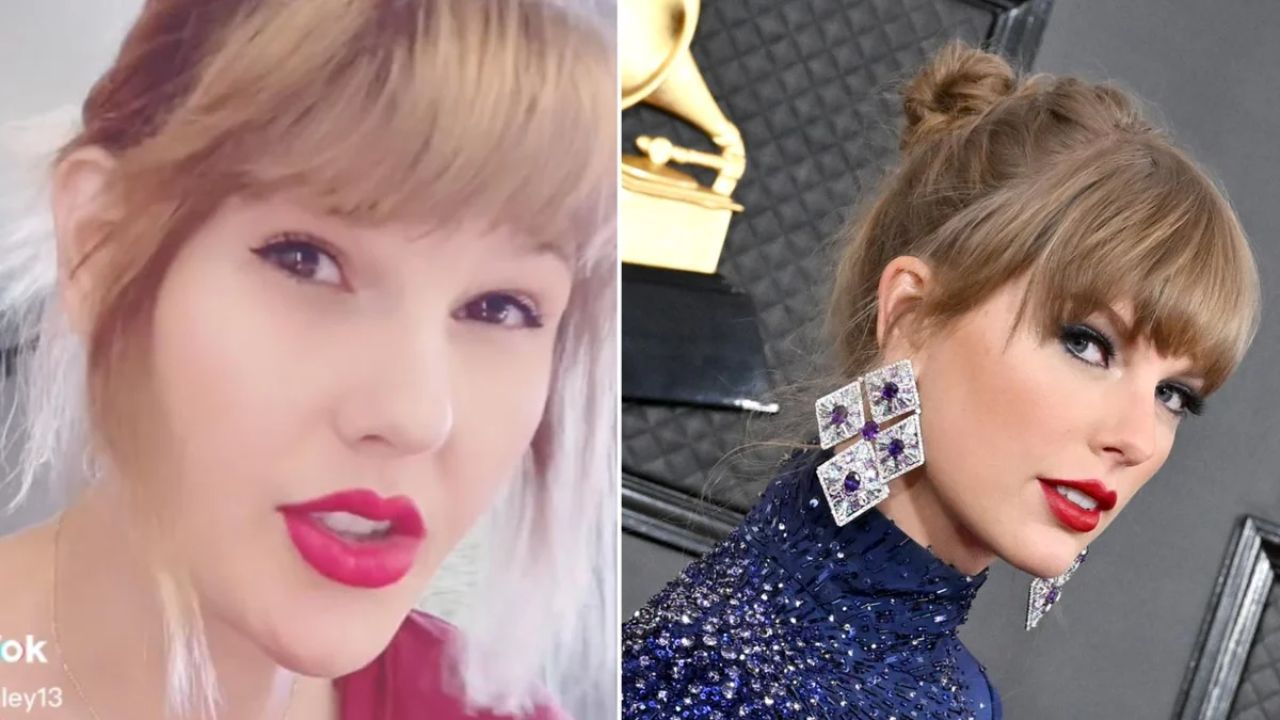 Ashley Leechin denied having plastic surgery, she said she only had her teeth redone and facial fillers.
Image Source: PAPER Magazine
Also, she had dimples and now, she doesn't. Swifties believe that she had facial fillers to *fix* that situation of not resembling a celebrity. She also got veneers to match her teeth to that of Taylor's. Besides that, the whole shape of her face and the bone structure seem to have changed. Her jaw and chin are completely different. She definitely had plastic surgery. Just check out her before and after pictures.
Ashley Leechin has not admitted to having plastic surgery. She has only confirmed having her teeth redone and facial fillers and as far as she is concerned, she doesn't consider it cosmetic surgery. She tried denying having any changes done to her face for the longest time and this is how she found a loophole.