Devon Jenelle has sparked plastic surgery speculations among her followers with her perfect facial features and insane physique. The Instagram influencer fits all the harsh standards of beauty set by society and has that generic Instagram face which has made her followers think that she has had work done. Devon Jenelle is believed to have had a brow lift, nose job, lip fillers, breast implants, and BBL but she has never admitted to having any plastic surgery.
It's unbelievable how quickly Devon Jenelle rose to popularity on Instagram. It's like she went from being a regular girl to an Instagram celebrity overnight (over months). I know we don't know what's it like behind the scenes and she must have been seriously putting effort into building her career and working her way to fame to open the door of opportunities by gaining traction on on social media. But that's not how it looks like from the outside.
But as far as people are concerned, all she had to do was get plastic surgery to attain perfect features and post thirst traps on social media to get viral. It's similar to what people say about the Kardashian sisters. It does not seem all great for her but anyway, the point is that her followers along with her haters want to know about the cosmetic procedures she has had. So, let's discuss Devon Jenelle's plastic surgery!
Also, check out the plastic surgery stories of Draya Michele and Ariel Winter.
Devon Jenelle's Plastic Surgery: The Influencer is Suspected of Having a Nose Job, Lip Fillers, and BBL!
Devon Jenelle (@devonjenelle) is highly suspected of having undergone plastic surgery to attain the perfect Instagram face that is the current beauty standard in society. She is believed to have had a brow lift, a nose job, lip fillers, breast implants, and BBL. She is also speculated to have had chemical peels and laser treatments.
Because Devon Jenelle is one of the many many Instagram influencers who are equally infamous as they are popular and looked down upon by many, there are many people who think that the clout she gets on the internet is unjustified and the only hard work she had to do to get where she is now by going viral on the internet was on her body by getting plastic surgery.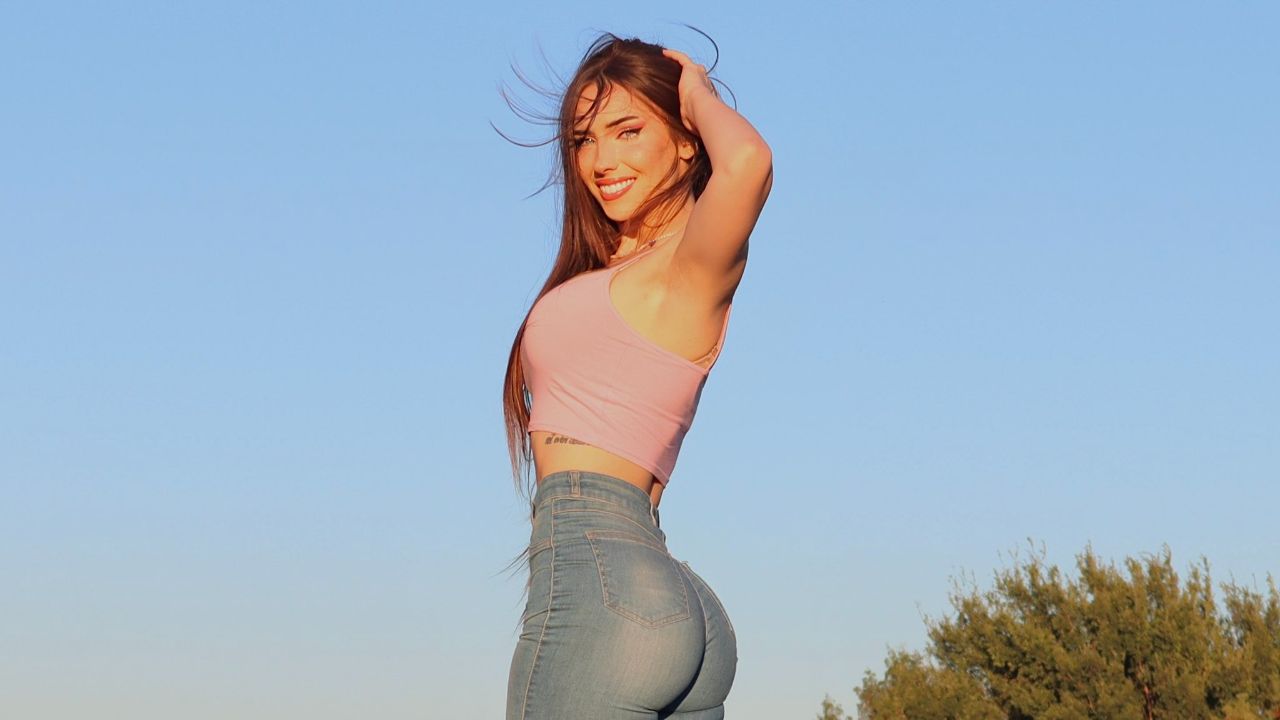 Devon Jenelle is suspected of having plastic surgery to attain perfect features.
Image Source: Twitter
Some think about it with disdain while her followers just wonder about her appearance and the cosmetic works she has had out of curiosity and because they can't really help it when they see her because of how eerily perfect she looks. Devon Jenelle meets every standard of beauty there is (she has siren eyes, a small nose, plump lips, high cheekbones, poreless skin, ample breasts, and a voluptuous butt) and while it does look appealing at first, the more you look at her, the creepier it looks. You can't reason that with anything other than plastic surgery.
There's no way anyone would possess all of the features that are deemed beautiful by society. It's just not believable that anyone could look that perfect so, people can't help but suspect that she has had plastic surgery to attain that Instagram look she has because surely, it's not natural. Also, cosmetic surgery speculations were bound to happen sooner or later for her because that's what eventually happens when you capitalize on your looks.
Look at her Instagram and it's all thirst trap. Devon Jenelle may have gained recognition initially through her fitness videos but she went on to develop her brand by how she looks and not what she does. And if the way she looks elevates her to fame, she can't really complain when people dissect her looks and appearance and speculate that she has plastic surgery because fame is, after all, a double-edged sword.
What Plastic Surgery Has Devon Jenelle Had?
Anyway, we don't really know how Devon Jenelle looked before her transformation or makeover, or if she even had any because she has looked the same way since she rose to popularity because it was her looks in the first place that she rose to popularity (but because she looks perfect like every other Instagram influencer, people think she has had plastic surgery), but her followers suspect she has had a brow lift, a nose job, lip fillers, breast implants, and BBL.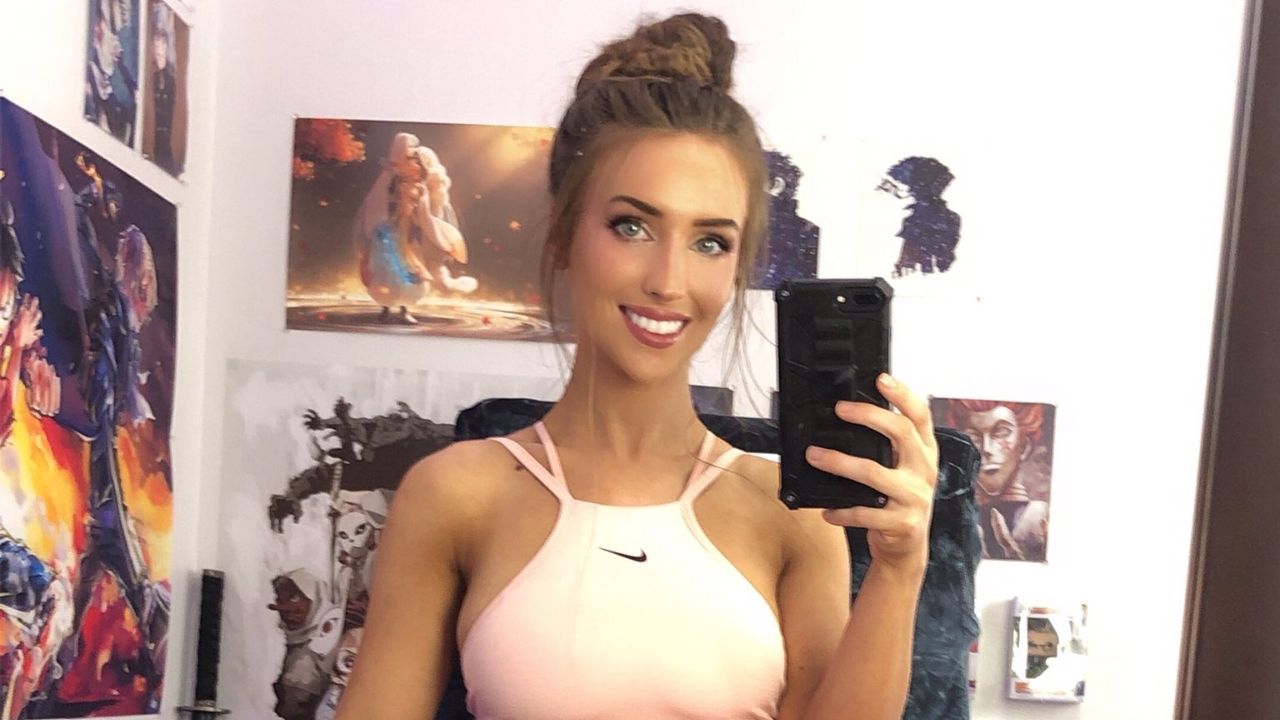 Devon Jenelle supposedly had a brow lift, a nose job, lip fillers, breast implants, and BBL.
Image Source: Twitter
Because of how wide and open her eyes look and how high her brows sit on her forehead, people think she's gotten a brow lift. Nose job, she is believed to have because of how small, narrow, and perfect her nose is. She has the kind of nose everyone in the entertainment industry craves and gets plastic surgery for. She can't have been blessed by nature on that one.
Devon Jenelle has very full lips. She has a voluptuous pout which looks way plumped up in a way that's not natural. So obviously, people think she has injected fillers into her lips. And about her body, the less said, the better because isn't it way too obvious from her exaggerated hourglass figure that she got plastic surgery to enhance her body shape? How can anyone have such a huge bosom with such tiny waists?
She had to have breast implants to increase the size of her breasts. And she had to have undergone a BBL. Her butt's so curvy that it can't be unnatural. It looks too perfectly round and curvy to be real. You can't miss that because she's constantly flaunting it. If you scroll through her Instagram profile, you see her butt more than you see her face. You have seen it too much and from too close to not believe that she has had plastic surgery.
It should be noted that Devon Jenelle has never admitted to having any plastic surgery and maintained her silence when it comes to speculations about her appearance and cosmetic works.