Kamala Harris is not new to being targeted for her alleged plastic surgery. In 2020, the politician sparked intense discussion about her cosmetic procedure when she appeared a bit different in an interview. People speculated that she had gotten Botox and cheek implants. But Kamala Harris paid no heed to those speculations and till today, she has never acknowledged any plastic surgery rumor about herself.
Kamala Harris currently serves as the 49th and incumbent vice president of the United States of America under Joe Biden, the 46th president of the U.S.A. Did you know that she became the first female vice president and the highest-ranking female official in the political history of the U.S.A. when she was elected? Not just that, she also became the first Asian-American as well as African-American vice president upon her election.
A member of the Democratic party, Kamala Harris previously held the position of the attorney general of California from 2011 to 2017. From 2017 to 2021, she was the U.S. senator representing California. After her vice-presidency, she became very high profile and with the increase in her popularity, people began to scrutinize her a lot. This resulted in plastic surgery speculations about her, so let's talk about that!
Would you also like to read the plastic surgery stories of Rosanna Pansino and Jeanne Pratt?
Kamala Harris' Plastic Surgery: People Suspect She Had Had Botox and Cheek Implants!
Kamala Harris (@kamalaharris) is widely believed to have messed her face with too much plastic surgery. She's mostly suspected of having Botox and cheek implants. There are some people who think she has had a boob job as well.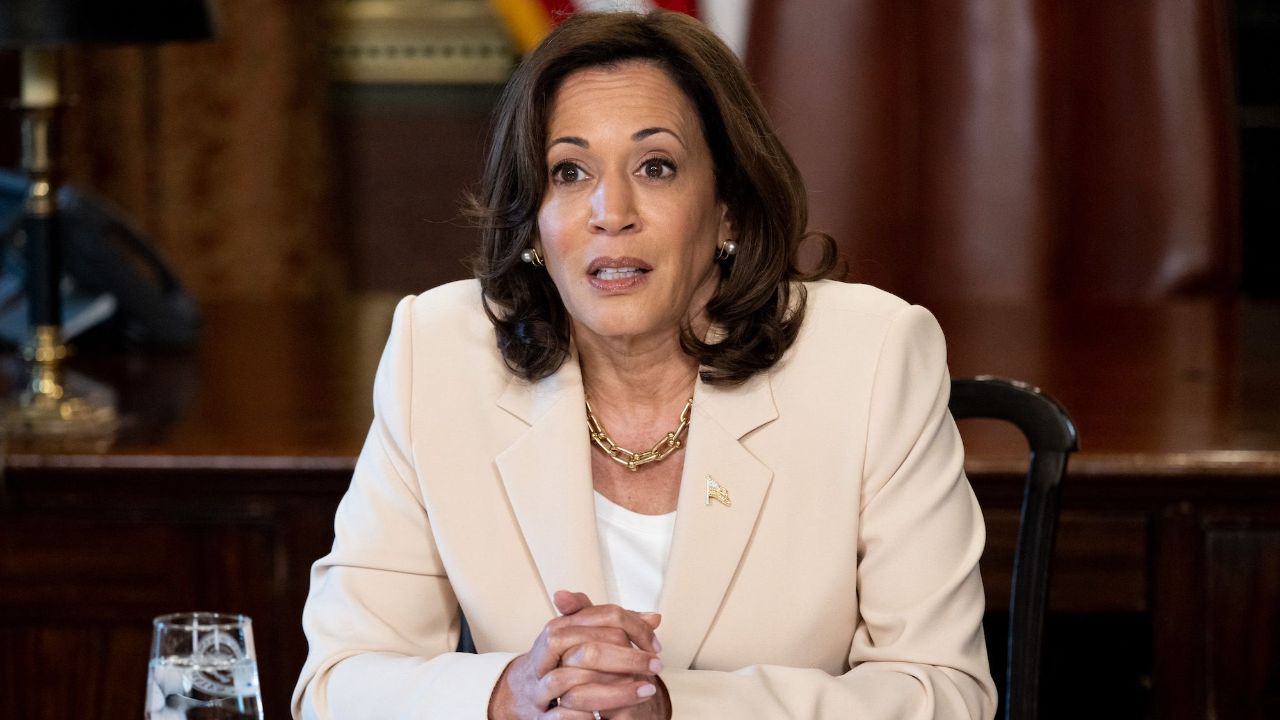 Kamala Harris has often been the subject of plastic surgery rumors.
Image Source: CNN
Not even the Vice President of the United States is immune to incessant cosmetic surgery speculations. You would think that a political figure might not get targeted with such a thing but how wrong people were to think that. Apparently, if you are a public figure, everything including your appearance is fair game. We knew that in 2020, Harris was mercilessly trolled for looking a bit different. The comments were too harsh and cruel and for very little.
Kamala Harris made an appearance on the MSNBC show on 18 July to partake in the discussion of the civil rights leader and congressman John Lewis who had just died the day before. But people's main takeaway from the show was not anything related to the actual subject matter of the discussion, rather it was Kamala's appearance and how different she looked. How she looked then sparked intense plastic surgery speculations that occupied social media for days to come.
Everyone was like, 'Oh my god! Why ever did Kamala do to her face what she did to her face? She looks so weird now.' They suspected that she had had Botox, too much of it. Some of them also seemed to think that she had gotten cheek implants because her face seemed too plump. There were people who swore that her teeth also looked noticeably different. Everybody seemed convinced that she had gone overboard with plastic surgery.
In all fairness, in the stills and clips from the show, Kamala Harris' face looked very clean and very flawless. She looked perfectly smooth. She never looked like that before. People remembered her having wrinkles on her forehead, they had seen her eyes crinkle when she smiled, and they had seen her laugh lines as well. All of a sudden, from the stills, they seem to have disappeared so, they suspected that she got plastic surgery to de-age herself.
Did Kamala Harris Really Have Plastic Surgery?
Kamala Harris was rumored to have had Botox and cheek implants in 2020.
Image Source: Los Angeles Times
While lots of people took that as an opportunity to ceaselessly mock the politician and bully her for her appearance, there were others who defended her and said that it was nobody's business what she did to her face. They also pointed out how she may not have had plastic surgery after all, and argued that she didn't actually look different and it was just the quality of the video that distorted Kamala Harris' appearance.
One Twitter user said that Harris looked too smooth and refined in the video because of its poor quality. Apparently, the video that Al Sharpton posted on his news feed was a clip playing on television that he recorded on a mobile phone. That's what made it look like Kamala had plastic surgery because she looked unreal. In another video that was not recorded on a mobile phone, she looked much more natural. About that clip, the user said,
This is literally the same recording. Al Sharpton always records his segments on a phone from the television and posts it on his feed.
Some people also made the argument that Kamala Harris appeared to be yassified (she looked extremely airbrushed it was uncanny) because of the lighting and she did not actually have plastic surgery.
They put her in poor lighting and with a different facial expression. Anyone who knows anything about cameras, angles, lighting, or with common sense can tell nothings wrong with her.
Also, even if it were true that Harris had cosmetic procedures, it wouldn't be the worst thing and that's no reason to bash her because cosmetic treatments have become a trend. As a Twitter user said,
Why are conservatives or anyone in general bashing Kamala Harris for Botox or more likely, Filler? Every woman in this city and most men have had Botox before or will eventually. Everyone does this. Literally. Please stop.
Anyway, Kamala Harris has never responded to those plastic surgery speculations, neither admitted to them nor denied them.