Kat Von D's fans are now discussing her weight gain after they were reminded of how she has not completely shed off her pregnancy weight. The tattoo artist has not gained weight recently but she is definitely not as slender as she once used to be. Kat Von D once opened up about her pregnancy weight gain and revealed that she had reached 220 pounds.
Kat Von D gained prominence as an edgy tattoo artist in 2007 when she did the TLC reality television show LA Ink. What kept her popular (relevant) all these years is not just her tattoo artistry on the show that ran for four seasons but her gothic aesthetic as well. Her persona is very intriguing and despite her being an open book, she has that mysteriousness to her that draws people towards her.
If she had not had that IT factor in her, she could never have leveraged her fame to pursue a career in music. Yeah, she's a recording artist also, not just a television personality. She's also an entrepreneur. At least, she used to be (she's the former head of Kat Von D Beauty). Anyway, she recently shocked people with a video of her baptism which led to discussions about her weight gain. So, let's talk about how they went from talking about her baptism to talking about her physicality.
There are more weight gain stories of Jamie Lynn Spears and Julia Ormond that you might like.
Kat Von D's Weight Gain: Has She Recently Put on Weight?
Kat Von D (@thekatvond) and her weight gain! Her fans got to reminiscing about the tattoo artist's physicality after she recently shared a video of herself on Instagram.
Kat Von D has not had weight gain recently.
Image Source: The US Sun
There was nothing much to the video except for the fact that it was a video of her baptism and her loved ones celebrating the event. Yeah, she got baptized, she has renounced her former way of life (she gave up witchcraft a little while ago), and returned to her faith. Her caption, "✟" speaks volumes. Aren't you shocked or did you see that coming when she gave up witchcraft? Did you see the discussions of her weight gain coming?
Because that's what's going on. The video of Kat Von D's baptism has led to her followers discussing her weight and body. It's so weird that her fans find her weight more interesting than her baptism. It's like they expect something like that from her because they got over it soon. There wasn't even anything in the video that suggested that she had weight gain. The most unusual thing about the video is that she was dressed in white. Other than that, she looked the way she had looked for a while.
She has most certainly not had weight gain recently. Only if you had not been keeping up with her would you think that Kat Von D has put on weight because she is not as slim as she used to be before because she gained a lot of weight during her pregnancy and she hasn't shed the excess weight off completely. So far, she has not been able to regain the body she had before she had her baby.
She has lost a lot since then but it's not easy for a woman who gave birth to look the way they did before their pregnancy. Maybe this is why many think that she has undergone weight gain because compared to before, she is noticeably thicker.
Kat Von D Opens Up About Pregnancy Weight Gain!
Anyway, the point is that Kat Von D has not put on weight in recent times. The only time she noticeably gained weight was when she was pregnant. Before her pregnancy, she was very slender and since she gave birth, she's only been in the process of losing her pregnancy weight. She has not yet managed to get back to where she was before because she struggled a lot with her pregnancy weight gain.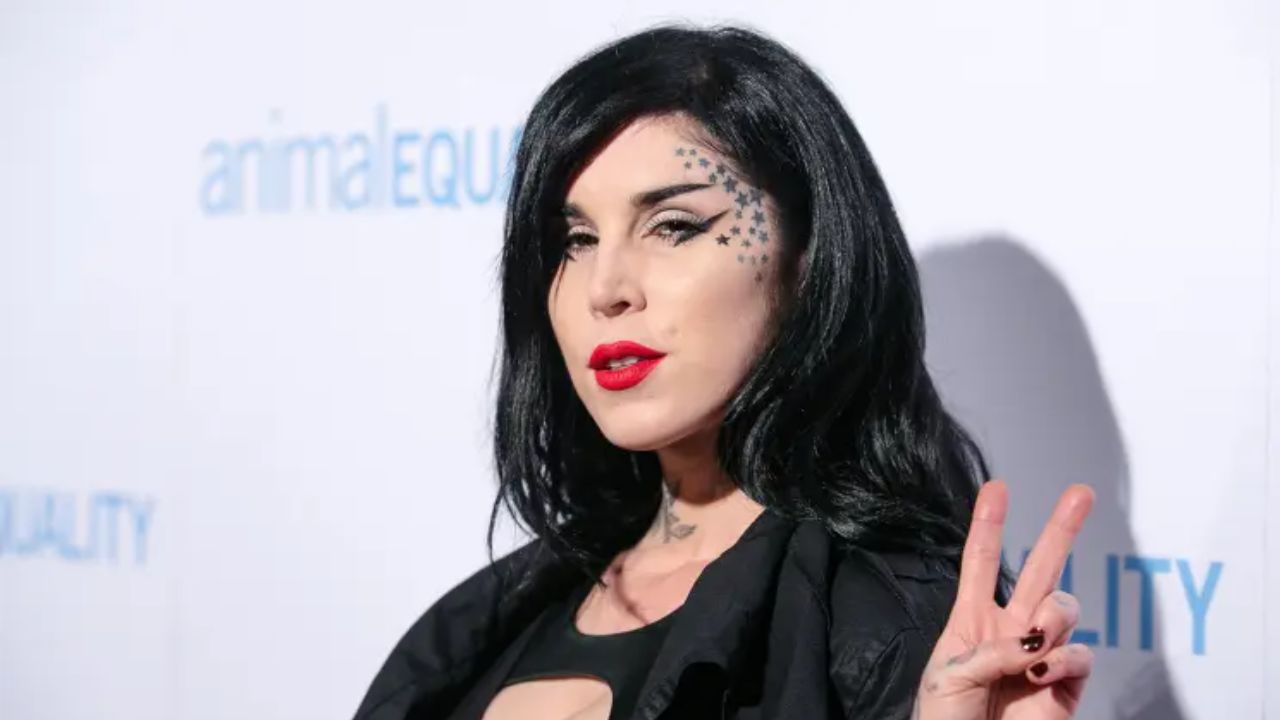 Kat Von D weighed 220 pounds after her pregnancy.
Image Source: NY Post
The television personality opened up about the challenges she faced with her postpartum weight gain and losing it while trying to accept herself the way she was in an Instagram post. She said that she did have her dream body before she got pregnant when she weighed around 150 lbs but everything changed after she gave birth to her son.
Now, I have never been "skinny" by model standards, nor will I ever strive to be. I adore my womanly curves! But I must admit, before I got pregnant, I did have my dream body. I was healthy. I was fit, and most of the time pretty toned. Believe it or not, my perfect weight is somewhere around 150-160 lbs.
Kat Von D opened up about how it was hard for her to bounce back from her pregnancy weight gain because no matter what she did to keep her weight in check, she only gained and gained and reached 220 pounds.
My point is I have never been a size small and I like that about me! I like being super tall wearing super high heels [even though I'm almost 6feet tall without them]! I like boobs, booty and thighs! I like being larger than life! But after having my son, I was shocked that regardless of how strict I was with my diet, and how well I took care of myself, I somehow managed to gain so much weight. I weighed 220 lbs to be exact! 
Since then, with her relentless workout schedule, she has managed to lose some excess weight but she is nowhere close to having the dream body she once had. She has given birth to a child and her body shows that even though she is very fit. Kat Von D has not bounced back from her pregnancy weight gain but as long as she is fit and fine, I hope she does not mind that.