NewJeans members all look super stunning and their facial features are very harmonious and aesthetic. Because the K-pop idols look very different than they did pre-debut, fans have been discussing their plastic surgery on every social media platform, including Reddit and Quora. All five of them are believed to have had double eyelid surgery, chin implants, a nose job, and lip fillers. NewJeans has never responded to plastic surgery speculations about them.
NewJeans rose to prominence in July 2022 when they debuted with the single Attention which went on to be the first number-one song on South Korea's Circle Digital Chart. The South Korean girl group formed by ADOR and composed of five members Minji, Hanni, Danielle, Haerin, and Hyein literally grabbed everyone's attention when they debuted with their girl-next-door image and "easy listening" pop and R&B songs inspired by the music of the 1990s.
With the rise in their popularity has risen plastic surgery speculations about them. They all look gorgeous and very conventionally attractive. They meet every standard of beauty set in Korean society. None of them look like they did pre-debut. While some insist that the visible change in their appearance is due to aging and growing up, others think they have had cosmetic surgery. Let's discuss NewJeans' plastic surgery!
Previously, we touched on the plastic surgery stories of Skai Jackson and Amanda Staveley.
NewJeans' Plastic Surgery: Fans Seek Before and After Pictures of The K-Pop Idols!
NewJeans (@newjeans_official) members are widely believed to have gotten plastic surgery to fit the Korean beauty standards. Every K-pop idol from the group (Minji, Hanni, Danielle, Haerin, and Hyein) is suspected of having a nose job, double eyelid surgery, chin implants, and lip fillers.
NewJeans members are believed to have had plastic surgery to look conventionally attractive.
Image Source: WWD
Let's talk about Minji first! People have noted how her elementary school photos are not that flattering and how she didn't look anything like she does now. The differences are noticeable. In the old pictures, her nose is much flatter, her nose bridge is not that high, and most importantly, she didn't appear to have double eyelids because it appeared as if she did not have a fold and her eyelids did not look that deep. Also, her lips were visibly thin. Now, she has had a massive glow-up since then and many are of the opinion that it's plastic surgery.
As a K-pop idol, the NewJeans member now looks more conventionally beautiful and aesthetically appealing than ever. She has a tall and slim nose bridge and nasal folds now. Her nose is much narrower than before. She also has double eyelids which appear to be much deeper than they were pre-debut. Likewise, her lips appear fuller and more voluptuous than before. Also, she is believed to have some work done on her chin to make her face look sharper. Minji is thought to have undergone all these plastic surgery procedures.
Some stans defend her from the accusations saying that nose bridges can look short and the folds can be flat when people are younger and as they age and grow up and lose fat, the nose bridge becomes higher and the double eyelids clearer. But such people coming to her defense are labeled 'delulu' on the internet.
As for NewJeans' Hanni, she is also believed to have changed her typical Asian features to be more conventionally attractive. She is believed to have changed her eyes and nose. She used to have much smaller eyes pre-debut and she had no eyelids. But now, her eyelids have appeared out of nowhere and the shape of her eyes has changed. They look much bigger. Some people believe she has had upper blepharoplasty, some think she has had double eyelid surgery. Either way, almost everyone except a few 'delulu's agree that she has had plastic surgery.
Besides that, Hanni is also believed to have had a nose job. In pictures from her childhood, she had a flat and thick nose. They were quite wide and big. But now, as a NewJeans' K-pop idol, she has a much smaller, thinner, and narrower nose. Some also say her nose appears longer due to silicone implants. Also, she is thought to have had a chin implant because of the change in the shape of her face. She used to have a square chin before, but now she has a V-shape face. Likewise, she is thought to have had lip fillers. She has had quite a transformation with the help of plastic surgery.
What Plastic Surgery Procedures Have NewJeans' Danielle, Haerin, and Hyein Had?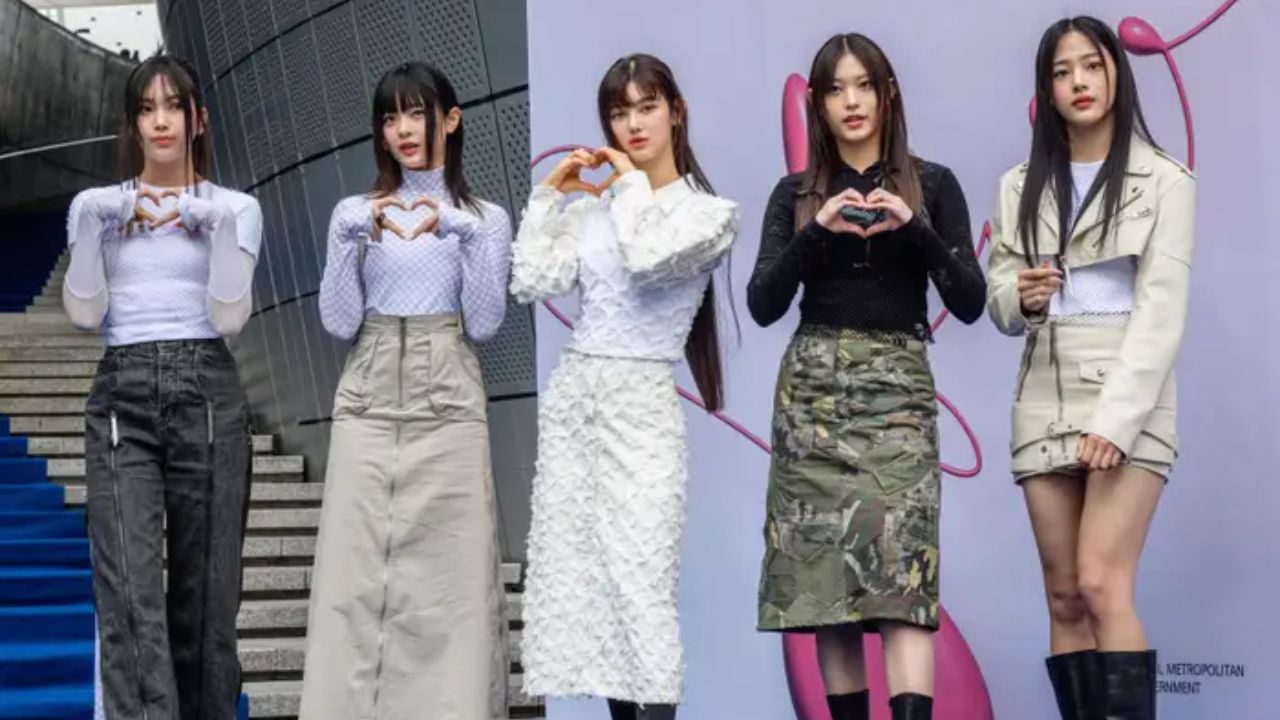 Many stans insist that the NewJeans girls are natural and that they look different because of make-up.
Image Source: Insider
Danielle is no different in NewJeans. She is also believed to have had plastic surgery to fit into the Korean standards of beauty. Pre-debut, her eyes were small, her nose was flat and wide, her lips were thin, and her face was round. But as a K-pop idol, her eyes are much bigger and wider, her nose looks much narrower, sharper, and thinner. Likewise, her chin seems much sharper and her lips seem fuller than before. A lot of fans think Danielle has had plastic surgery to make those changes.
Now, coming to NewJeans' Haerin, she is thought to have changed the shape of her eyes and she is also believed to have gotten a slimmer jawline. She is also believed to have changed her nose and lips. In her pre-debut pictures, she didn't have eyes as big, her nose as slim and refined, her lips as full as now. The tip of her chin also didn't look as sharp as it does now. A lot of people believe that the visual physical transformation she had is due to plastic surgery.
However, fans always come to her defense even though her cosmetic surgery seems very obvious because she has changed in a way that doesn't just happen as you age. NewJeans' stans insist that Haerin's beauty is natural and that the changes in her appearance are not due to plastic surgery but that can be explained by the change in her makeup style. Apparently, transitioning from her sharp-cat-like image to an innocent puppy-like aura has changed the way she looks.
Coming to the last NewJeans member Hyein, she already had wide and big eyes when she was younger but her nose was bigger and her face was rounder. And now, she has a slim nose and her chin appears sharper than before. Her lips also look more plumped up than before. Thus, she is believed to have had a nose job, chin implants, and lip fillers.