Many people believe Hailey Bieber has received a nose job as the shape of her nose has changed in her before and after pictures. However, the 26-year-old star previously denied the allegation.
Hailey Bieber, previously known as Hailey Baldwin, is an American model and TV personality. She is the daughter of actor Stephen Baldwin and the wife of popular singer, Justin Bieber. Despite being married since 2018, the couple has yet to have a child.
Hailey began modeling as a young kid in Tucson, Arizona and made a big impression when she walked the runway during London Fashion Week. After appearing in well-known periodicals, she moved on to pose for several well-known fashion labels. She made her debut commercial appearance in 2014 for the iconic apparel brand French Connection.
Since Hailey Bieber has been in the spotlight since her childhood, many people have noticed that the shape of her nose has changed over the years. As a result, many people have accused her of receiving a nose job. Well, let's find out what the truth is.
Previously, we touched on the plastic surgery stories of Kimberley Strassel and Sofia Vergara.
Hailey Bieber Previously Denied the Nose Job Rumors!
Hailey Bieber's face, especially her nose, has been a subject of concern after Kanye West accused her of receiving a nose job last year. After Hailey (@haileybieber) and Gigi Hadid defended the rapper's criticism over the Vogue fashion editor, Gabriella Karefa-Johnson, he wrote,
They want corny a*s Gigi Hadid and nose job Hailey Baldloose to rally behind an obvious Corey Gamble level nonfashion industry plan.
Hailey's face has been a popular topic of discussion ever since. However, both she and her husband, Justin Bieber, denied the accusation. Regardless of what the 26-year-old Victoria's Secret model and those closest to her say about what she has and hasn't done surgically or non-surgically, there's no denying that she looks *so* different from how she did at the beginning of her career, which hasn't stopped fans from commenting or speculating about what she may have had done.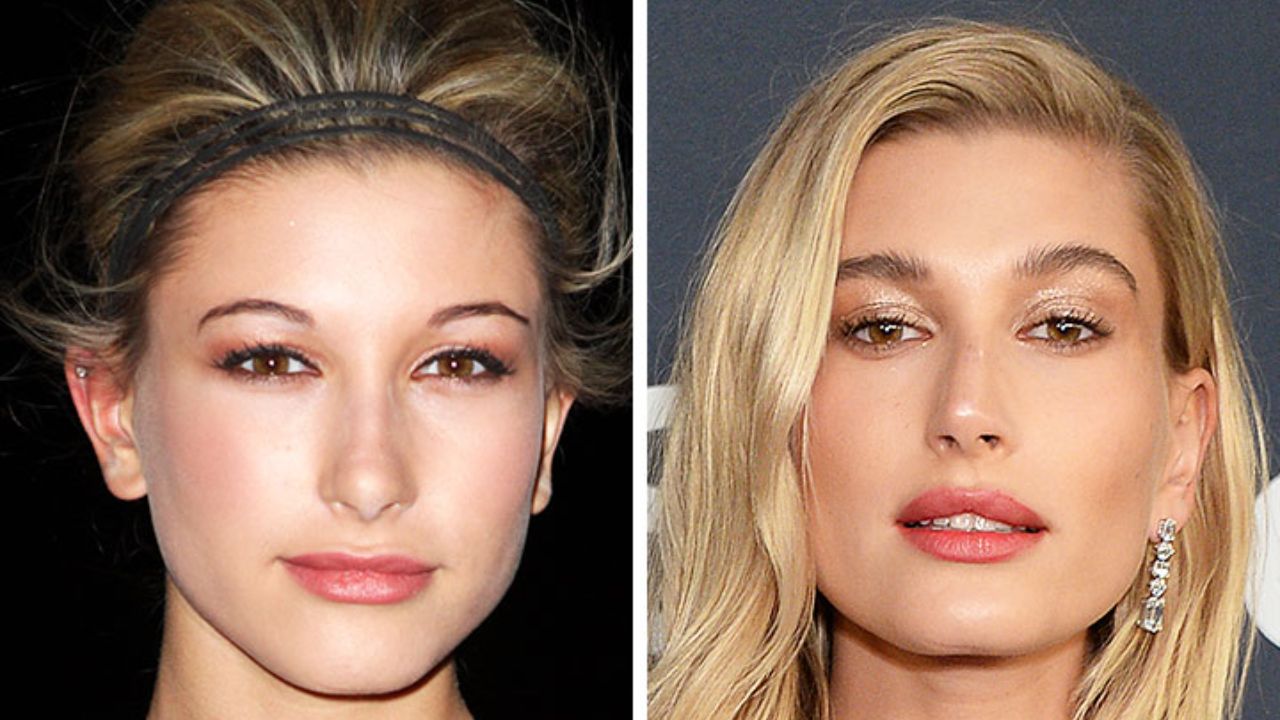 Hailey Bieber before and after a nose job.
Image Source: Shutterstock (Splash News)
If you compare Hailey Bieber's before and after pictures, it certainly appears smaller and more tilted now. In 2016, she proclaimed,
Everybody literally thinks I've had plastic surgery. My mom's family call her and they're like, 'Did Hailey do her lips? Did she do her nose?' Do people want me to go to a doctor and have them examine my face so they can tell people I haven't? My face has just matured. I grew into my looks. I do look different than I did when I was younger, but it's still the same face.
Meanwhile, plastic surgeons also feel the same. Dr. Daniel Barrett previously told,
I think it's physically impossible without getting a little bit of help from someone like myself to go from this picture to that picture. Check out the position of the nose, the dorsum, and how refined it is in 2016 and how much smaller the tip is from 2011 to 2016. That doesn't happen from puberty or growing.
Some People Theorize That Justin Bieber Married Hailey Bieber for His Visa!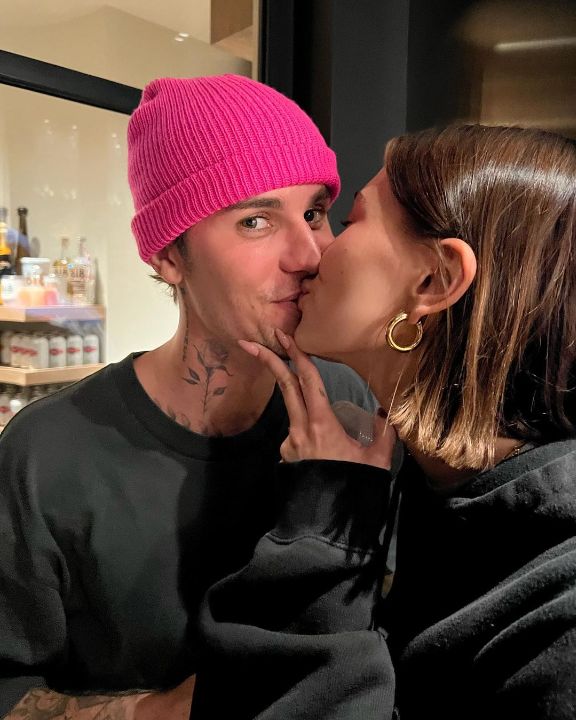 Some people believe Justin Bieber married Hailey Bieber for the Visa.
Image Source: Instagram
Justin Bieber, who married Hailey Bieber in September 2018, has been at odds with the Internet ever since, with many believing he simply married to become a US citizen. A video on Instagram has also gone viral, claiming Justin skilfully provided a clue about the same in his verse on Drake's popular song, Popstar.
The dedicated followers, on the other hand, appeared to be outraged by the statements made in the film, and they severely criticized the theory.
Since his breakup with Selena Gomez and his marriage to Hailey Bieber, Justin Bieber has been continually criticized on the Internet. Fans of the Peaches hitmaker continue to mock Hailey, stating that she will never stop imitating Selena.
Returning to the allegation that Justin Bieber married Hailey Bieber for Visa purposes, an Instagram video shows two podcasters discussing how Justin shouted in Drake's song Popstar, "Look, Ariana, Selena, my Visa/ It can take as many charges as it needs to, my girl." According to the podcasters, Drake frequently leaves clues in his songs, and Justin did the same in his verse on the song.
Another hypothesis holds that Justin, who is originally from Canada, requested a visa immediately after his marriage to Hailey, fueling the rumors even more. Justin was previously reported to be on an O-1 visa rather than a green card.