Jersey Shore viewers are interested to know what plastic surgery procedures the cast members of the reality show got. The stars of the MTV show have changed a lot since they first appeared on our screens about 14 years ago. Their transformation is discussed extensively on social media including Reddit and Twitter. Check out the Jersey Shore before and after plastic surgery pictures!
Jersey Shore never went out of style. The fans never let that happen. It's also that the cast members of the MTV reality show are such that they are never going to be not popular. They developed a taste of the limelight when the show premiered about 14 years ago in 2009 and now, they are not going to stay far from it. Even though the show ended in 2012, they have a lot of relevancy in the media. The discussion about their transformation specifically gets a lot of clout on social media especially on Reddit and Twitter.
And why wouldn't it? When the reality stars got back together in 2018 for Jersey Shore Family Vacation, most of them had changed a lot so, the conversation about their looks was bound to come. The question is, which of them has just aged, and which of them got plastic surgery? Have those who got cosmetic surgery been transparent about it? What procedures have they gotten? Let's take a look at the Jersey Shore cast's before and after plastic surgery pictures!
There are more plastic surgery stories of Sam Fox and Erica Mena that you might be interested in.
Nicole "Snooki" Polizzi
Nicole Polizzi is probably one of the most transparent Jersey Shore cast members when it comes to plastic surgery. She has gotten lip filler injections, Botox, and a boob job and she has been very candid about it. In 2015, she got her lips done because 'she has always hated her thin lips and she never thought she had the balls to get needles in her lip to perfect them but she did.'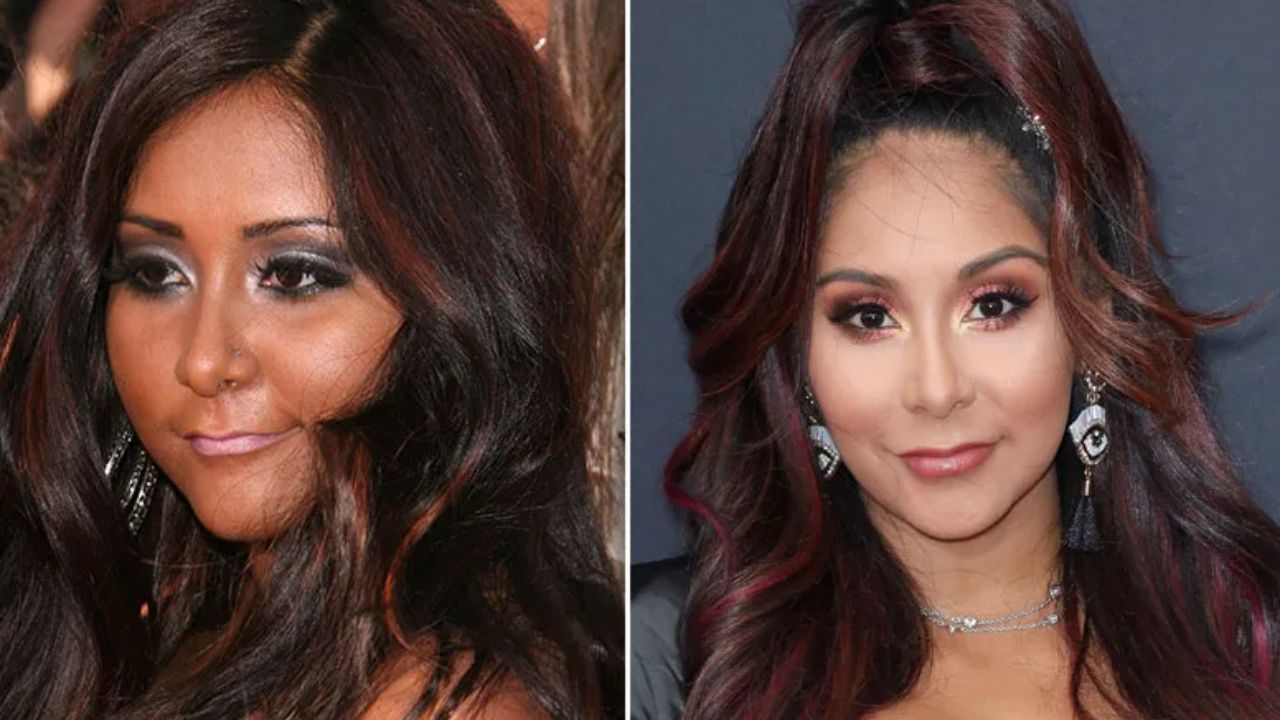 Nicole Polizzi has gotten Botox, lip fillers, and a boob job. 
Image Source: Life & Style
The following year, she tried Botox and she's continued getting Botox and filler since then. She also got breast implants in 2016. She said that she got them because her boobs got destroyed after having kids and breastfeeding them and she wanted to be hot for her husband as well as feel great about herself. Also, it was an insecurity she had.
Ronnie Ortiz-Magro
Ronnie Ortiz-Margo also got plastic surgery not on his face but on his body. He underwent liposuction to get the abs he always wanted. The entire process was documented on an episode of The Doctors. About why he had the surgery, the Jersey Shore star said that he had always been a workout fanatic and had always been in shape but it takes a lot of hard work to stay in shape and after having his baby girl, he just couldn't spend two to three hours every day in the gym like he used to.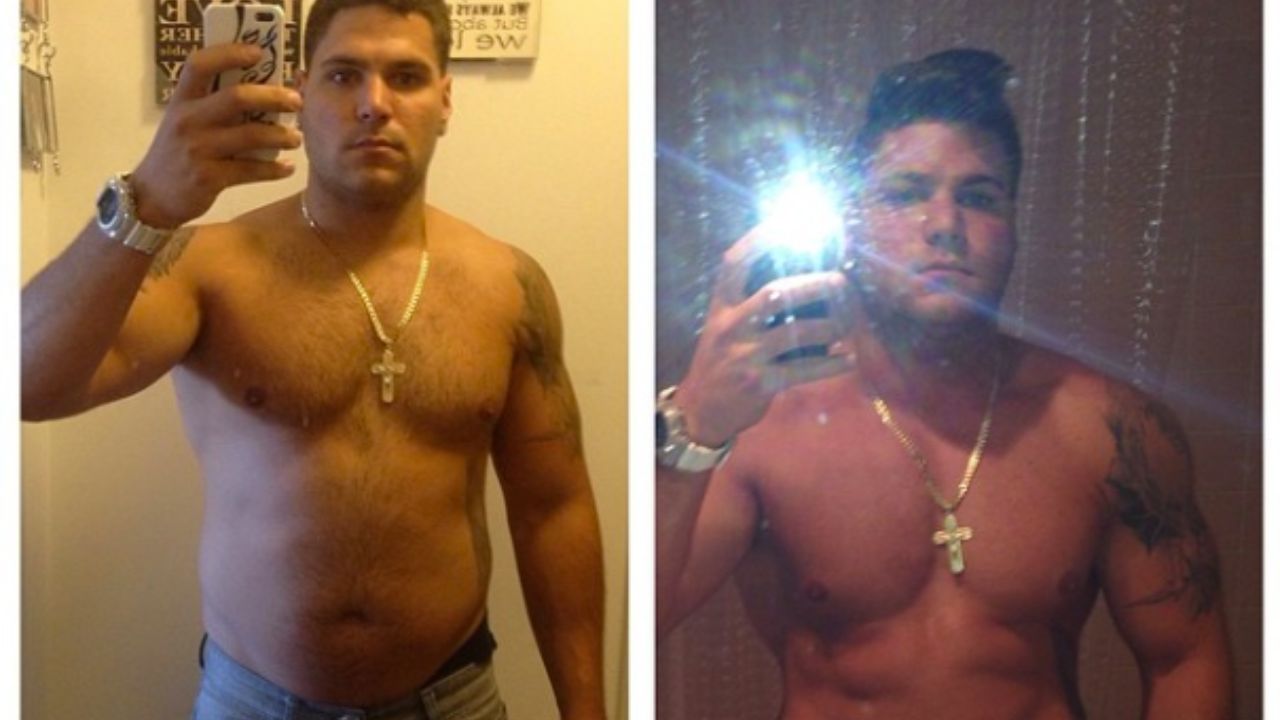 Ronnie Ortiz-Margo got liposuction to get the abs he wanted.
Image Source: Life & Style
Angelina Pivarnick
Angelina Pivarnick has a terrific body and it's not because she does squats (she hasn't done that in years and she does not plan on doing that ever again). To attain her fabulous figure, she took the easy way of plastic surgery out and she's been honest about it. The Jersey Shore star said that she's never going to lie to the fans about that. She has gotten Botox, fillers, a boob job, and a butt lift. She even documented her butt-lift procedure in an Instagram video in December 2020. She told New York Post's Page Six that she also went under the knife for breast implants and a lift.
Angelina Pivarnick has gotten Botox, fillers, a boob job, and a butt lift.
Image Source: The US Sun
Jenni "JWoww" Farley
Jenni Farley has been candid about getting plastic surgery to enhance her boobs. She went from a B cup to an F cup / DDD cup for her 21st birthday and she got another boob job to enlarge her breasts to a size 34F after she gave birth to her daughter Mielani. Speaking of those procedures, the Jersey Shore alum told ET that she was not getting any younger and she was going to do the non-invasive surgeries and things like that to stay youthful.
Jennie Farley has been open about the two boob jobs that she has had.
Image Source: OK Magazine
She is also rumored to have had lip fillers and Botox. Many claim that she has gotten cheek implants to sculpt her face. But she has always denied having (invasive) plastic surgery on her face. In 2019, she made a comment saying that she had a "laser and injection specialist" and not a plastic surgeon.
Mike 'The Situation' Sorrentino
Mike Sorrentino has never admitted to having plastic surgery of any kind but in April 2018, it was revealed to E! News by Dr. John Tutela that the Jersey Shore cast member had previously gone into his office to get Botox injections. If you look at him, his skin is flawlessly smooth with no trace of wrinkles.
Mike Sorrentino was alleged to have gone to Dr. John Tutela for Botox injections.
Image Source: In Touch Weekly
DJ Pauly D
DJ Pauly D looks very different than before but he has never admitted to having any plastic surgery. However, if expert Dr. Anthony Youn is to be believed, Pauly may have had a conservative upper eyelid lift, seeing how his eyes aren't as hooded as they used to be. Youn also suspects that the Jersey Shore cast had Botox injections in his forehead to smooth it out and to create a distinctive arch of his eyebrows.
DJ Pauly D supposedly had an upper eyelid lift and Botox.
Image Source: The US Sun
Vinny Guadagnino
Vinny Guadagnino is highly suspected by his followers of having undergone a nose job to refine it and make it more aesthetic but he has never talked about having any work done. In the premiere episode of Jersey Shore Family Vacation, he did say that he followed a strict exercise routine and a Ketogenic diet to maintain his good looks but that was not really what fans had been waiting to hear from him.
Vinny Guadagnino is suspected of having a nose job.
Image Source: RadarOnline
Deena Nicole Cortese
Deena Nicole Cortese has mostly chosen to maintain silence about her plastic surgery. Though she once admitted to going under the knife during an August 2011 interview with the New York Post's Page Six, she hasn't been as open as her Jersey Shore costars about her cosmetic procedures. She has only confirmed having a nose job and breast implants but looking at her, it appears as though she has had many more procedures than just those two.
Deena Nicole Cortese has only confirmed a nose job and breast implants.
Image Source: E! Online 
Sammi Giancola
Sammi Giancola has mostly stayed out of the public eye since she left Jersey Shore but that does not mean she gets left out of discussion about the transformation of the cast members. She mostly looks the same as she did back then except she does her eyebrows differently but some fans think she may have gotten some subtle plastic surgery (different eyebrows can change face drastically). She doesn't like that people suspect that she has had work done and one time, when a follower mentioned that she looks completely different from before, she even clapped back at them writing, "Guess old age will change ya," along with that shrug emoji.
Sammi Giancola claims that she has not had any work done.
Image Source: In Touch Weekly