Kandi Burruss has been refreshingly candid about getting plastic surgery. The Real Housewives of Atlanta star has shared that she has had liposuction, tummy tuck, breast implants, breast reduction, and Botox. Kandi Burruss said that she wants to talk about plastic surgery because even though so many people get work done, rarely do they talk about it. 
Kandi Burruss entered the entertainment industry with a music career in 1992 when she gained popularity as a member of the multi-platinum R&B female group Xscape. Her debut single Don't Think I'm Not as well as her appearances on the singles 4, 5, 6 by Solé, and E-40's U and Dat alongside T-Pain, reached Top 40 on the Billboard Hot 100 and she won a Grammy Award for Best R&B Song for her work on the TLC hit song No Scrubs.
She also entered into the reality television world and starred in the Bravo reality series The Real Housewives of Atlanta. She is now the longest-serving cast member in The Real Housewives franchise, having appeared during the second-season premiere of RHOA in 2009. Kandi Burruss has appeared in several spin-offs of the show as well. She has also participated in the Fox competition series The Masked Singer, coming in third and becoming the show's first woman champion. Besides that, she has done a recurring role as Roselyn Perry in the third season of the Showtime drama series The Chi.
She has her fingers in every pie and she seems to excel at all of it. Anyway, she has been around for a long time and she has achieved a lot in all these years. You might have noticed that she has also changed a lot in these years. But is it aging or plastic surgery? Her body looks much more modelesque and aesthetic than before and that's not the kind of change aging brings with it. It has to be cosmetic procedures. So, let's discuss Kandi Burruss' plastic surgery!
There are more plastic surgery stories of Kim Woodburn and Park Min-Young that you might like to read.
Kandi Burruss' Plastic Surgery: She Has Gotten Breast Implants, Lipo and Many More!
Kandi Burruss (@kandi) is not the one to shy away from admitting that she had plastic surgery. She has shared that she has had liposuction, a boob job, later on, breast reduction, tummy tuck, and Botox.
Kandi Burruss has had plastic surgery and she is very candid about it.
Image Source: Yahoo Sports
Viewers of The Real Housewives of Atlanta admire Kandi for her candidness when it comes to plastic surgery. They like that she's so transparent about the cosmetic work she has had and she is not passing off her perfect body as a naturally attainable body. They also appreciate how she does not just share that she has had cosmetic procedures but also goes into detail about them.
In 2020, in her husband's YouTube series titled Cooking With Todd, Kandi Burruss explained in detail the plastic surgery she has had. She had already had lipo and boob job then. About lipo, she said that the first time she had the procedure, she was still skinny and was just trying to get them to flatten out the little pooch that was around her navel area.
She said that she got lipo after having her daughter Riley because it was only since she gave birth that she developed a little pooch that wasn't tight. Before that, in her music heyday, she was rock solid tight because she worked out all the time and her abs were on deck. So, plastic surgery to snatch her waist wasn't much according to her because she was already in shape when she had it and the doctor only curved her love handles a bit.
Kandi Burruss also talked about going for a subtle tune-up between seasons.
So, first season I had never had lipo or anything. But going into Season 3, I had a little lipo before that. I still, like, looked the same. It was just for my own personal. He took some fat from my lower back area, so he curved my back a bit more. It does give you more of a 'pow' look. I never did anything to my butt, when you curve your back a little bit more, it makes it more pronounced like 'whoo!'
Besides lipo, she has also had breast augmentation which she went on to regret later on. Kandi Burruss had boobs but she felt that they were sad because they were saggy. So, after Season 2 of RHOA, she put a little fat in her boobs to give it a lifted look but it didn't have the desired effect and she ended up having to reduce her breasts. She had to reverse her plastic surgery and all because she could not maintain herself.
Kandi Burruss Does Not Want to Hide Her Plastic Surgery Like So Many People!
Explaining her reasons for reversing her breast lift, she said that Kandi Burruss started gaining weight when she got super busy and didn't find the time to work out as much as before. So, the perfect little and perky boobs she had became huge and it went up a good 10 to 15 pounds within a year to two years after having lipo. Everything, her boobs, her thighs, her a*s looked extra big and she had to get plastic surgery to fix that.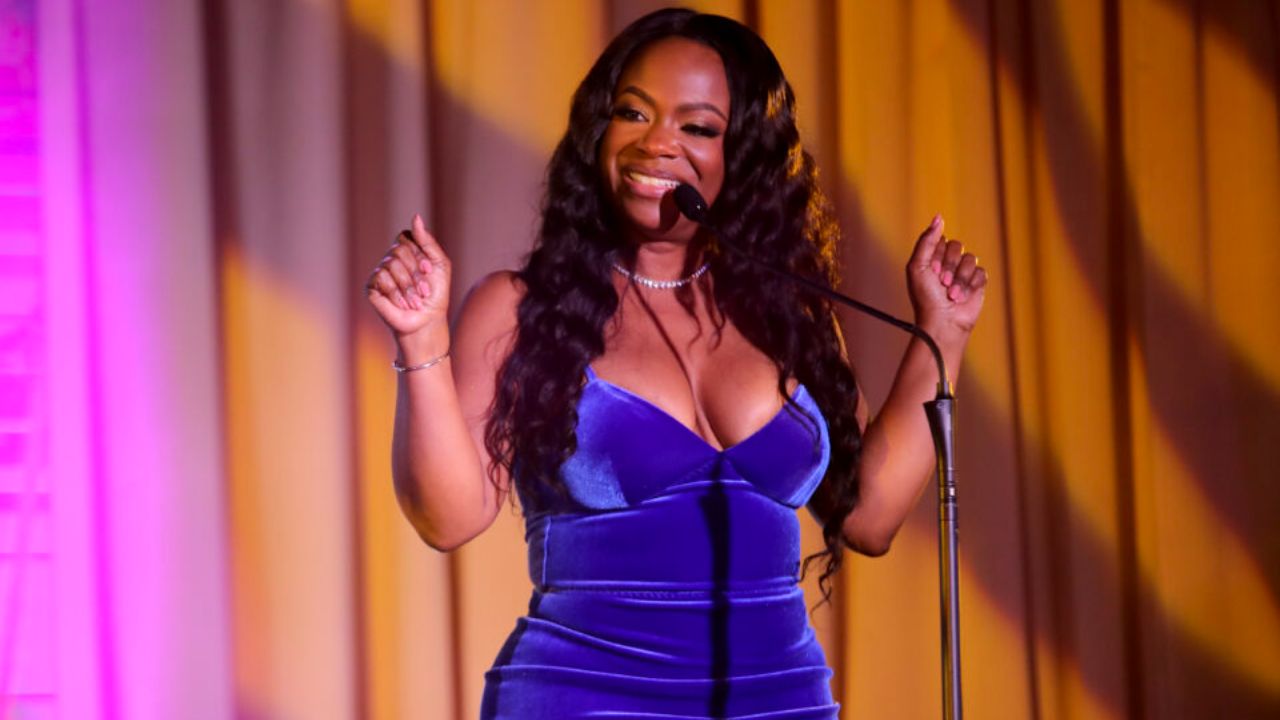 Kandi Burruss does not want to hide her plastic surgery like other celebrities.
Image Source: Black Enterprise
The reality star figured out that when people take the fat out of their waist area, they can get bigger there but they cannot gain weight there like before and so, it goes to other places because all of a sudden, she started noticing a little double chin. So, she advised people to make sure that they can maintain themselves before they get lipo because otherwise, they might have to do plastic surgery reversal like she did.
Kandi Burruss got breast reduction to undo what lipo and breast lift combined had done to her whole body and she not only shared about that but also took her fans behind the scenes through the process in her YouTube series Body Work with an aim to help remove the stigma around celebrities secretly having plastic surgery, saying that so many people get cosmetic surgery but nobody talks about it, so she was going to talk about it. She said,
I feel like people who are in the public eye and then being like "Oh I woke up like this" like "I was born this way." So many people are doing things but nobody ever wants to talk about it so I'm gonna talk about it. Can you tell? Can you tell they're smaller? Let's not let all the other diets and stuff that I've done confuse you into thinking that that's what made my boobs get reduced, because it is not, honey!
Kandi Burruss, speaking of the change in the size of her breasts, admitted that she had some weight loss and that she had tried some juice fasts and intermittent fasting. She had been trying to change the way she ate and she lost a couple of pounds with that. Her point was that she had been trying everything to lose weight but it had nothing to do with why her boobs got smaller. Her boobs getting smaller was all due to plastic surgery. She went to the doctor and he cut a chunk off of each one of them.
Besides that, Kandi Burruss has also gotten a tummy tuck and Botox injections as well. She said that she opted out of facial injections. So, that's all the plastic surgery she has had.