Kim Kardashian has undergone weight gain as evidenced by her recent social media posts. Although she has yet to comment on her transformation, people have both criticized and applauded her new physique.
Kimberly Noel Kardashian, aka Kim Kardashian, is an American media personality, socialite, businesswoman, model, and actress who rose to prominence as a friend and stylist to Paris Hilton but gained wider attention after the release of her s*x tape in 2007, which she filmed in 2003 with the assistance of her then-boyfriend, Ray J.
Later that year, the 42-year-old star and her family began appearing on the E! reality show Keeping Up with the Kardashians, which aired until 2021. Its popularity spawned spin-off shows, Kourtney and Kim Take New York (2011-2012), Kourtney and Kim Take Miami (2009-2013), and Hulu's The Kardashians (2022-present).
With all the gain in popularity, Kim Kardashian has also received a lot of criticism throughout her career and her body transformation is one of them. And recently, her appearance has again been criticized after undergoing weight gain as evidenced by her latest social media post. Well, here's what we know about her transformation.
Also, read the weight gain stories of Wayne Rooney and Alison Sweeney.
Kim Kardashian's Latest Weight Gain Appearance Has Received a Lot of Praise Along With Criticism!
People have always been determined about Kim Kardashian's (@kimkardashian) physique transformation. Last year, she drew a lot of backlash after touting her 16-pound weight loss in three weeks to fit into the Marilyn Monroe-style outfit that she wore to the Met Gala in New York City. But it seems like she has again undergone weight gain as fans began to criticize her body.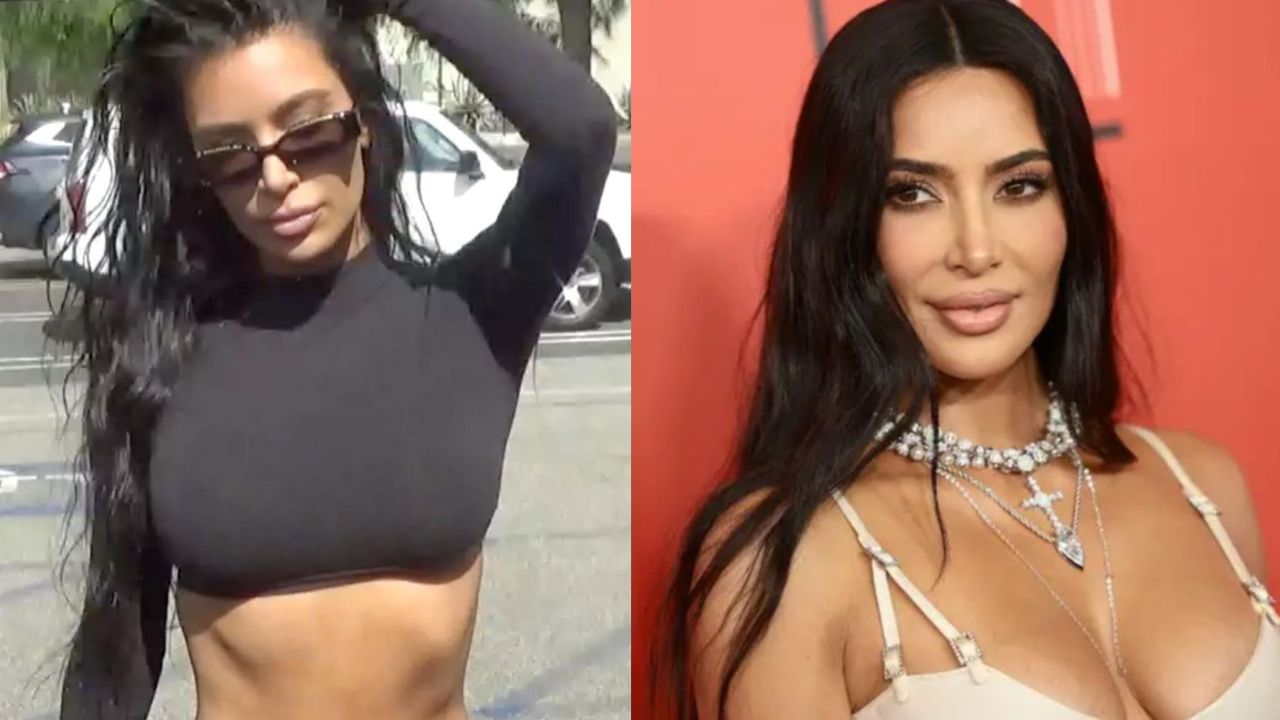 Kim Kardashian before and after weight gain.
Image Source: HOUSE & WHIPS
The comments on Kim's weight gain all began after she posted photos of herself in the attractive all-black swimsuit on Instagram on March 1, 2023. The Hulu actor was photographed posing beneath an outdoor shower in a provocative thong bikini. For the sunny session, the Keeping Up With the Kardashians alum wore full glam makeup and wore her dark hair long and straight.
The photographs were screengrabbed by a Kim Kardashian fan and shared on a Reddit community dedicated to the famous family. One commenter said in the post's comments section, "She looks amazinggg." A second fan commented: "She's put some weight back on, looks good." While another admitted: "Can't deny that she looks [really] good," punctuated by a "fire" emoji.
The first photo showed the TV personality showing off her curves beneath the shower as she leaned back against a stone wall, her toned figure and sculpted abdominals on full display. She even soaked in the rays while clouds swept over the azure sky, providing admirers with an impressive side view of her curvy body.
The Kardashians star ended the post with a photo of her buttocks wrapped in a see-through sarong as she returned home from the pool. The makeup mogul captioned her post: "Search for soul," as fans flooded the comment section with compliments. One person joked, "Rerouting myself to the gym — WOW!!!" Second agreed, saying, "You are so hot Kim keep it up."
According to the source, Kim Kardashian has been hitting the gym hard and focusing on her shape in recent months, prompting many admirers to believe she's gained weight after her 21-pound weight loss. Later, the reality star shared new content on her at-home workouts. She even performed Romanian deadlifts with an 80-pound barbell in an Instagram Stories video while dressed entirely in black and her hair up in a banana clip.
Although Kim has yet not provided any information about her recent weight gain transformation, we believe, she is trying to maintain her physique. As the star is currently in her 40s, her aging also could be the primary reason behind her change in appearance but we should wait until she confirms the actual cause. Well, we'll be back soon if we're able to gain more information about her transformation.
Kim Kardashian's Net Worth in 2023!
Kim Kardashian has utilized her reality television stardom to become one of the world's most successful businesswomen, amassing an estimated net worth of $1.7 billion. According to Forbes, the majority of this comes from her ownership in her shapewear line, Skims.
Kim Kardashian has an estimated net worth of $1.7 billion.
Image Source: Instagram
Kardashian's family rose to prominence when her father, Robert Kardashian Sr., represented O.J. Simpson in the 1990s. She later worked as a stylist for Brandy Norwood in the early 2000s, eventually working as Paris Hilton's assistant and occasionally appearing on her show, The Simple Life.
Later, Kardashian and her two sisters, Khloé and Kourtney, eventually founded their apparel boutique DASH in Calabasas, California, and then expanded to SoHo in New York City and Miami, Florida.
However, the biggest significant shift in Kardashian's career was the 2007 premiere of her family's reality television series Keeping Up With the Kardashians. The show launched Kardashian and her family to popularity, leading to her current status as a wealthy and cultural celebrity.